10 Best Swimwear Bra Inserts
Our Editors independently test and rate the best products. When you buy through links on our site, we may earn an affiliate commission,at no cost to you.
Summer is coming, maybe you need a good sexy push-up for a pool party or beach party. Bathingsuit Inserts are amazing for small chested women who need a little "boost", you can use these for a vacation in a bathing suit that you loved but it didn't have any padding, you can even swim with these in swimsuits.
Without further ado, what are the best bras inserts? Here is a more detailed review of the top ten best swimwear bras (bra inserts) we could find alongside their pros and cons:
10 Best Swimwear Bra Inserts
Silicone Bra Inserts – Clear Gel Push Up Breast Pads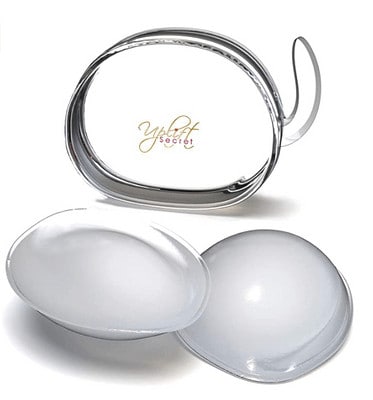 This discreet enhancement bra insert is invisible and helps you add natural-looking curves and necklines, no one will notice. It is waterproofed and designed to meet the needs of women.
It is a must-have for every woman's wardrobe and is considered a powerful breast enhancer. It looks exactly like your true chest under your training bra, bikini, or sports bra. It is A C-Cup size.
PROS
It is made from 100% high-quality medical silicon.

 It is waterproof, doesn't soak up water like foam pads, nice for swimsuits since it 

 Come with a premium zippered storage pouch to keep inserts fresh, clean
Offer a Medium and Large size so that you can choose the one that fits you best
CONS
Some customers have complained that the fit of the swimwear bra is too small.
Our take:
It is made from 100% high-quality medical silicone. They are soft to the touch and mold well to your body- feel like a second skin, you won't even know you're wearing them.This bra is waterproof, durable, washable, and reusable, and can be used daily for all types of occasions such as swimming pools, beaches, weddings, parties, or daily life. It is designed to give you good natural cleavage.
if you need a subtle boost up, get it!
2.Epiphany LA Women's Push Up Padding Inserts for Swimsuits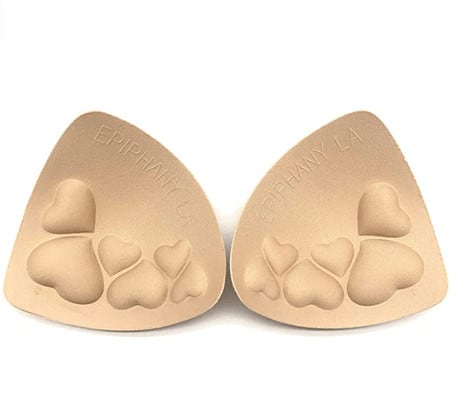 Epiphany LA Women's Push Up Padding Inserts for Swimsuits, Sports Bras, & Tops, 1 Set has padded hearts that sit on the inside of the cup that is strategically placed to give you maximum lift and fullness, and the outside of the cup is soft.
PROS
These insets can be sewn into the swimsuit
Has a natural look
These inserts are lightweight and are made of high-quality breathable foam which is great for swimming
Four cup size
CONS
A natural look means it does not give you a full cup size increase
Our take:
You're one of a kind, and so should your inserts be too. The bra insert is made of lightweight and high-quality breathable foam. The insert comes in a high–quality box for safe maintenance.
(Youtube)Best swimsuit padding insert Epiphany LA↓
3.Femagique Silicone Gel Bra Inserts Push Up Breast Cups 
Wear your cleavage dresses with confidence – our abalone shape enhancement pads will add 1 (medium) to 2 (large) cups just like that. Get fuller breasts like this one and solve your uneven breasts problem once and for all.
No one will notice your little secret. Our invisible transparent chest inserts are designed to be as discreet as possible. The sheer gel lets your skin tone shine through making it perfect for sexy or lace bras, no matter your skin tone. Save your peace of mind today.
PROS
 Designed to be as discreet as possible.
 Easy to clean
 It is soft and comfortable
 Hugs your breasts firmly
 They gave great lift and feature a beautiful sexy cut-out that makes it extra sexy.
 It works in the soft cami-type bras
 They have excellent customer service.
CONS
 it's warm out they will make you a bit sweaty

Our take:
Create an incredible cleavage and get that push-up effect for your chest you've always wanted. If you suffer from sagging, loose and loose breasts, then this product is a must-have – you will be amazed by the lifting effect.
Medium size best for A-cup – Large best for BC cups. Choose your size: Femagique offers a medium and large sizes to choose the one that best suits you. The bra inserts are designed to meet all the needs of women, what more do you need?
There is, in addition, it is a great solution for women after a Lumpectomy.
(Youtube)Femagique extra cup silicone bra inserts↓
4.Fypxd 6 Pairs Removeable Bra pad Insert for Sport Bra and Bikini Tops-

Best Inexpensive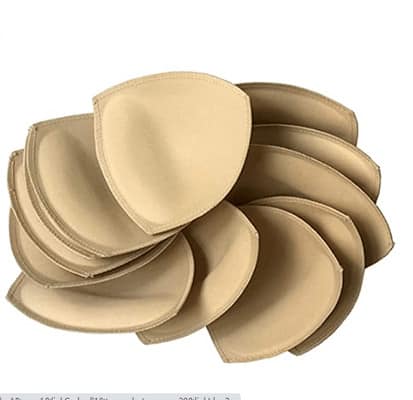 Smart cups bra pads perfect for swimwear, bra pockets. Evening dresses, wedding dresses, sweaters, and casual wear, and just about any top that can use a triangle-shaped insert.
Easy to use: under the chest pad thicker than the top 0.5 inches. more conducive to chest buildup, lightweight bra inserts that stay in place. The smart cups don't slide at all, they move. or stick out of your bras even when you exercise.
PROS
Machine washable
It is comfortable to wear, and made of Nylon and elastane
It is made of high quality
Suitable for A cup.
CONS
 They might not be suitable for someone large chested
Our take:
Very breathable, comfortable to wear: sports cups are thin, very breathable. even when you sweat a lot. They do not interfere with the moisture-wicking properties of your sports bras.
5.TopBine Bra Pads Inserts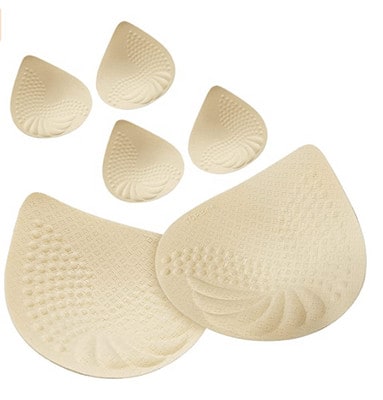 It has a special and user-friendly design that never comes undone, whether hand or machine wash, no delamination or warping occurs.
It is a removable sports bra that pushes the chest and provides a soft look like maintaining and improving your shape.
They do not interfere with the moisture-wicking properties of your sports bras.
PROS
It is removable.
It is comfortable to wear.
The sports cups are thin.
CONS
It can easily fall off if not careful.
Our take:
Topline bra pad inserts are perfect for swimwear, bra pockets, evening dresses, wedding dresses, sweaters, and casual wear.
6.Push Up Bra Pads Inserts Breast Enhancers with Double-Sided Tape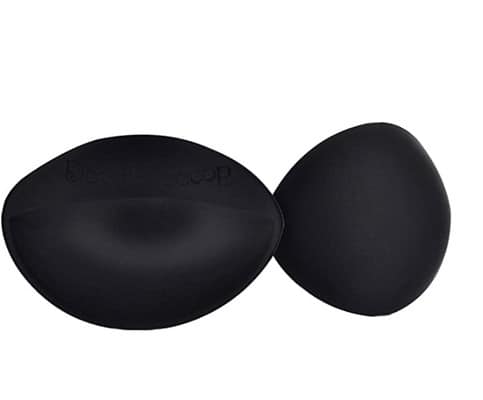 These pushup bra pad inserts can be placed under your regular or be used inside your bath of the padded sports bra and worn all day.
These bra pad inserts come in a universal shape and color that you like and can be worn in a variety of clothing and bra styles. These silicone pads are guaranteed to hug your breasts and make you feel confident.
PROS
It is 100% medical silicone
It is soft and comfortable
 It can be worn all-day
Has a high-quality material.
It is easy to wash
CONS
Our take:
This bra insert has 100% medical silicone which enhances the natural look and gives a natural bounce.These are an essential part of your wardrobe, they are so comfortable that you forget you're wearing these; it is easy to wash and care for and will last you for years to come.
7.

Silicone Bra Inserts and Breast Enhancers, Increase Your Cup Size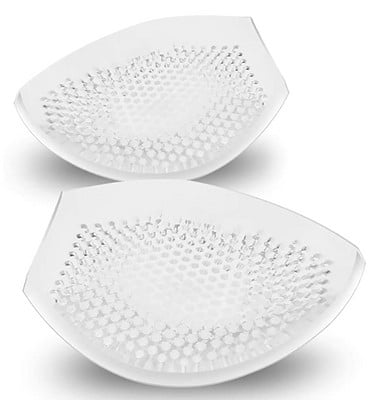 The unique perforated surface allows air and water to pass through to get rid of the tummy bra. They help you stay cool in hot weather and when you're swimming.
The soft textured adhesive surface will keep it in place while you swim and run. Also, it can be cleaned with warm soapy water
PROS
 The holes make them breathable,so you don't get overheated and sweat.
 It is reusable
 It instantly increases your breast size with 1 to 2.5 cups while maintaining a fuller look.
Its transparent color matches almost any dress
It is stretchy.
Soft textured adhesive surface will stay it in place
CONS
 they are sticky which makes them hard to insert into bra pouches.
Our take:
These breast inserts are very stretchy, so they will give people who want to gain confidence with the natural shape. The transparent color also matches most clothes. Its unique perforated surface allows air and water to pass through to get rid of the wet bra.
8.MOOVANT Silicone Breast Forms Mastectomy Prosthesis Silicone Bra Pad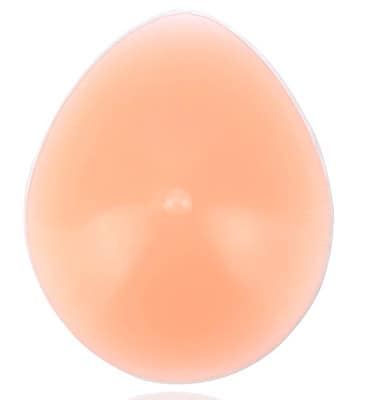 The breast form is made with a high-quality, ultra-soft silicone that covers like a natural breast and moves naturally with the body.
Raindrop shapes can be rotated vertically or horizontally depending on whether you want fullness on the sides or fullness on the chest wall It can be worn on the left or right side of the body; enhance breast and enhance your self-image.
PROS
It is made with high quality, ultra-soft silicone that covers naturally
It can be rotated vertically or horizontally
CONS
It can't be sustained in the sun.
It is fragile

Our take:
It is suitable for women who remove some armpit or clavicle tissues due to mastectomy. It can also be worn by cross-dressers, transgender, Cosplay, and others.
9.6 Pairs Bra pad Insert For sports bra or Bikini Tops
They are sewn around the edges so they won't separate even with washing. They are a bit of one size fits all. A and B will probably see a bit of an increase in size with these while C and D just add shape and hide the nipples.
The foam density is better than the ones that come in shower bras. It does not wrinkle. They will not be ruined or wrinkled. Holds shape very well. Higher quality fabric that comes with sports bras. They stay in place.
PROS
Easy to insert
It is soft and smooth
Ideal for sports bras, swimwear.
 It is best for B and C cup sports bra and bikini top.
CONS
Should never be used in a daily bra.
Are not altercations to your current bra.
Our take:
it has amazing padding; high-quality resealable plastic, and is a great natural way to give your bust a boost.
10.Bra Pad Inserts 4 Pairs,Sermicle Bra Pads Sewn Padded for Sports Bra Beige or Black, White Optional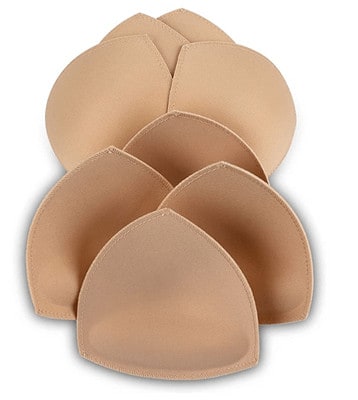 These triangular bra pads with padding at the bottom are made of high-quality cotton, foam sponge. It is soft, breathable, comfortable, and durable, and has a light thickness suitable for swimwear, and sports bra.
PROS
It is effective and versatile
Made of high-quality cotton
Comfortable and durable
Has a padded bottom
CONS
It is a replacement for your sports bra and swimwear.
Our take:
This versatile breast enhancer makes you feel beautiful and more confident.
Buying Guide of Swimwear Bra Inserts
How To Wear A Silicone Bra Insert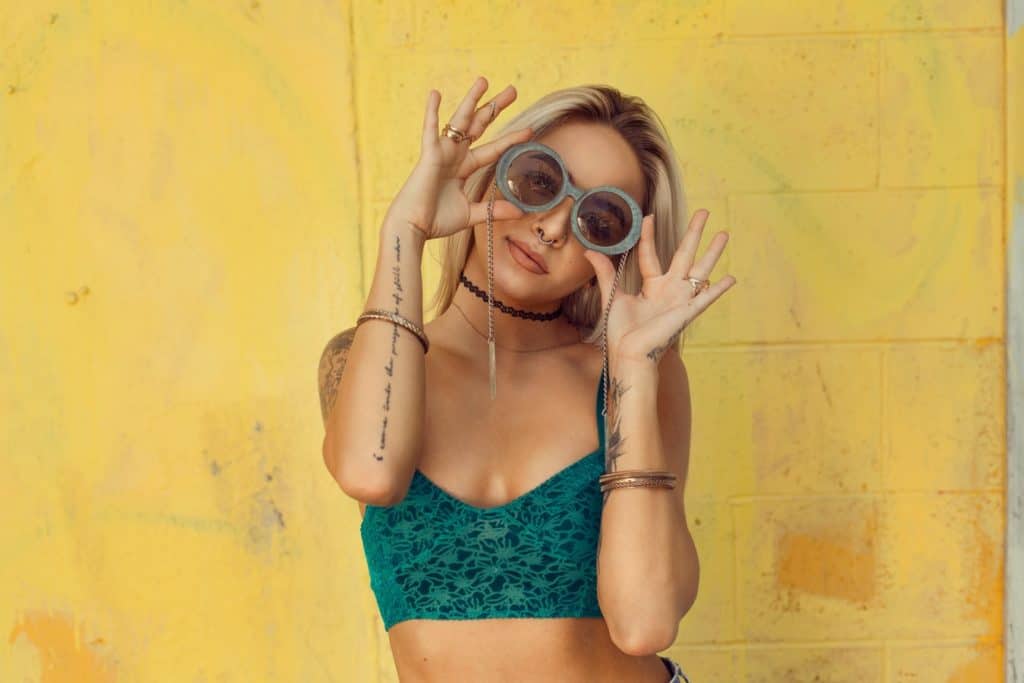 Dress clothes are becoming more daring, with impossible and very original cuts, with a great variety of necklines.
That is why, little by little, silicone bra inserts also known as adhesive bras are becoming one more basic that we should all have in our lingerie drawer.
We have to learn how to use it well and we also have to know how to choose an adhesive bra, how to put on an adhesive bra, and how to wash the adhesive bra to avoid spoiling it.
How To Know The Correct Bra Size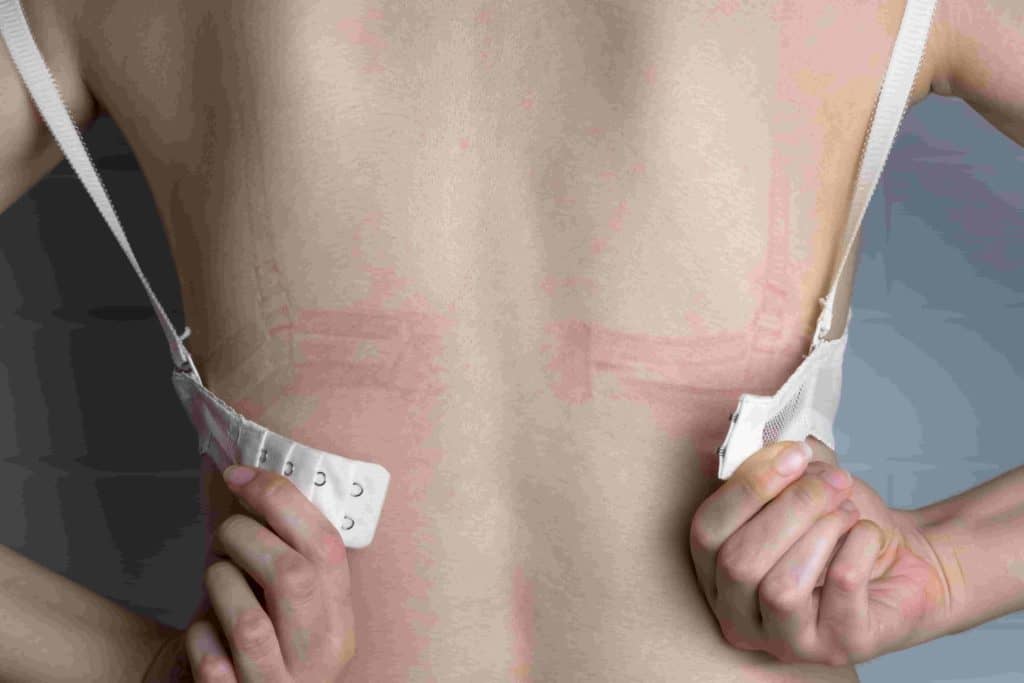 The size is the contour just below the chest, which indicates the size of the bra closure. It is calculated by measuring the entire lap of the torso just below the chest.
Write down the number that he gives you, it is the one that corresponds to 70, 80, 85, 90…. We will call this measure A and it corresponds directly to the European contour size.
The cup is calculated by measuring the entire contour just from the highest part of the chest, always with a bra since it feels good: place the meter horizontally around the back and write down the number that it gives you. We will call this measure B.
You already have the two numbers to get to know the full size you need!
European contour size is the obtained contour: EU = A
Cup size, we subtract the two obtained contours: B – A
How To Choose The Best Swimwear Bra For Me?
You have to be very clear about the cup you need because these bras only depend on the size of the cup (A, B, C, D, E, F).
When you already know, you must choose the shape and the most suitable model for the neckline you want to wear and take into account the one that will best fit under your dress or top.
How To Wear The Silicone (Adhesive) Bra
When using the bra, it is advisable to stand in front of a mirror and do tests without removing the plastics that protect the adhesive because it is not advisable to glue and peel the bra many times in a row, carefully follow the manufacturer's instructions to place it properly.
Before sticking it on, it is essential that your skin is completely dry and clean, without creams, lotions or oils. When it comes to removing it, start to gently peel it off from one end and see pulling.
How To Wash Silicone Bra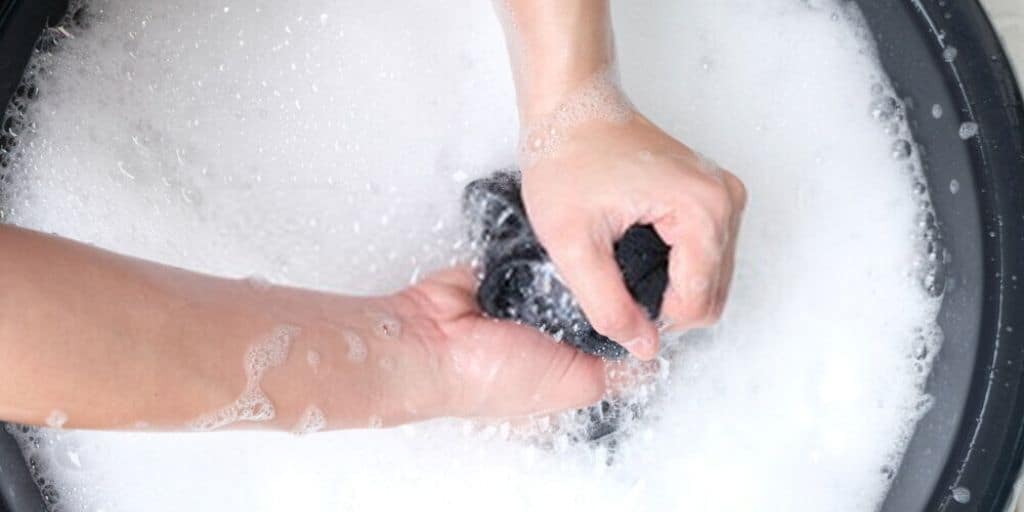 And now comes the big question, how to clean a silicone bra? The adhesive bra should be washed after each use with warm water and mild soap to extend its useful life and keep the adhesive in optimal condition.
Cleaning a silicone bra is not difficult but it requires a little time and care, you have to wash it by hand with a neutral soap, gently, without scrubbing hard or squeezing it to remove excess water.
As the silicone bra must be cleaned after each use, as a general rule it will not be very dirty so a rinse to remove the traces of sweat and oil from the skin will be enough.
Don't use fabric softener and let it air dry. Once clean and dry, replace the original protective plastics and store them until next time.
Frequently Asked Questions

(FAQ)
Can you add padding to a bathing suit?
If you feel like your bathing suit leaves very little to be desired, consider pushing your beach look to the limit by adding a little padding.
You can add shape and fashion to an unpadded bathing suit by lining the inside with small padding that accentuates your natural beauty without making it look fake or unnatural.
Adding a little padding to the top of your bathing suit will also make you feel more comfortable when you get out of the water and a cool wind hits your body, as it provides an extra layer of insulation between your chest and the outside world.
Step 1
Lay a quarter yard of nude spandex fabric on a flat surface. Place your unpadded bathing suit on top of the spandex.
Step 2
Trace the shape of the bathing suit bust area onto the lycra with a fabric pencil. Remove the bathing suit and cut two pieces of the lycra with a pair of fabric scissors.
Step 3
Place one of the half cup swimsuit top fillers, designed to get wet, in the center of each of the bathing suit bust areas. Place the lycra lining pieces on top of the filling.
Step 4
Line up the edges of each lycra lining cut within each bathing suit bust area. Pin a pin to fasten the lycra in place.
Step 5
Sew the lycra lining with straight stitches on a sewing machine with flesh-colored thread, or use a needle and thread to manually attach the lycra lining to the inside of your bathing suit. Remove the pins as you sew. There you have it.
How do you add padding to a one-piece suit?
Have you bought a swimsuit (one-piece suit) and want to fill it up to make your chest appear bigger? In general, there are already padded swimsuits in commerce, which are one-piece or bikinis.
Modifying a swimsuit is not difficult, and with modern solutions making the perfect padding is very simple, thanks to products that help you and give perfect results.
In addition, so you can enjoy any type of swimsuit by changing the size of the chest. Here's a guide to filling a one-piece suit,
How to fill a one-piece swimsuit 
A solution to fill a one-piece swimsuit is to choose cups to insert inside, sew the end of the cups, and be careful not to show the seams.
In recent times, the filling has been diffused in olium, a silicone gel that gives a volumizing effect.
You can find it in the best haberdasheries, but when you use it, do not overdo it with the swimwear because there is a risk of having a size that does not fit your body. N.B: You always try to have a natural result.
In silicone, there are shapes that volumize the breast and you can sew them to the one-piece swimsuit with liquid glue: depending on the shape, you can insert the silicone piece on both sides, taking care that they are perfectly positioned.
If you choose this method, you will not be able to bathe for a long time because the adhesive could stand out
---
Summary
From your own experience, you will surely know that an excellent bra padding purchase makes a difference anywhere.
For this reason, we hope that this buying guide we have put at your disposal will get you the best swimwear bra inserts in the market.