The Best Postpartum Jeans for Shaping & Comfort (2023Reviews)
Our Editors independently test and rate the best products. When you buy through links on our site, we may earn an affiliate commission,at no cost to you.
I can relate to when women who've come out of their pregnancy find it difficult to wear regular clothes. I mean there will come a time when you have to stop wearing those sweatpants and yoga pants. And trade them for a pair of comfortable, stylish denim. That said, how about giving the best postpartum jeans a try?
You don't have to go looking for something fancy. Just a simple pair of jeans that you can wear when out and about. Or even when at home if you're tired of the dull, boring sweatpants phase. And to be honest, you don't even require anything fancy. But you do need basic jeans.
Top 10 Most Comfortable Postpartum Jeans Reviews
1. Signature by Levi Strauss & Co. Gold Label Totally Shaping Skinny Jean –

Editor's Choice
Pros:
Even though well-fitted, the jeans are not restrictive.
Smoothing panel in the tummy for shaping.
Perfect amount of stretch for concealing belly.
The final pair is actually the top pick. And as you might have guessed, once again the brand is Levi Strauss & Co. So many creations by the same manufacturer do prove the fact that they know how to design the best postpartum jeans.
The current pair features a super stretch. This lasts throughout the day without losing its comfortably snug fit. Speaking of fit, the skinny jeans hug your natural curves. So as to provide the perfect fit for your post-delivery body.
What's the most appealing about the pair is the integrated smoothing panel for the tummy. This helps in shaping your belly in the most comfortable manner. So if you've been struggling to find denim to fit your postpartum body. Then that struggle ends now.
Snug in the waist yet not uncomfortable. On top of that, the material is soft and stretchy. So the jeans don't squeeze your belly at all.
2. Motherhood Maternity Indigo Blue Stretch Secret Fit Belly Boot Cut Jean –

Best postpartum bootcut jeans
Pros:
Seamless stretchy belly panel adjusts to the tummy.
Quite comfortable for pregnancy and postpartum.
Long-lasting, shape-holding pair of jeans.
Cons:
They're a bit longer in length.
No front pockets.
Women who love wearing the bootcut style might want to check this out. These are super stretch bootcut jeans ideal for casual wear during your postpartum and pregnancy phase. You can even dress it up for special occasions.
The brand's exclusive secret fit belly consists of a seamless stretch panel. This is specifically installed for maternity. The panel grows as your belly grows during pregnancy. That means it offers all the comfort, support, and proper fit you demand even during your postpartum period.
The bootcut jeans are cut full length with functioning back pockets. But the part that matters the most is the relaxed, stretch fabric. Or a combination of fabrics, like cotton, rayon, polyester, and spandex. So the jeans feel and look flattering and comfortable throughout the day.
Coming out of pregnancy is never easy. Especially when even the most basic items of clothing don't fit. With that in mind, the current bootcut style actually fits like regular jeans. Without the baggy effect and pancake butt. They're super stretchy, super comfy, and super affordable too.
3. Signature by Levi Strauss & Co. Gold Label Modern Skinny Jean –

Best mid-rise postpartum jeans
Pros:
Mid-rise comfort waistband.
Enough stretch yet supportive to smooth out curves.
Vintage, worn-in appearance.
Cons:
Super thin material.
The jeans wrinkle.
You have before you yet another design by Levi Strauss & Co. This, let me tell you, is certainly not the first and definitely not the last either. The mid-rise skinny jeans are crafted using simple stretch, ultra-comfortable denim. The combination of fabrics is soft and lightweight, no doubt. So you can carry on with your busy day without having to worry about the fit.
The slimming leg structure is the most attractive aspect of this current pair of jeans. It hugs your natural curves quite comfortably. The dynamic comfort, perfect fit, and excellent flexibility are the highlights of the show. Plus, they matter if you're going to be in these jeans all day long.
Despite the flattering fit, the mid-rise jeans don't produce a muffin top. This is very important when you're trying to hide your postpartum pouch. Until you lose all that belly fat!
As someone who now has to choose a bigger size, you might want to know this. The jeans provide a lot of stretch between sizes. That means you can actually get away with a smaller size for a more snug fit.
4. Gloria Vanderbilt Comfort Curvy Skinny Jean –

Best skinny jeans for curvy women
Pros:
The curvy skinny fit enhances butt shape.
Mid-rise waist tucks in the postpartum belly.
Pretty generous sizing.
Cons:
A little baggy for slimmer hips and thighs.
Finding skinny jeans may not be such a difficult task, agreed? But what about curvy skinny? Now that's a very tough job. So options like the Gloria Vanderbilt Comfort Curvy Skinny Jeans are a blessing in disguise. Plus, you can refer to this pair as the best jeans for the postpartum belly as well.
The curvy skinny design flatters all sizes and shapes. Thanks to the stretch fabric that enables comfortable movement. Along with maximum recovery. The mid-rise waist rests a little above your waistline the most comfortably.
Gloria Vanderbilt, needless to say, is both classic and versatile. You don't end up feeling like an oversized sausage when trying to fit into this pair of curvy skinny jeans. The waist is high enough for slimming your baby pooch. At the same time, low enough to avoid riding too high.
5. Levi's Women's 721 High Rise Skinny Jeans –

Best high-rise postpartum jeans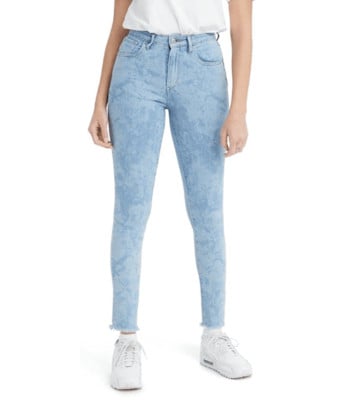 Pros:
Even though high-rise, jeans feel comfy around the waist.
Well-placed stretch flatters, holds and lifts.
They cover the belly button and pooch.
Cons:
Sizing is not consistent.
Fit is slightly tighter.
What are the best high-rise skinny jeans to wear for postpartum? If that's what you're after, then here's the ultimate solution. And it takes the form of Levi's Women's 721. These high-rise skinny jeans look the most stylish and feel the most comfortable. Even for women in their postpartum stage!
The innovative stretch brought about by the blend of different fabrics is irresistible. It brings into the picture a flattering, well-shaped silhouette. You're highly likely to love the current pair for its remarkable shaping and form.
No matter how early you are into your postpartum phase, these jeans fit like a glove. They're proof you can look stylish and feel comfortable in jeans right after your pregnancy. The waist sits in the perfect sweet spot covering your belly button. And not just that, the waist also shapes your tummy.
6.

Lee Women's Flex Motion Regular Fit Straight Leg Jean
–

Best straight jeans for curvy women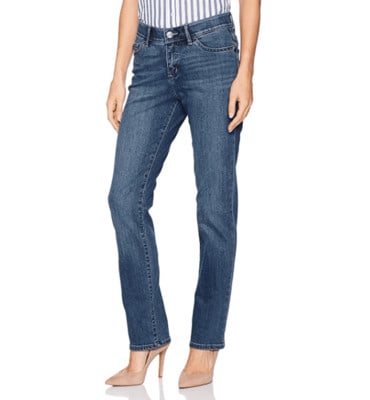 Pros:
Stretch denim adjusts to the shape of the body.
Contoured waistband eliminates gapping.
Even though super stretchy, jeans hold shape all day.
Sharp looking.
Cons:
These will be warm in the summer.
Designed for fitting and flattering curvy women, these straight-cut jeans feature stretchy denim. This adheres to the natural shape of your body very nicely. Something that is hard to come by when looking for the best postpartum jeans.
The straight-leg fit of the pair feels comfortable around the thighs and hips. Then comes the contoured waistband. This eliminates gapping when sitting. A little bit of space in the waist when standing means sitting isn't going to be an uncomfortable experience.
The jeans are super soft, no doubt. They are incredibly comfortable when it comes to supporting, concealing, and shaping your mama's belly. No chance you'll be disappointed with the comfort, structure, and quality of these straight-fitting curvy jeans for postpartum.
7. Riders by Lee Indigo Pull On Waist Smoother Boot Cut Jean –

Best postpartum jeans to contour waistline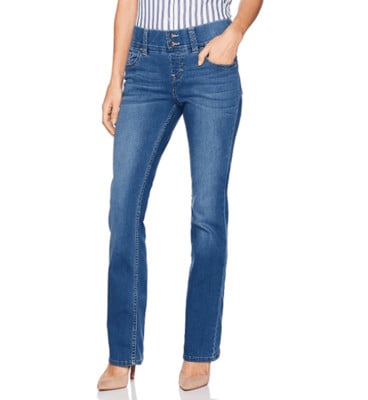 Pros:
Waistline-contouring wide, elastic waistband.
Soft and stretchy pair of mid-rise, bootcut jeans.
Cons:
Not for women with larger curves.
Waist slips down when you bend over.
Granted, at least most of the top-selling postpartum jeans feature a waistband that defines your waistline. But the currency pair by Lee does it in the most seamless, flawless, and comfortable fashion. The elastic waistband of these bootcut jeans contours the waistline perfectly well.
There's not the slightest chance you won't love the pair. Even with its bootcut style, the denim delivers total comfort. The tapered silhouette means they don't uncomfortably hug your whole leg. On top of that, the stretch is just about right. Meaning not too loose nor too tight.
The jeans fit like a glove. The slimming effect, hands down, is the most comfortable. And to make the deal even sweeter, the bootcut shape looks pretty stylish too.
8. Levi's Women's 721 High Rise Distressed Skinny Jeans –

Best distressed jeans for postpartum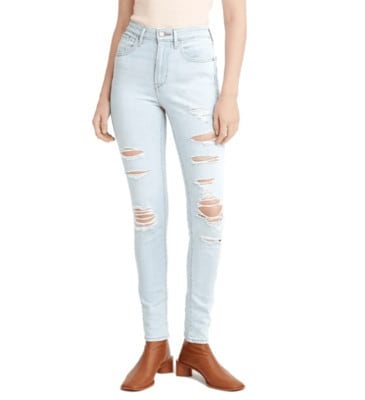 Pros:
Very flattering for the postpartum body.
The fit is very relaxed.
Knee holes lend a stylish, street-style appeal.
Cons:
Low-stretch denim is used.
You have to order two sizes up.
Before I begin this review, let me make one thing very clear. In order for these distressed jeans to be the best for your postpartum body, you have to order at least two sizes up. Once you know that and do that, everything about the pair feels super comfortable.
With two sizes up, the jeans might just end up being the most flattering for your body type. They are super flattering, no doubt, for everyday wear. Even the length is not going to be a problem in any way.
The distressed look has now become a very appealing feature when it comes to jeans. And just because you're looking for postpartum jeans doesn't mean you cannot go for that kind of style. It's the perfect solution even for women with a bigger butt or thighs.
9.

Signature by Levi Strauss & Co. Gold Label Women's Totally Shaping Pull-on Skinny Jeans

–

Best pull-on postpartum jeans
Pros:
Much like thick, compression leggings that hold shape.
The elastic waistband feels smooth against the belly.
They adjust to the changing body shape during postpartum.
Cons:
Back pockets are way too far apart.
Introducing the best mom jeans ever, these Pull-On Jeans by Levi's have a skinny leg. That shapes through your thigh and hip. The medium-level stretch is what also makes them the best postpartum compression jeans.
The elastic waistband here is smooth. The mid-rise is ideal for sitting around your postpartum waist very comfortably. Furthermore, there are no uncomfortable buttons or zippers to deal with.
The pull-on jeans are well-made and stretchy enough. Plus, the sizing factor is on-point. The mere fact that you can easily and quite conveniently pull them on means a great deal, doesn't it? If you ask, women who are in between sizes during their postpartum stage are more likely to benefit from a style like this.
10. Joe's Jeans Icon Midrise Skinny Ankle Black Distressed Jean –

Best postpartum jeans for daily wear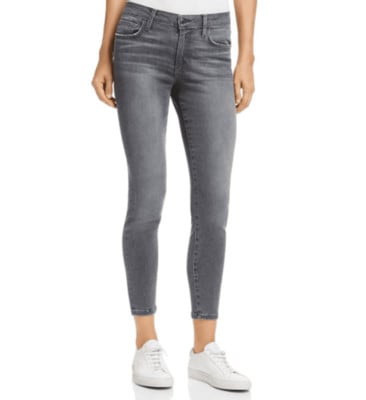 Pros:
Form-fitting pair of distressed jeans.
Light wash and allover abrasion look very stylish.
Sizing is accurate.
Cons:
Not stretchy enough.
Compare these mid-rise skinny distressed jeans to just about any other option on the list. And you'll see how it's perfect for casual, everyday wear during your postpartum phase. It's a very basic pair of denim with a light wash that fits flawlessly.
The thing about Joe's jeans is that they're great for women with a big butt, hips, and thighs. They fit amazingly well even if you have a postpartum body. The decent amount of stretch strikes the perfect balance between too tight and too loose.
Speaking of fit, the jeans are fitted through your thigh. But aren't restrictive around the waist. Meaning they accommodate your post-delivery belly. And the fact that the waist is mid-rise implies tummy shaping and discretion.
The Complete Guide to Buying the Best Jeans for Postpartum
First Off, What Are Postpartum or "MOM" Jeans?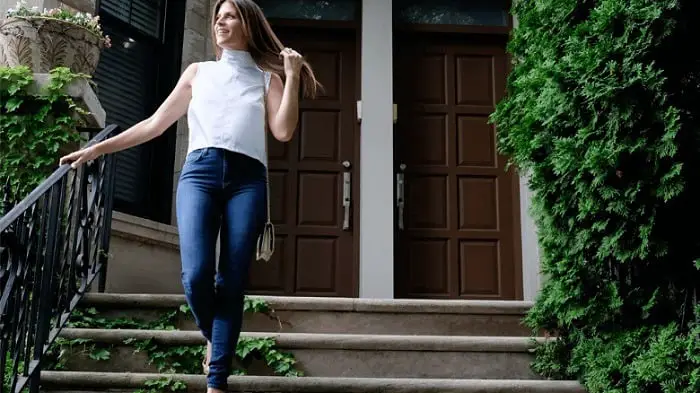 Do you think "mom" jeans are ugly, high-waist, unflattering, unstylish pair of denim? Do you know the kind that women used to wear in the 70s and 80s? If that's what you think of postpartum jeans, then you're living in the past. And it's high time you stop doing that.
Postpartum jeans have now drifted away from that traditional, stereotype design. So it's time for you also to bring about that change or shift in your perspective. Modern postpartum jeans are created to flatter your post-childbirth body.
Finally, denim manufacturers have understood how women's bodies change after pregnancy. So they all, at least the good brands, have started to design jeans to address that. Mom jeans are now form-fitting, comfortable, and body shaping. They feature a very useful waistband that offers tummy discretion, comfort, and stretch.
Why You Should Buy Postpartum Jeans After Pregnancy
Here's why so many women prefer to wear postpartum jeans after pregnancy…
The jeans are incredibly comfortable to wear all day long. Even when sitting and standing.
The jeans look stylish. This includes the high-rise and mid-rise designs.
The jeans create a very flattering body shape. This is useful when you're trying to lose weight after pregnancy.
The jeans fit the postpartum body flawlessly well. Unlike regular denim that is too tight to accommodate your belly, hips, and thighs.
Factors to Take into Account When Buying Postpartum Jeans
Obviously, there are few features that women should look for in their postpartum jeans. And these features are what set them apart from regular denim.
1. High-Rise or Mid-Rise Waist
High-waist jeans travel all the way to your natural waistline. This is the smallest area of your waist, a little above the belly button. And there's just no denying that high-rise jeans are the best and most flattering for the postpartum body.
What high-rise waistlines do is tuck in your mama belly naturally. They prevent the formation of a muffin top. So you don't have to worry about your postpartum tummy sticking out from your jeans. As is the case with low-rise jeans that tend to squish our parts inside.
You can wear high-waist jeans with almost anything you please. This includes crop tops, tank tops, loose shirts tucked in, and more.
About mid-rise jeans for postpartum. These are a great choice for women who don't prefer a high waist but still want some tummy shaping. Because even mid-waist jeans have the ability to cover your postpartum belly. And to shape your hips and thighs.
2. Stretch
A good level of stretch is a must when it comes to postpartum jeans. Imagine having to fit your body into a pair of jeans that feel comfortable around the waist but are very stiff everywhere else.
The good news here is that most postpartum jeans I've reviewed offer tons of stretch. They're super-stretchy to accommodate your body. And to allow you to move freely throughout the day. Fabrics that have paved the way for this include spandex, elastane, and stretch denim.
Your mom jeans should feel like a second skin. And the only way that's going to happen is if the jeans provide lots of stretch and flexibility.
3. Compression
Most women after pregnancy strive to lose fat around their belly. It's only natural for the body to change during and even after pregnancy. So, at such times, your clothing should be equipped with some compression to make matters pleasant for you.
Many postpartum jeans I've mentioned feature tummy control panels. If not that, then they're designed with flexible waistbands. The former helps in slimming and shaping your belly fat. As for the flexible waistbands, they keep from creating a muffin top.
As long as you're choosing a high-rise or mid-rise pair of jeans, you have nothing to worry about.
About that muffin top, you might want to have a look at this:
Total Ab Workout: No More Muffin Top(YouTube)↓
4. Fit
No doubt, fit is the most important factor here. But what is the best fit for postpartum jeans? The jeans shouldn't feel restrictive or squish your parts. However, they need to be comfortably snug-fitting.
It's necessary for you to look at the size chart before buying. The reviews section of these jeans almost always mentions if you should be ordering one or two sizes up or down. So keep that in mind and then click on the Buy Now button.
The goal is to find a pair of form-fitting postpartum jeans that conform to the shape of your natural curves. Be it a skinny, bootcut, or straight style!
The End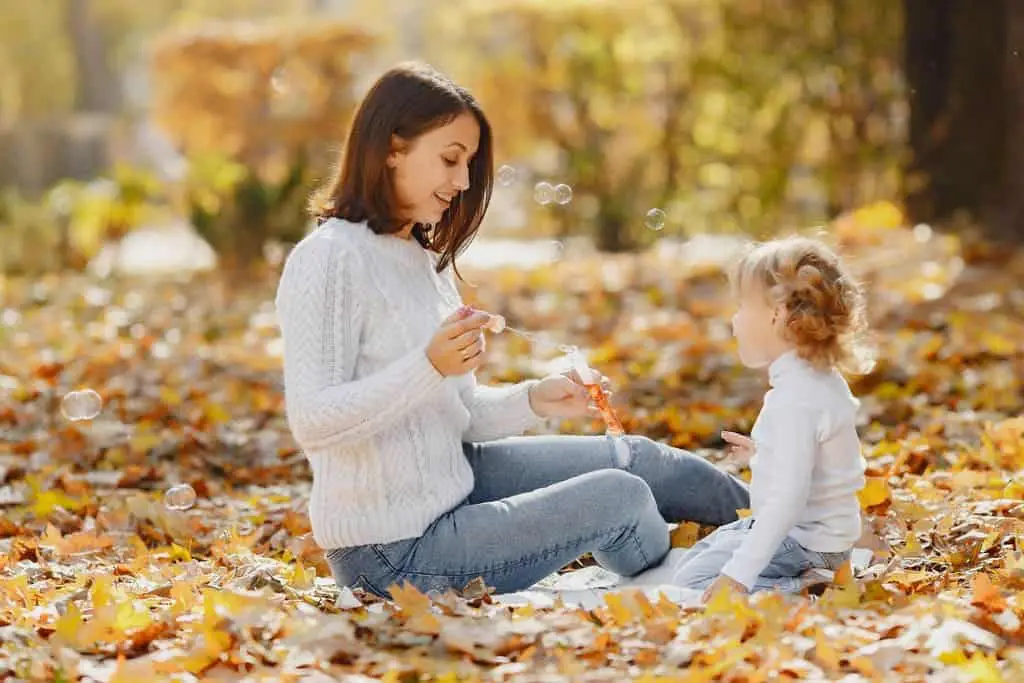 There's no denying or downplaying the ugly truth that your body changes after childbirth. The skin around your tummy area starts to look wrinkled and loose. Hips tend to become wider. And thighs require tons of support for simple, everyday tasks.
That said, the postpartum phase is not an easy experience. So to make it a little more pleasant and a little less stressful. How about dressing up comfortably! And you can't do so just by wearing pajamas or yoga pants.
A basic pair of jeans is a wardrobe must-have. But not regular jeans. I'm talking about the best postpartum jeans. The kind of jeans that make your body feel comfortable. No matter what you're doing. Or how big you've become. When there's enough stretch, compression, shaping, and support. You can never feel uncomfortable in jeans.
At the same time, the material or materials used should be soft and thick enough. Also, the waist needs to be either high-rise or mid-rise. Id' say go for mid-rise with tummy-slimming panels. As in the case of the Signature by Levi Strauss & Co. Gold Label Totally Shaping Skinny Jean.
Top 10 Most Comfortable Postpartum Jeans Comparison Table
| NAME | RATING | STYLE | MATERIAL |
| --- | --- | --- | --- |
| Joe's Jeans Icon Midrise Skinny Ankle Black Distressed Jean | #10 | Skinny | Cotton, polyester, elastane |
| Signature by Levi Strauss & Co. Gold Label Mid-Rise Pull on Skinny Crop Jeans | #9 | Skinny | Cotton, polyester, lycra, viscose |
| Levi's Women's 721 High Rise Distressed Skinny Jeans | #8 | Skinny | Cotton, elastane |
| Riders by Lee Indigo Pull On Waist Smoother Boot Cut Jean | #7 | Bootcut | Cotton, polyester, spandex |
| Signature by Levi Strauss & Co. Gold Label Curvy Straight Jean | #6 | Straight | Cotton, elastane, polyester, denim |
| Levi's Women's 721 High Rise Skinny Jeans | #5 | Skinny | Cotton, polyester, elastane, viscose |
| Gloria Vanderbilt Comfort Curvy Skinny Jean | #4 | Skinny | Cotton, elastane, viscose, polyester |
| Signature by Levi Strauss & Co. Gold Label Modern Skinny Jean | #3 | Skinny | Cotton, polyester, elastane, denim |
| Motherhood Maternity Indigo Blue Stretch Secret Fit Belly Boot Cut Jean | #2 | Bootcut | Cotton, rayon, polyester, spandex |
| Signature by Levi Strauss & Co. Gold Label Totally Shaping Skinny Jean | #1 – Editor's Pick | Skinny | Cotton, elastane, polyester |