What Are The Bras For Narrow Shoulders And How To Choose Them?
Our Editors independently test and rate the best products. When you buy through links on our site, we may earn an affiliate commission,at no cost to you.
More often than not, women looking for the best bra for narrow shoulders have large breasts. But whether you have a large bust or not, it doesn't matter. Because the bra styles I have reviewed in this article are an excellent choice for a combination of large, small, and normal-sized breasts.
Wearing a supportive, well-fitting, and comfortable bra is necessary. Irrespective of how big or small your breasts are. But the task of finding this wonder piece becomes difficult. Especially when you have to take factors like your narrow shoulders into account.
With narrow shoulders, you need to go for a design with full cups and closely placed straps. On top of that, those with narrow shoulders have breasts that tend to flow sideways. So it's important to wear a bra that pushes them upward toward the center.
Best Bra for Narrow Shoulders – Top 5 Most Comfortable Bras of 2020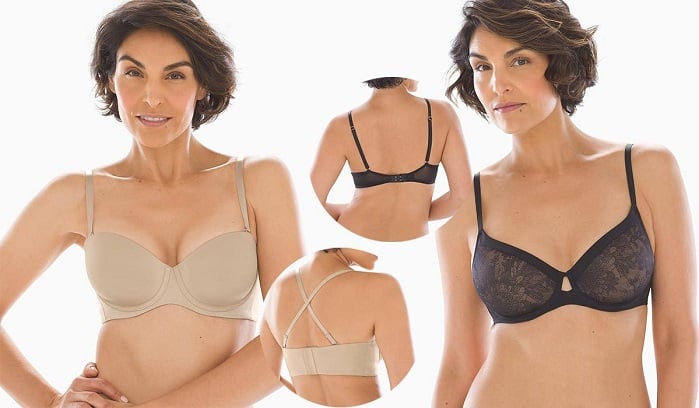 So it's now time for you and your narrow shoulders, and maybe even your large breasts, to meet your potential BREAST friends!
#1 Bali Women's One Smooth U Ultra Light Illusion Neckline Underwire Bra –

Top Choice
And finally here's the top choice in the category of the best bra for narrow shoulders. Once again, I'm reviewing the best U back bra. Simply because this particular design works best in the case of narrow shoulders.
The Bali One Smooth U Ultra Light Illusion Neckline Bra is a convertible bra. One that comes equipped with underwire cups. The style features side support inner slings. These add all the support and lift your breast's demand. No matter how big or small they are. Moreover, support and lift go a long way when it comes to providing comfort all day long.
You can change the straps of the bra from U shape to the crisscross shape quite easily. But what's even more attractive about this Bali bra is that it has a lightweight, breathable structure. Apart from the side support delivered by the soft inner support/shaping slings. The smooth and natural shaping the bra has to offer is also a praiseworthy characteristic.
The Comfort-U style of the bra is what makes sure the straps stay in place. And this is nothing but great news in case you have narrow shoulders. And let me also tell you that the crisscross backstraps are adjustable too. So you can customize the fit of the bra to your comfort and liking.
There's no doubt this top choice is very suitable for women with fuller breasts.
In terms of how your bra fits, it's only natural to deal with disasters. Until you find a style that works the best for you. Particularly if you have specific concerns like choosing the best bra for narrow shoulders.
Whatever your priority, a bra should always feel comfortable and supportive. And with so many bra brands now manufacturing designs to meet such kinds of demands. It's less confusing, frustrating, and time-consuming for your breasts and body to meet their match.
One brand that keeps these types of factors in mind during the manufacturing and designing processes is Bali. And the proof of that is the Bali One Smooth U Ultra Light Illusion Neckline Underwire Bra. If you have narrow shoulders, you might want to consider buying this. For its U back, full-coverage cups, inner side support slings, and adjustable crisscross back straps.
Convertible, underwire bra with side support slings

Full-coverage cups have mesh insets for breathability

Comfort-U design keeps the straps in place
The fastener at the back feels a bit sharp against the skin
#2 Lilyette by Bali Women's #939 Tailored Minimizer Bra –

Best Strapless Bra for Narrow Shoulders
With seamless lining, the Lilyette Tailored Minimizer Bra inches closer and closer to being the best bra for sloping shoulders and narrow shoulders. And why is that? Because there are no straps for your narrow shoulders to deal with, in the first place. I mean not all women wear bras with straps all the time.
This is not the first and definitely not the last Bali creation on the list by the way. The brand certainly knows what it's doing when it comes to manufacturing the most comfortable bras. Be it with or without straps!
As for the current strapless version, it comes with removable straps by the way that are also convertible. So you can convert this minimizer bra into a demi bra, crisscross bra, and halter bra.
What about the minimizing effect? Lilyette is built with the ability to minimize your large bustline as much as 1.5 inches. Not many minimizer bras do that you know. And that too so comfortably and gracefully.
Moving on, the underwire in the cups adds shaping and support, no doubt. The style's exclusive Lily Fit System is a part of the picture here. So you don't have to worry about the bra causing any amount of discomfort or irritation in terms of sizing and fit.
And last but not the least, the bra has silicone grippers installed at interior sides. Therefore, your lingerie slipping is not a possibility at all.
Seamless lining and convertible/removable straps

Silicone gripper on the sides prevent slipping

Wide band consists of invisible, supportive boning
There's no cup padding or lining
#3 Elomi Women's Matilda Unlined Plunge Underwire Bra –

Best Bra for Narrow Shoulders with J-Hook
It's time for you and your narrow shoulders to get to know Matilda. This Elomi creation has a plunge frame with underwire. Such a design, without the shadow of a doubt, provides the best support and comfort. Even in terms of looks, the bra is quite impressive. The beautiful embroidery along the top sheer panels does offer visual appeal.
In the front, you see 3-section cups. And side panels as well. Both give saggy breasts a forward shape with the much-needed lift. As for the back, there's a Powernet wing. It's best for providing support and anchorage in case you didn't know. In simple words, the Powernet wing keeps this bra from riding up your back.
The one thing that makes the bra stand out is the J-hook feature. This particular J-hook is moveable. And what it does is allow you to convert the straps into racerback the most conveniently.
Then comes the low-center, plunge neckline. Many women actually prefer wearing these kinds of plunge bras that don't create an uncomfortable push-up effect unnecessarily. So it's a win-win situation if you're among those women and you have narrow shoulders.
In all, the material feels very soft against the skin. And the cups support fuller or larger breasts without a concern.
3-section cups and side panels for lift and shaping

Moveable J-hook for easier racerback adjustment

Powernet wing at the back offers support and anchorage
Sides dig into the armpit if you have a short torso
#4 Wacoal Women's Awareness Soft Cup Bra –

Best Bra for Daily Wear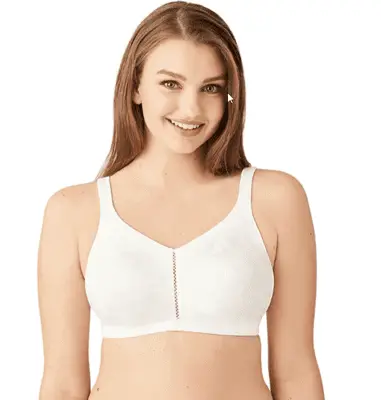 How about buying a Wacoal bra for narrow shoulders? After all, the brand is very popular for creating bra designs that feel the most comfortable and supportive. So does the manufacturer have an option for women with narrow shoulders as well? Enter the Wacoal Women's Awareness Soft Cup Bra.
It features full-coverage cups to bring into the experience of superior comfort. Speaking of superior comfort, there is no underwire to deal with in this case. So if you prefer wearing wire-free bras. Then you've got yet another reason to choose Wacoal.
The seamless 2-ply cups are unlined for providing excellent lift, shape, and support. On top of that, literally speaking, there's the beautiful, smooth jacquard fabric. And the pink ribbon at the back represents breast cancer awareness.
Since I've mentioned the back, let me bring to your attention that this bra consists of a comfortable leotard back. Moreover, the straps are adjustable, which means you can personalize the fit. But this adjustability feature is installed in the back. So that might pose a problem from time to time.
Full-coverage, unlined bra with no underwire

Soft cups for all-day comfort
Straps are adjustable from the back
#5 Bali Women's One Smooth U-Back Underwire Bra –

Best U Back Bra for Narrow Shoulders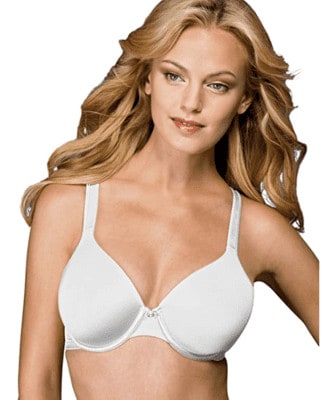 Welcome to the first review of the best narrow shoulders large bust bra. This may be the first Bali bra on the list. But I can assure you that it certainly is not going to be the last too. I have shortlisted 2 more Bali creations. And this proof of the fact that Bali ranks among the best bra brands out there.
Speaking of the Bali Women's One Smooth U-Back Underwire Bra. It features complete support shaping as well as coverage. The foam cups, on top of that, offer an incredibly smooth appearance under clothing.
The exclusive Perfectly Plush lining brings in all-day comfort. But it's the Comfort-U design that keeps those straps from falling in the case of narrow shoulders.
So, if you ask me, you have every reason to choose Bali. Either this or one of the two other styles I've reviewed for you below.
Convertible straps to add versatility

Seamless foam cups for shaping and a smooth feel

Plush lining offers ultimate comfort
Straps are not long enough.
The Best Bra for Narrow Shoulders – Buying Guide
Narrow shoulders might make the bra straps slip off the shoulders. Even if the cup and band of the bra fit you perfectly. This means you need a customized bra for sloping shoulders. In the bra world, you call this the best bra for narrow shoulders.
The reason for bra slippage is poorly-made bra straps. The straps connect the front of your bra to the back. You may be able to squeeze into a tight band and cups. But you can't make do with straps at all. They either fit or they don't.
This may be annoying to consider for people with narrow shoulders. Narrow shoulders mean sloping shoulders which causes slippage. But here's how you can buy good bras for narrow shoulders.
What To Wear If You Have Narrow Shoulders(YouTube)↓
Best Features of Bras for Narrow Shoulders
#1 They have close-set straps
The shape the straps create at the back is important to consider. If it's a wide 'U', then you're more likely to experience slippage. For narrow shoulders, wide-set straps are a bad idea. You wouldn't even have to move your arms and the straps will slip off.
The right strap position for bras for narrow shoulders is closer than the edge of collarbones. If the straps sit on the edge, the straps will slip slowly but surely.
What you need is the best bra for sloping shoulders. So even when you bend or stretch or raise your arms and put them back down. The straps stay where they are and don't budge an inch.
#2 They have adjustable straps
It's possible the bra straps slide off your shoulders because of this. It's the one thing you can't do anything about even if you have a bra that fits. If the straps are too loose, they will fall off.
To solve this common bra fit issue right away, you need a bra with adjustable straps on both sides. Once you find a cup and band size that fits you well, this should be easy to find. There are plenty of best bras for narrow shoulders with adjustable straps.
#3 They have convertible straps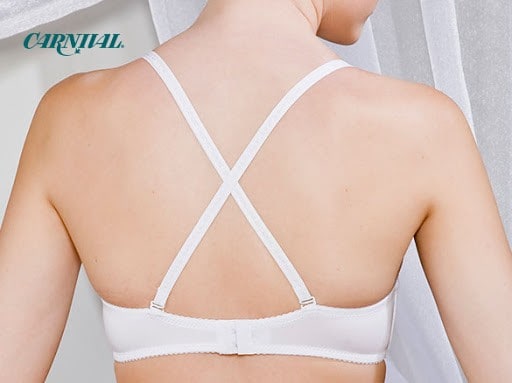 Convertible straps allow you better back support, style, and comfort. A convertible bra allows you to crisscross the straps any way you like. This not only prevents the straps from slipping off the shoulders. But it also promotes a firm and supportive hold around the chest and back.
You know what this means, don't you? Less breast sagging, bulging, and band fit issues.
Types of Bras for Narrow Shoulders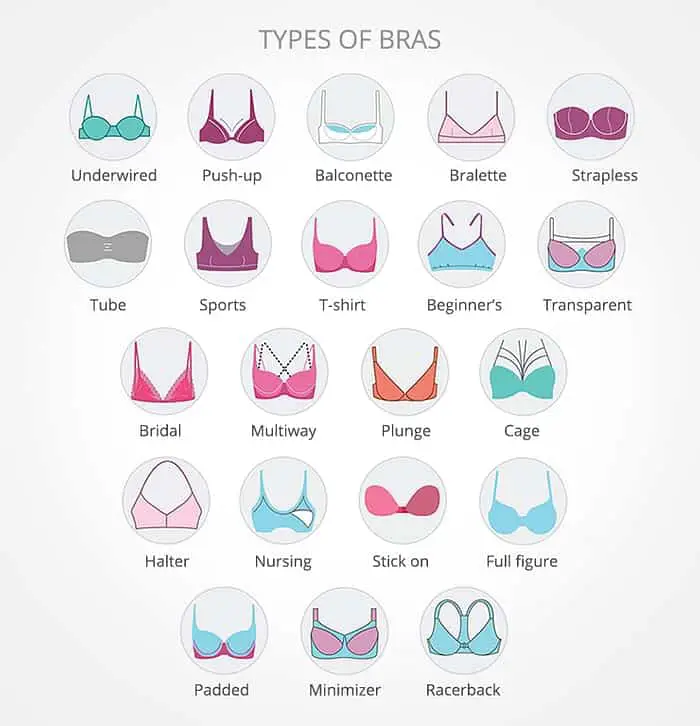 You can buy new bras for narrow shoulders in a variety of types. These bras won't poke or rub against your skin. You can beat the bra bulge from the sides or the top. This is the best possible way to avoid the straps from slipping off of your shoulders.
1. Strapless Bras
Not everyone feels comfortable wearing a strapless bra. But if you're not one of them, then this is a good option for you. A strapless bra has an extra supportive and firm structure. It prevents the band from rolling up or down. And prevents the cups from sliding off your breasts as you bend down.
The anti-slip silicone tape inside the cups makes a huge difference. Look for a strapless bra with a tighter hook-and-eye closure on the inner band for extra support.
2. High-Neck Bras
High-neck bras are huge save for narrow shoulders. As they fit much closer to your neck, they're less likely to slip. The inner straps and inner cups are more comfortable than they are supportive. So this may be an ideal choice for petite sizes.
Owing to recent awareness, well-endowed women can buy high-neck bras. With full-sized cups, a thicker band, and supportive straps.
3. Racer Back Bras
This is for the sporty in you. Racerback bras may show in dresses or sleeveless tops. But they're incredibly supportive for narrow shoulders. The triangle straps at the back offer comfort and breathability.
You can opt for a bra with a hook-and-eye closure with racerback straps. Or you can look for a bra with front closure which is easier to adjust as it allows more flexibility in movement. The band won't pinch or squeeze your skin as you're moving around.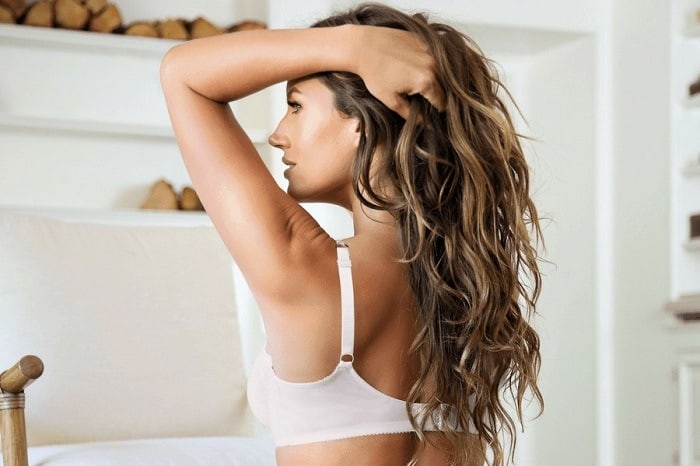 4. Plunge Bras
A plunge bra has straps that are set closer to each other. So the distance between the straps is limited. And where the previous bra choices don't look good in low-neck tops and dresses. A plunge bra is a perfect fit for such an occasion.
You can look for plunge bras with molded or contoured cups. Or if you want something more supportive and comfortable, go for unlined cups. The best thing about wearing a plunge bra is that the boning is quite supportive. The center gore and close-set straps do more than you think for sloping shoulders.
5. Leotard Bras
A Leotard bra has more to do with the back shape than the front. It's a deep U-shape from the straps to the back band. The back band is supposed to lie straight or horizontal across the body. This creates a simple U-shaped curvature where the straps meet the back band.
Ideal for women who hate wearing T-back bras with sloping or narrow shoulders. A leotard back bra is stylish, supportive, and comfortable. It reduces slippage indefinitely. And it's helpful if you're wearing a dress that flaunts your sexy back. So you don't have to worry about your bra showing.
Final Thoughts
Most women miss out on most of the crucial details when buying a new bra. That's why it's more difficult for you to buy a bra for sloping or narrow shoulders. Bras for narrow shoulders off great coverage, support, and comfort.
The only difference is in the way their straps are built. They're closer set so you can re-position them away from the edge of your collarbone. And they reduce tension off of your shoulders to support your back and breasts. It doesn't matter if you're heavy-breasted or not.
The thing about buying such bras is that you'll never complain again. Adjustable straps, smaller cups, and convertible bra straps make the best bras for narrow shoulders. What you need now is the perfect brand and size to get started.
Best Bra for Narrow Shoulders Comparison Table
| NAME | RATING | TYPE | MATERIAL |
| --- | --- | --- | --- |
| Bali Women's One Smooth U-Back Underwire Bra | #5 | Full-coverage underwire bra | Nylon, spandex |
| Wacoal Women's Awareness Soft Cup Bra | #4 | Full-figure wire-free bra | Nylon, spandex |
| Elomi Women's Matilda Unlined Plunge Underwire Bra | #3 | Plunge underwire bra | Nylon, polyester, elastane |
| Lilyette by Bali Women's #939 Tailored Minimizer Bra | #2 | Strapless minimizer bra | Nylon, elastane |
| Bali Women's One Smooth U Ultra Light Illusion Neckline Underwire Bra | #1 – Top Choice | Full-coverage underwire bra | Polyester, nylon, spandex |
SEE MORE: