Bum Lifter Pants Before and After (Everything You Need to Know)
Our Editors independently test and rate the best products. When you buy through links on our site, we may earn an affiliate commission,at no cost to you.
It's obvious you'd want to know more about Bum Lifter Pants Before and After. But let's not get carried away and start from the beginning!
Going to the gym a lot lately? There is something else that you can do to lift your butt. It has to do with what you wear actually. Easy to put on, smooth, and comfortable. Bum lifter pants work and you'll notice a difference after wearing them.
Bum lifter pants have a different structure. They're stretchable but firm. The seams have a butt-lifting cup with a lift and sculpt material. So you know it works!
If you already know what you're looking for, click to jump to the relevant section :
The Best Butt Lift Jeans Review – 5 Very Stylish Recommendations!
Bum Lifter Pants – What Are They?
There are many types of bum lifters. And so bum lifter pants are just one of them. So how do they work?
It comes with extra padding or inserts to lift and tone the butt region. They work like shapewear garments. But they're stitched into pants or jeans for a better effect. Women wear bum lifter pants for a bunch of reasons. Aging, sagging, weight gain, post-pregnancy, or weight loss.
When you lose a lot of weight, your skin starts to become loose. You need a good exercise routine for sagging skin. And wearing bum lifter pants can also help.
Here's a video if you want to target and tone your butt:
Butt Workout 1: Tone Up | 30 DAY BUTT LIFT↓
It helps maintain skin elasticity and firmness. While giving it more a toned and sculpted appearance from the outside. But is it safe? Well, if you consider taking skin-lifting injections or inserting surgical butt inserts. Compared to that, bum lifter pants are harmless and effective.
You can choose from a variety of sizes, shapes, and colors. They work, for sure, but only if you're willing to spend a little extra. Nothing cheap is effective – at least in the world of bum lifter pants.
Bum Lifter Pants – Benefits of Wearing Bum Lifter Pants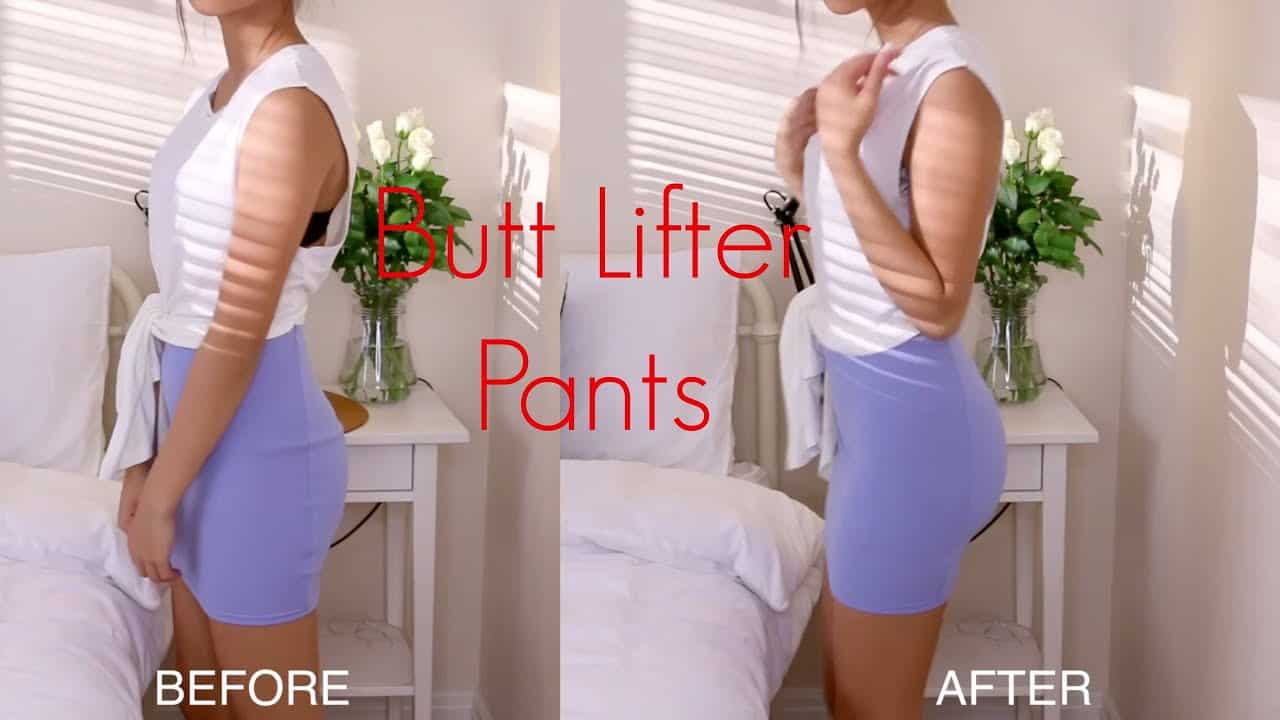 A bum lifter makes your butt perkier. That's for sure. But is that all it does? And when can you wear a bum lifter?
Well, besides the obvious benefit of wearing bum-lifting pants. It does offer some good perks for you to look forward to. Here are the most important ones.
Seamless shape and soft feeling
I must give credit to the sculpting material of such pants. It would be hard to notice you're wearing bum lifting pants at all. The padding that sits over and under your butt is there. But the material of the pants is such that you can't see it!
All thanks to the seamless stitching of the pants. It gives your butt a natural and round look. With nothing poking out or squeezing. From the outside, your butt looks shapely, firm, and smooth.
The breathable and soft fabric has a lot to do with this. It's skin-friendly too so it doesn't cause itchiness or sensitivity. Some fabrics like cotton and spandex blends are moisture-wicking. As it helps prevent sweating.
Having said that, there are some brands that sell bum lifter workout pants. So you get to tone your body from inside out! Isn't that great? You can opt for a dark color like black. Or go for beige which is often a popular choice among plus-sized women. For a large or extra-large pants size.
It enhances the butt
This is for women who have a saggy butt or a 'long butt'. A 'long butt' is when the shape of the bum is more elongated. So it never does sit well in normal jeans or pants. With extra padding, you can lift your bum to prevent such sagginess or stretching.
The butt-lifting padding tightens the muscles without causing discomfort or pain. And it does this to reduce signs of wrinkles, dimples, and sagginess on the skin.
No matter how many squats you do. The elasticity of the skin in that region is going to be a little loose. But if you wear the right pants – bum lifter pants before and after results are proof. You'd never complain about this ever again!
It flattens the tummy
That's right! Some bum lifter pants offer tummy control. It's the same as smoothening the butt region. But your tummy needs more compression to look flat and toner, right?
The stretchy material of some bum lifter pants offers incredible padding. So it wraps around your waist in such a manner. That it reduces hip dips from looking out of shape. While giving you an hourglass shape from abs down to your thighs.
Butt Lifter vs. Butt Enhancer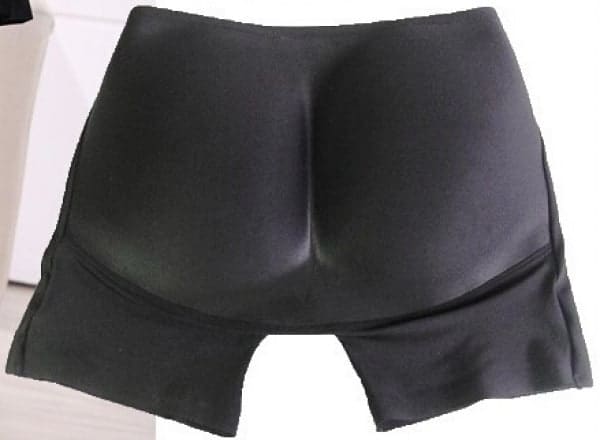 Most people think they're the same. But even their names have different meanings. A Butt Lifter lifts the butt. While a Butt Enhancer doesn't necessarily lift but just sculpts the butt.
A butt lifter can be also said to provide support. So your bum doesn't drop but stays firm and erect under the pants. Imagine a push-up bra vs. a wireless bra. A push-up bra gently pushes the breasts up for a rounder appearance. While providing enough padding and support.
One can say your breasts look slightly bigger and elevated in a push-up bra. A wireless bra doesn't do that. It just supports your breasts seamlessly and provides shape.
You can say the same for a butt lifter and butt enhancer. A butt enhancer does have padding. But just enough to make your butt look round and smooth. It doesn't lift the buttocks up. It doesn't enhance its size. Rather it enhances firmness and support.
3 Best Seller Butt Lifer on Amazon
3 Best Seller Butt Enhancer on Amazon
Butt Lifter Material
What's the ideal material for bum lifter pants?
It's something between spandex, lycra, and cotton. Spandex and lycra are responsible for lifting and sculpting your buttocks. Meanwhile, cotton is a breathable and comfortable material to wear as pants.
Just so you don't feel hot and sweaty in your crotch and buttocks. The cotton fibers offer flexibility and better accessibility. So you can move around freely in bum lifter pants. You know that feeling you get, that relief when you take off your bra at the end of the day?
Well, let's just say you won't feel that when taking off a bum lifter pants. It's already comfortable and cozy!
Bum Lifter Pants Before and After – Factors of Consideration
Do you think you're ready to buy a bum lifter? Well, let's look at its best features.
1. Elasticity
Does your butt poke out from the sides when you wear the pants? If yes, then it's the fault of the pants' elasticity. It's not firm enough to hold both your butt cheeks in place. This is very important. You need both buttocks to stay in shape and aligned.
If one butt cheek looks higher or lower than the other. Then that's a problem. Always take a close look at yourself in the mirror while trying on new bum lifter pants.
2. Padding or No Padding
Not every woman appreciates padding. Even if it vows to lift and sculpt her butt. Padding can sometimes be uncomfortable. Especially if it's made of cheap materials.
If you want better customization options. You can always opt for detachable padding in bum lifter pants. So you can remove it when you feel like you don't need it.
3. Comfort
This is an obvious benefit of wearing bum lifter pants. It has to be comfortable. Even more so than some shapewear on the market. The latest designs offer superb comfort and freedom in movement.
Bum Lifter Pants Before and After Results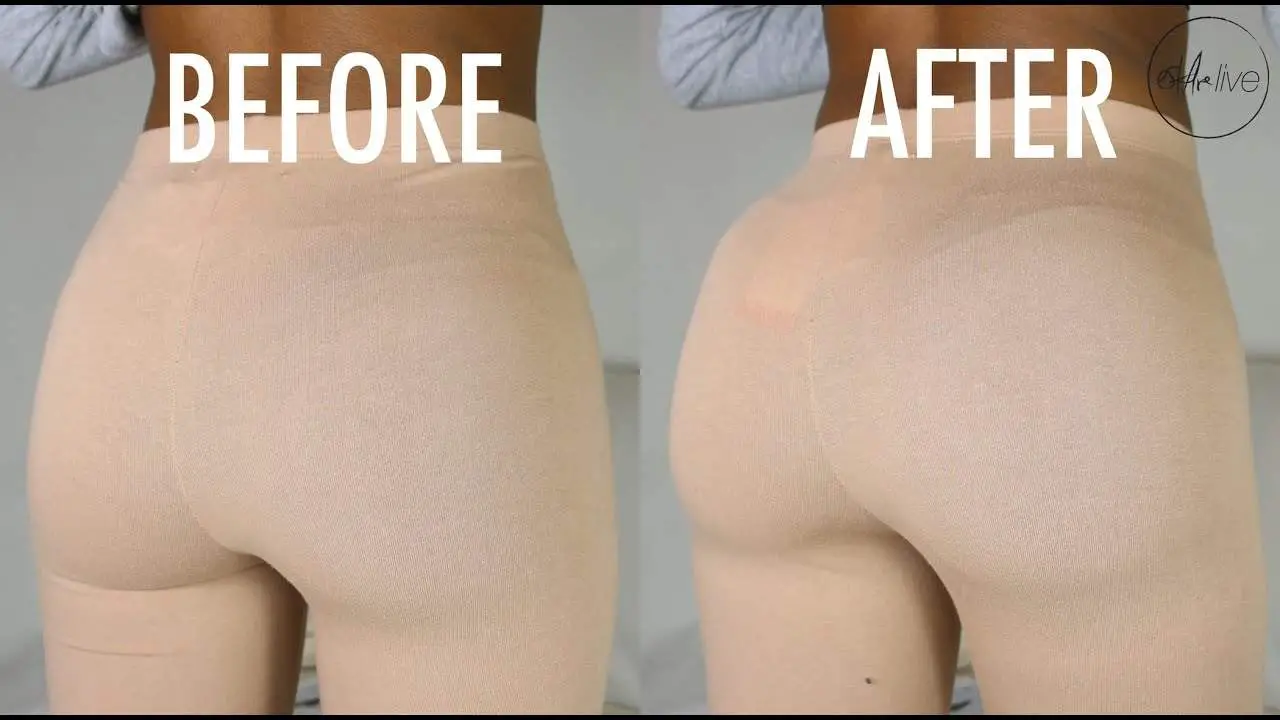 The most striking and appealing quality about bum lifter pants is that they're discreet. Nobody knows you're wearing them. With minimal padding, they look as normal as any stylish pants.
You can wear bum lifter pants for parties, dinners, dates, and what-not! They boost the buttocks region in more ways than one. It evens out wrinkles and sagging skin. It lifts and sculpts the sloping or elongated shape of the butt. And it makes your butt look round and firm. 
So the before and after results of bum lifter pants are pretty incredible. You can buy from a wide range of sizes. Even if you're one of those women with a slimmer waist and wider hips. Pants have a butt-lifting cut and skinny legs. So it enhances the lift and shape of your butt even more.
You don't have to feel embarrassed if you want to know bum lifter pants before and after. If your well-toned buttock needs a boost. This is exactly what you should get. It's high-quality, comfy, and durable.
Why do people wear bum lifters? Well, if you have a special event to plan for. A casual outing, party, date, or red-carpet thing of an occasion. You can always rely on the magical powers of a bum lifter. It really sculpts and shapes your buttocks.
Plus, the major benefit of wearing it is that others won't be able to see it. No skin irritation, chafing or poking. The smooth and firm material of the pants never lets it show. That's how you can highlight a toned body. Giving you the perfect hourglass shape of your dreams!
Having said that, it's important to garner as much information you can. About bum lifter pants before and after. Its benefits, disadvantages, and tips. This article helps you seek the best of everything. You will love wearing bum lifters now! No more fuss.
The Best Butt Lift Pants – The Most Stylish & Comfortable
It's quite a difficult and confusing task buying a pair of regular pants, let alone the best butt lifting jeans. A lot more goes into finding the perfect fitting pants already. Such as length, wash, leg opening, rise, etc. So in this butt lift pants review, I'm going to keep all of these factors in mind. Along with coverage, yoke, and pocket placement.
The three additional elements I've mentioned above are responsible for sculpting your backside. So how about you get to know not only the most popular but also the most comfortable butt shaping and lifting pants ever!
Check out these top 5 reviews for a major backside boost!
The Best Butt Lift Jeans Review – 5 Very Stylish Recommendations!
#1 Signature by Levi Strauss & Co. Gold Label Women's Totally Shaping Skinny Jean –

#1 Choice
Super stretchy and premium quality, these skinny jeans are definitely the most popular choice. Especially among curvy women. I mean how many times have you come across pants or jeans that fit well around the waist but then are too loose in the legs? Plenty of times I'm assuming. So that's something you don't need to worry about in this case.
Totally Shaping Skinny Jeans by Signature by Levi Strauss & Co. fit perfectly well from everywhere. This includes stretchy enough to accommodate your waist. At the same time, skinny around the hips, thighs, and legs.
But what about butt lifting? Well, this is a part of the best butt lift pants review. So naturally, the current pair gets the job done very well. Thanks to the combination of cotton, elastane, and polyester.
The jeans stay up without creating a muffin top. Furthermore, they're super comfortable and flattering. Just the amount of stretch the pair offers is enough to prove the point that the brand manufactures the best bum enhancer pants. These jeans don't disappoint in terms of lifting and shaping. Even in the case of a saggy-looking booty!
Then there's the perfect mid-rise waist. That you're very likely to find the most flattering for your body type. And lastly, bonus points for the inseams that are of the perfect length.
Perfect fit hugs natural curves.

Smoothing panel in the tummy for shaping.

Mid-rise waist with a good amount of stretch.
Too spaced out back pockets.
#2 Fashion2Love Colombian Design High Waist Butt Lift Levanta Cola Skinny Jeans –

Best Colombian butt lifting jeans
The beauty of Colombian styles is that they're specifically designed to lift the buttocks. And to slim the waist at the same time. So it's only natural to assume that these skinny jeans are carefully crafted. I mean they make your waistline look slimmer while shaping and lifting your backside. No two ways about that!
Moreover, the blend of spandex, cotton, and polyester may not be a unique one. But it certainly is very effective. Particularly when it comes to slimming your tummy. Along with lengthening your legs and lifting your butt.And also hugging your body in all the right places.
These are not only flattering but also extremely comfortable too. The perfect stitching gives the butt a perkier, rounder, and firmer shape. In fact, the pair smoothens all your troubled areas in the thighs and lower hips.
There are 4 buttons installed on the wide, high-rise, comfortable waistband. The front pockets are only for show. And there are no back pockets. This might be a problem. But when your priority, in this butt lift pants review, is to shape and lift your bum. No other concern really matters here!
Speaking of which, is that really your priority? If yes, then you might want to incorporate these exercises for the perfect round, toned butt…
Stretchy, contoured fit to shape, lift, and slim.

Comfortable, stretchable, and breathable fabrics used.

Elasticity and softness remain intact after washes.
No front and back pockets
#3 Levi's Women's 721 High Rise Skinny Jeans –

Best high waist butt lifting jeans
Before this, I reviewed the mid-rise model of Levi's. And now it's time for the high-rise version. Levi's Women's 721 High Rise Skinny Jeans are also constructed using innovative stretch denim. That means these too flatter, lift, and hold your butt throughout the day. If you ask me, it's a must-have in every curvy woman's wardrobe. All thanks to the classic skinny fit.
Speaking of fit, the pair hugs your body snugly yet very comfortably. The optimal level of stretch makes sure of that. The stretch is mainly added around the waist area. So that your muffin top, in case you have one, doesn't get highlighted. And if you don't, then you don't have to worry about the jeans forming one.
Stretchy around the waist and well-fitted around the hips and thighs. This means women with an hourglass figure can put them on without a concern. Even those that are on the heavier side are more likely to find the jeans perfectly fitting. And from every side!
They hold your shape without overstretching across the hips and thighs. And it's this good amount of stretch that steals the show. That and the fact that these jeans are high-waisted. Levi's does an excellent job of proving a very important point that not all high-rise jeans fall in the category of "mom jeans."
Just the fact that they hold your natural curves while also lifting and shaping means a lot. Moreover, the high waisted bum lift jeans hold their own shape as well. Even after multiple washes!
Slim fit through the hips and thighs.

Made with stretch denim; thus super comfy.

Shapes the butt and tucks in the tummy.
#4.

Pantalones Colombianos Levanta Cola | Butt Lifting Jeans for Women

–

Best butt lifting jeans for hourglass body shape
Let me start by bringing to your attention that these Pantalones Colombian Jeans.
Jeans are specially created for women with an hourglass body shape. So the pair does more than just give your booty a major boost. The high-rise waist performs magical duties. Such as slim your mid-section.To give you a curvy and shapely look!
But obviously, it's the structure of the backside that many women find the most appealing about the current pair. After all, its crescent shape back yoke enhances volume. That too in the most flattering and gentlest manner.
Then there are triple support seams for shaping and contouring your every butt cheek. This pair comes from the Colombian collection of skinny jeans. That is designed with a pocket-free, sleek back. Along with a stylish yet comfortable wide, high-rise waist and blingy buttons.
The 3 darts perfectly contour your curves. While the yoke at the back helps in boosting volume. On top of that, there's the classic skinny silhouette of these best shaping jeans. One that looks good with just about anything you wear with it. Like jackets, tunics, tops, layers, etc.
Sleek and simple butt lifting skinny jeans

Back is crescent-shaped for butt sculpting.

Knit-in stretch to lift your bottom.
Sizing is big, thus not accurate.
#5 Levi's Women's 711 Skinny Jeans –

Best mid-rise butt lifting jeans
You can surely rely on a brand like Levi's to manufacture the most comfortable and fitting jeans. No matter your body type! This pair is structured the way it is with innovative stretch denim. So you can expect these skinny jeans to flatter, lift, and hold your butt all day long. Needless to say, these are the best jeans to make bum look bigger.
They create a slimming silhouette through your thighs and hips. On top of that, the skinny design looks classic, no doubt. And the mid-rise waist is plenty flattering. A fit like this makes you feel incredibly comfortable thus confident about your natural curves and muffin top.
Levi's Women's 711 Skinny Jeans fit much like expensive designer pants. The ideal level of stretch and thickness is enough for lifting a generous or flabby backside. Along with hiding cellulite. Speaking of which, the pair fits well even in the case of a combination of a bigger booty and skinny legs.
Women, more often than not, settle for an ill-fitting or uncomfortable pair of jeans. Just because it's not easy finding the perfect pair for their particular body shape. So these Levi's 711 Skinny Jeans are specifically designed for such women.
Comfortable and breathable tight around the calves, perfectly fitting around the waist, and also long enough to provide full-length coverage. These are some of the most remarkable qualities of the current pair. There's no chance you won't be satisfied with your purchase as long as Levi's is the brand you're purchasing from.
Stretch denim used for shaping and lifting.

Skinny leg fit feels comfortable.

Mid-rise waist creates no muffin top.
Color fades over multiple washes.
The End
The thing about butt lifting pants is that they're the perfect choice for hourglass body type. So if you have an hourglass figure, then you might find these 5 reviews the most useful. Just remember that you're not trying to hide your natural curves here. Butt lifting and shaping jeans enhance your backside and shape your midsection.
There's nothing to hide if you're on the heavier or curvier side. It's your natural body after all. So instead of hiding your bulges and cellulite, why not accept them. And as long as there are such butt shaping and lifting jeans, you don't have to worry about how your body looks.
comparison table of 5 best bum lifter pants
| NAME | RATING | STYLE/WAIST | MATERIAL |
| --- | --- | --- | --- |
| Levi's Women's 711 Skinny Jeans | #5 | Skinny fit/mid-rise waist | Cotton, elastane, lycra |
| Curvify 765 Premium Women's Enhanced Butt Lifting Skinny Jeans | #4 | Skinny fit/high-rise waist | Cotton, elastane, polyester |
| Levi's Women's 721 High Rise Skinny Jeans | #3 | Skinny fit/high-rise waist | Cotton, polyester, elastane, viscose |
| Fashion2Love Colombian Design High Waist Butt Lift Levanta Cola Skinny Jeans | #2 | Skinny fit/high-rise waist | Cotton, polyester, spandex |
| Signature by Levi Strauss & Co. Gold Label Women's Totally Shaping Skinny Jean | #1 Top Choice | Skinny fit/mid-rise waist | Cotton, elastane, polyester |