Let's be Honest!Can Men Tell If You'Re Wearing A Push-Up Bra Or Padded Bras?
Our Editors independently test and rate the best products. When you buy through links on our site, we may earn an affiliate commission,at no cost to you.
Push-up Bras Vs Padded Bras
Before we get to provide answers to these pressing questions, we have to make sure the distinction between the two types of bras is clear; although there are some bras that are both padded and push up? (Is that Overkill? What do you think?)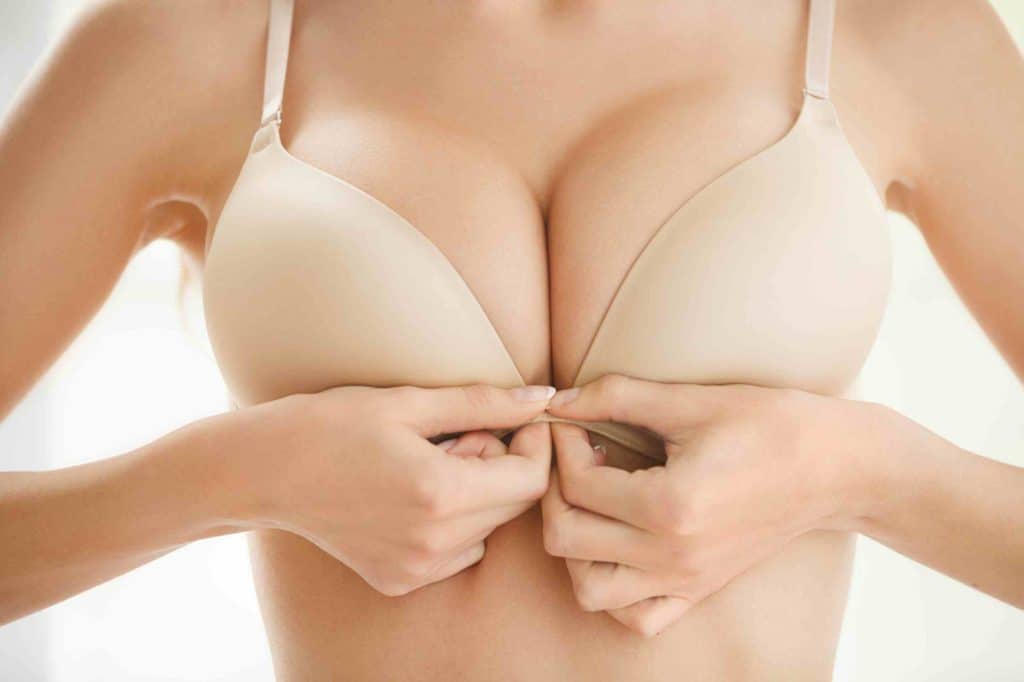 Push-up bras are bras that essentially "push up" a woman's breasts. They are half or demi cups bras designed with underwire, and or special padding at specific angles to create a visible cleavage by pushing the breasts inwards (and closer) and lifting them. Push-up bras enhance the wearer's breasts by centering the cleavage. Most push-up bras are usually although not always, worn with clothes that have a low neckline.
A lot of people believe that women wear push-up bras to attract men, while that might not be entirely wrong. That is not always the case.
Push-up bras are usually worn with particular dresses or tops to make them fit. Push-up bras have a way of providing shape to a particular outfit.
Extensive push-up bras however might add the appearance of one or two cup sizes to your breasts.
Padded bras are designed to make your chest/breasts look bigger. They are made with padding of varying sizes and the padding material is usually foam, gel or even water so women can pick the ones that suit them best.
Even though padded bras are usually worn to give that extra size to your breasts, for women and girls who would rather not have their nipples poking out of their shirts or dresses, a padded bra is a way to go. They also provide extra support and hold the breasts firmly in place.
Push-up Bras Vs Padded Bras The Difference?
As we explained earlier, padded bras are well, padded, usually giving you extra volume on your chest.
Push-ups on the other hand add more of a contouring effect to your breasts, lifting and giving them a more centered look which results in a visible cleavage.
Can Men Tell If You're Wearing A Push-up Bra?
To be honest, the answer to this is debatable. A lot of guys claim they can tell when a lady is wearing a push-up bra. They say that they can tell when a lady is wearing a push-up bra because her breast looks higher and closer together (which is technically the job of a push-up bra). However, this might not be accurate with someone you've only just met.
With someone they see regularly, the difference might be obvious when they switch from wearing a normal bra to wearing push-ups because you have a certain idea of what they look like with a normal bra. With a stranger, you can only guess (I don't see why anyone would waste their time doing that though).
The type of the push-up bra also contributes to how obvious the appearance is. If you're wearing a push-up padded bra or an extensive push-up bra, it might be obvious that you're wearing one because the lift of these bras is usually over the top (pun unintended).
Breasts come in different sizes and shapes and a woman might be wearing a regular bra but still have a cleavage that would like she was wearing a push-up bra. Why? Because every breast is different and you can never just truly tell.
Women with perkier or bigger breasts might wear regular or even sports bra and look like she is putting on a push-up bra. The only way to tell for sure is by asking her (Oh and I assure you, you don't want to do that. Not only would it be rude, but it would also be considered a little creepy too) or by taking them off (and we suspect if you're taking them off, you might be too preoccupied with other thoughts than the type of bra she is wearing).
Can Men Tell If You're Wearing A Padded Bra?
Well if you're wearing a padded bra for the extra volume then I think you might be a little pissed that people don't notice that your breasts look bigger.
The answer to this is also tricky and dependent on how padded the bra is. Most bras nowadays are padded in some way; however, it depends on the level of padding in the bra.
People might notice an increase in your bust size but that doesn't mean that they will know that it is because of a padded bra.
There a few reasons why people might be able to guess that you're wearing a padded bra.
They know you. It's that simple. Someone who knows you and sees you every day might be able to tell if your breasts just suddenly grew in size or you just started looking bustier.
The bra is not your size. A lot of women make this mistake often enough when buying their bras. They pick a size that is not suitable for them.  This makes it relatively easier to tell when you're wearing a padded bra because there will be an obvious distinction between the cup of the bra and the curve of the actual breasts. So if you want to get yourself a padded bra, make sure you get the right size!
Okay, this might be a little obvious but if you're making out with someone while wearing a padded bra, they will notice. I mean it's hard not to notice the difference between real breast and the padding of a bra when you're touching it.
Regardless, there are some men out there who believe that wearing a padded bra or a push-up bra is a "false advertisement." This, however, should not concern you or affect your decision when choosing a bra. These bras were designed to give you support and comfort while also enhancing your confidence as well. If you feel the extra attention that might come with wearing either of these bras, however, then there a couple of other bras out there for you as well.
Choosing a bra should therefore be a decision that is about you and not anyone else.