Dansko vs Sanita – What Clogs Are the Best? (A Complete Guide)
Our Editors independently test and rate the best products. When you buy through links on our site, we may earn an affiliate commission,at no cost to you.
Dansko and Sanita are two shoe brands that most nurses and waitresses are in awe of. They offer clogs that are comfort shoes, slip-resistant, cushiony, and supportive. Considering nurses and waitresses spend most of their time on your feet. Buying clogs is unavoidable.
But which to buy: Dansko vs Sanita?
Let's get back to basics. In this article, I will talk about what makes Dansko or Sanita a quality choice. Which is better with regards to price, quality, and durability. So if you want to buy the best clogs for nurses or waitresses – you don't want to miss this. Shoes affect your health so choose wisely!
An Overview
There is no visual difference between Dansko vs Sanita. Both may look the same with a few differences in design. The reason for their shared appearance is that both brands were, a few years ago, under a single company. But they split and their designs are more or less the same.
But if you really want to know what sets the two apart. Dansko clogs have a wider heel footing than Sanita. You may not notice this at first glance but it's there. It enhances stability while walking or brisk walking. It also improves balance to prevent accidental ankle rolls.
Sanita differs too in more ways than one. It lacks a broad heel base, no rubber piping near the opening of the show, and a higher supply. The rubber piping prevents discomfort and chafing which was a common complaint.
Sanita is everywhere; in online stores and other retailers. They're available in various sizes, colors, patterns, and styles. Dansko, in comparison, runs a little behind. Because the company produces most of its shoes by hand, the sizing is a bit inaccurate.
Between Dansko vs Sanita, Dansko is the more expensive choice. And because it's not as adaptable and available as Sanita, it attracts an exclusive crowd.
---
Dansko vs Sanita – Which is Better?
Dansko Women's Professional Black Oile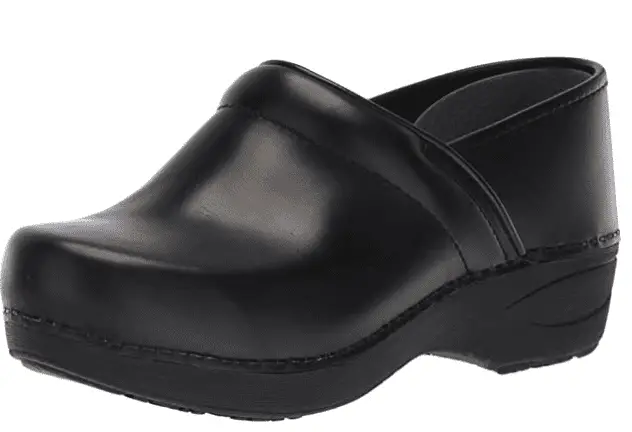 Oiled Leather
Padded instep collar for comfort when walking
Roomy reinforced toe box
Sanita Women's Professional PU Leather Clogs White
Made in Europe
PU leather makes this Professional a perfect choice for professionals that want an easy cleaning and spill resistant upper
It is important to know that both brands offer high-quality and irresistible shoes. If you pick up a pair of Dansko, they offer premium quality materials, sturdiness, and a better posture. The same goes for buying a pair of Sanita.
But the only difference is the price. The former is more costly than the latter. And that's why most people prefer buying Sanita over Dansko.
Sanita Features and Benefits↓
There are two types of clogs Dansko and Sanita offer. Closed-back and open back clogs. Closed-back clogs, as you must have guessed already, have back support. They are there to prevent slipping and support your feet as you walk. Open back clogs are good to look at but not so great otherwise. 
Here's how both clogs benefit waitresses and nurses…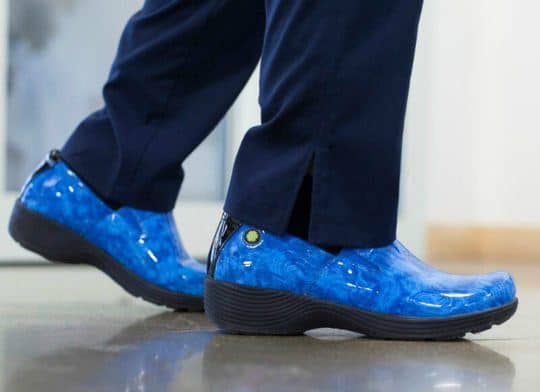 Lightweight
Clogs are not as heavy and thick-skinned as sports shoes. Provided you will be on your toes most of the day, the weight is an important factor to consider. Too much weight on your feet can cause foot problems. It's highly likely that you'd be in a bad or irritable mood also.
The point of wearing clogs is to feel at ease. They improve ventilation allowing your skin to breathe as you walk or stand all day.
Slip Resistance
It doesn't matter how skilled a nurse or waitress you are. Walking on a wet surface is going to be an everyday thing. Putting anti-slip soles or other accessories on your standard shoes is not enough.
You need something specific like clogs that offer protection and stability. The sole grip is made of rubber or a rubber blend. It offers softness but makes sure your feet don't slip even if you're brisk walking on a wet floor.
Upper Material
The upper material is one of the most important deciding factors for clogs. The common upper materials are leather, rubber, or polyurethane. They are high-quality and premium materials. Researched and tested for offering support for a long day.
A solid upper material also resists stains and dampness from showing. It resists moisture, dust, water, and stains. So your feet stay dry and comfortable while you deal with plans and stress.
Flexibility
The comfort and lightness of clogs are incomparable. It offers your feet plenty of room to move around. But just the perfect amount with the comfy foam, padded tongue, and bottom sole. Another important aspect of flexibility is the support factor.
If you have a different foot shape, such as flat feet, clogs are perfect. Dansko offers a broader heel which is perfect for people with a flat feel. It's the same for people with high arches who need a high-contoured sole to support their arches.
How to Fit Dansko Clogs↓
Medical Problems
Footwear plays a very important part of plantar fasciitis treatment. This is a common concern among experienced nurses or waitresses. Do clogs help plantar fasciitis? Truth be told – both brands are suitable for the condition. Both Dansko and Sanita offer pain relief, better foot posture, and stiffness relief.
So if you have incredible arch pain, and you need a better arch and torsional support. Choose only the Dansko or Sanita that fit your size and have better flat or contoured arch support.
If you had to compare two pairs of clogs. Go for the one with the elevated heel, a rugged outsole, and medium-wide foot. And if you have narrow feet, make sure the heel base isn't too broad. That will worsen your condition even more.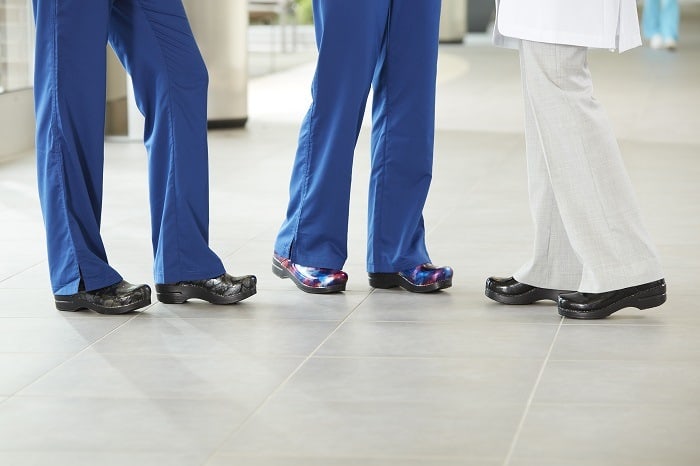 The Wrap-Up
Finding the ideal choice between Dansko vs Sanita is tough. Professional clogs differ in size and style, perhaps, but never quality. Especially when you're talking about 2 of the most premium shoe brands.
However, Dansko is a more premium choice between Dansko vs Sanita. Sanita's clogs are popular and at a professional's beck and call. You can order different colors to match your outfit. You can switch between sizes more easily and be confident that they'll fit. Dansko's clogs need trial and error.
Clogs are designed to increase support and comfort. They improve posture, ease foot movement, and prevent ankle rolls. So you can be on your feet all day and go home without throbbing heel pain.
Whatever your foot requirements, choosing the right pair of clogs can be life-saving. It will improve your mood, your activity, and save tons of money! Clogs don't squeak if you keep them dry, they don't bend, or look old and damp with age. As long as you take care of 'em, you're fine!