What Is the Best Hat for Bald Men? (Top 5 Styles You Need)
Our Editors independently test and rate the best products. When you buy through links on our site, we may earn an affiliate commission,at no cost to you.
Maybe you've had a bald head for a while now or perhaps you just recently decided to shave your head. Whatever the case, with no hair on your head, you can experiment with quite a few hat options. I mean even those with hair can do the same. But what are the best hats for bald guys? Because there are certain kinds of hats only that you can pull off with a shaved head.
These best hats for bald guys are the best things you'll buy this year! Think of them as your best friends for the coming winter, and summer, and monsoons! These are both stylish and surprisingly cozy to wear.
The right hat for bald men is a must-have accessory. This is because such hats go beyond style. They protect from the sun's harsh rays, sweat, and dust. You can wear any one of these hats in any season.
Plus, they're not limited to a certain kind of outfit either. Casual, formal, fancy, or somewhere in the middle. You can always rely on these striking choices to keep you comfortable and well-supported.
7 Best Hats for Bald Guys That Feel the Most Comfortable – Top Picks and Reviews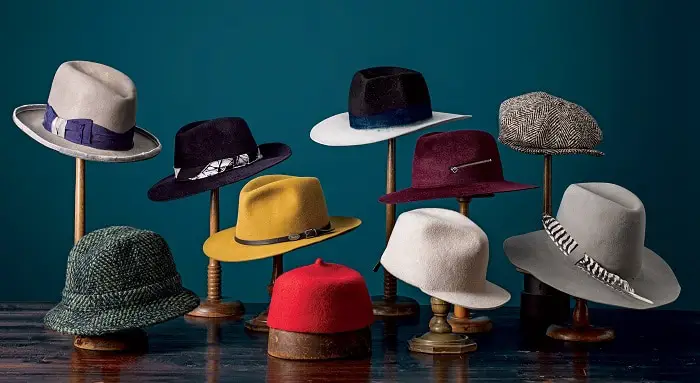 1. Carhartt Men's Odessa Cap –

Editor's Choice
The Carhartt Odessa Cap is the perfect choice for a baseball cap. You can't possibly want anything more than good stitching in a hat. And that's exactly why this hat for bald guys is so superior.
Made of high-quality cotton, it's comfortable and supportive to wear. At the back, it features a simple hook-and-loop closure. And on the inside, the lining has a sweat-control and a moisture-wicking sweatband.
The stylish appearance and adjustable fit are its best features. For bald men, with exposed skin, this is a sensible choice. The moisture-wicking sweatband, especially, because it prevents chafing.
If you live in hot weather, things are bound to feel humid or sticky up there. The breathable cotton fabric is a delight to behold. It doesn't stick to your skin. It doesn't pinch or rub against the sides. It protects the skin in that area while also cushioning it.
Proper ventilation through the closure at the back and sides is also important. You don't want to feel stuffy in case you end up wearing this hat for a long, long time. This baseball cap retains its original after every use. It's sturdy and comes in a variety of attractive colors.
Most men like this hat so much they ended up buying all the colors. If you're bald, a hat is as important as picking out a proper t-shirt or jeans to wear. It must complement your entire outfit. That's why picking the best hats for bald guys is important. When you do it wrong, it looks off.
If you're still confused about what to buy, go for this top favorite pick. The Carhartt Men's Odessa Cap is a classy and premium choice.
It's the backbone for every bald guy looking for a supportive cap. Since it's a baseball cap, it goes with every outfit. And it genuinely feels light and soft against your skin. No wiping off the sweat on a hot day is required.
Soft, supportive material.

Perfect for big head sizes as well.
2. Kangol Tropic 504 Ventair –

Best Breathable Hat for Bald Guys
If you fancy yourself something a bit more stylish and classic. Go for this Kangol Tropic 503 Ventair. You've seen this kind of a hat everywhere in the movies. They call it the classic "newsboy" cap. And it looks just perfect on a bald head.
Even though this style of hat has been around for generations. At one point, people also referred to it as the "old man's hat." It's now become a stylishly modern choice for men. It looks superior to basic hat choices for bald guys in every way. The polyester blend and adjustable size make it so.
You can buy this best hat for bald guys in so many colors. Beige, brown, charcoal, green, red, white, black, etc. It spoils you for choosing anything else. The fabric and fit are well-constructed. It supports your head without causing excessive sweating or itchiness. Even in hot weather, it doesn't feel uncomfortable or stuffy.
The thing that really stands out, though, is the carefully-knit design. The pattern looks exquisite and so stylish. It stays perfectly clean too. Mainly because it promotes proper ventilation all through the sides and from the top. The flexfit of the hat stays in proper shape and smells clean too. Only that you will need to hand wash it regularly.
Overall, the Ventair is a clear winner for a newsboy hat. It breathes better than other fabrics. It stretches only so that the fabric doesn't pinch or squeeze your head. And it's a fun hat to wear for both casual and formal occasions. For example, the beige color never runs out of style.
Comfortable and true to size.

Proper ventilation and softness.

It offers incredible sun protection.
Do not overwash the band.
3. Simplicity Unisex Timelessly Classic Manhattan Fedora Hat –

Best Stylish Hat for Bald Guys
This is a classic fedora hat for bald guys. It looks classy at such an affordable price range. Other similar fedora hats end up looking cheap. But not this one. It fits like a glove. It looks and feels light. And it suits hot weather just as well as cold.
You can wear this hat for a show, an event, or a themed party. The cotton and polyester blend feels light and supportive. The cotton improves breathability so you don't feel too hot in it. While the polyester improves support so it's not too loose.
You'd be surprised by the number of ways a fedora hat can look ridiculous. It can either be too big or too small for your head. Especially for bald men, you don't want to look out of place. And a bad fedora hat can make you look like that.
What you need is something tried and tested. Something that won't crumble into a ball or look worn out quickly. This fedora hat for bald guys looks good, feels supportive. It has plenty of room to keep your skin dry and cool.
It's even a good casual attire for men who want protection from the sun. Pair it with khaki and classic dark colors, you won't regret buying this best half for bald guys.
Flexible and supportive fit

The narrow brim and teardrop crease looks stylish.

Short crown for better grip on the head.
4. Kangol Cotton Twill Army Cap –

Best Comfortable Hat for Bald Guys
Another one of Kangol's stylish and superior choices. The Cotton Twill Army Cap is a baseball cap. It is available in a variety of colors. And it's one of the best best-fitting hats on the market. The headband feels comfortable. The sizing is accurate. And it lasts for a long time.
That being said, let's get into the specifics. Unlike other hat blends, this one is cotton and spandex. So it has the firmness of spandex. Combined with the softness and ventilation of cotton.
Because of spandex, the hat holds its shape fairly well. It's not too tight for a big head. And it won't be too loose for a small head. You can see for yourself that the quality is just as good as it feels.
It has a Kagol's premium FlexFit which improves usability. The material is soft, breathable, and smooth to touch. The stitching is not at all uncomfortable. Even if you twist it around, it won't squeeze or pinch the skin.
The visor is comparatively longer but it looks good. It protects excellent protection against the sun. Nor is the brim too large or narrow to shade your eyes. Don't we all hate hates that feel too obtrusive? Well, this hat is nothing like that.
The only problem is the washing bit. It's tough to wash this hat and you have to be very careful about that. Or else it loses all its color and starts fading fairly quickly. If you can't wash the hat regularly, especially if it's a light-colored hat. Then, the hat starts to look worn out quickly. So that's the catch!
Comfortable and soft material.

The visor is not too large.

Keeps the skin dry and cool.
Not the ideal choice for daily use.
5. Pineapple Star Sun Straw Fedora Beach Hat –

Best Supportive Hat for Bald Guys
A unique combination of paper straw and polyester. This hat is the perfect choice for a beach straw hat for bald guys. It's good for a day out and for traveling. The best thing about this hat is that it doesn't overdress or under-dress.
And that means it can go with most outfits. Whether to a fancy dinner party or a cafe. The premium quality paper straw gives the softest feel. Unlike bamboo, it's soft and smooth against the skin.
The polyester keeps your skin cool and dry. And it's not all that heavy so it's lighter to wear for a long time. Another impressive quality of the straw hat is that it protects against the UV rays. It causes no tanning, no sweating, and no chafing.
The adhesive straps allow you to adjust it accurately. The Velcro strap which is also good for making adjustments is strong. And it stays hidden underneath the band. Not everyone loves the hanging straps of a straw hat. So this out-of-the-way Velcro strap is genius.
The straw woven looks neat and edgy. It's in the fine details as much as the big picture. So overall, it's a convenient and practical straw hat to use. If you're going to be out in the sun for a long time. And you simply hate the dampness that plain cotton caps provide. This is the next best thing to wear.
High-quality straw is woven with polyester.

It will fit your head perfectly.

The Velcro straps are hidden.
Not the softest material.
6.

Zavelio Unisex Shearling Sheepskin Trooper Russian Ushanka Winter Fur Hat

–

Best Winter Hat for Bald Guys
This is a different kind of hat for bald guys. Not everyone will appreciate its comfort and support. But, having said that, not everyone will have a need for it. A trapper hat is a soft and comfortable choice.
And this fur hat is premium-quality. It is made of 100% Shearling Sheepskin, even the strap. The inside is soft with non scratchy fleece. ( rabbit fur is not durable/'faux' fur may itches your head )
It looks attractive as far as trapper hats can look attractive. They're perfect for the winter season. So that's what they're perfectly designed for, aren't they?
Some people even wear a trapper hat during the monsoons. It's thick enough to protect your head. It doesn't absorb water. The fabric is smooth. The premium Genuine Sheepskin is professional-grade and durable.
It comes with a leather neck strap for easy use. The darker shade of the fabric is versatile. That means it goes with any outfit. That's one of the things men look for, don't they? A piece of clothing that goes with everything else.
During the winter months, this hat keeps you warm and at ease. It fits nicely, stays on for long periods of time, and wicks away snow and moisture. What more could you possibly expect from a trapper hat?
Supportive and very comfortable fit.

Non scratchy fleece inside

Handmade with 100% natural sheepskin
7. Ben Davis Acrylic Cuffee Beanie Skull Cap –

Best Workaday Hat for Bald Guys
Do you want something common that looks not-so-common? Try the Ben Davis Acrylic Beanie. It has plenty of color options to choose from. It's stylish, workaday, and classic. You can wear it to work, to a party, to a cafe, for a movie. It's versatile and fun.
This is a lightweight and comfortable beanie cap. Though it's actually a winter accessory. If you're comfortable enough, you can wear it all year round. It's a great option for someone who is shy about their baldness to still look stylish.
It's breathable acrylic with a shape-retaining fit. The material, though smooth to touch, feels tough. So it's a premium quality pick for most bald men.
You'll like the style and fit of this beanie even more because it's not at all pricey. That's why it's a popular choice that looks better than average. It looks snug, fresh, and attractive! Even some of the high-end beanies do not pack such a punch. With the elite array of colors, supportive fit, this will soon become your everyday staple.
The best supportive beanie for bald guys.

Low-key, comfortable, and modern.

High-quality and smooth material.
The size runs a bit small.
---
Should Bald Guys Wear Hats?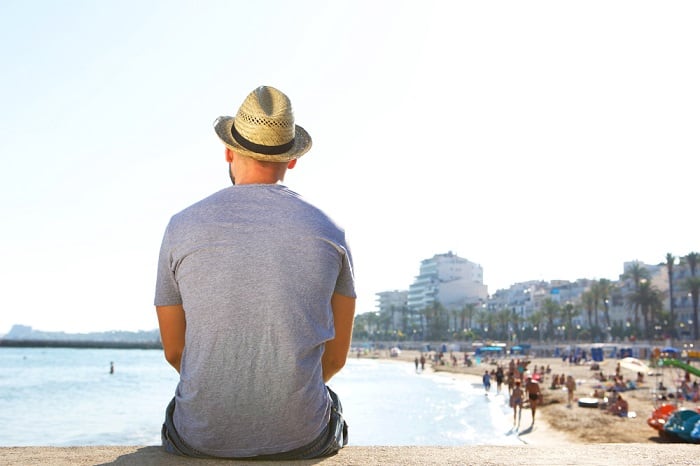 The purpose of hats, originally, was to cover and protect bald heads. It's just later that more and more men and women started wearing hats for other purposes too. So how about using them for the very purpose they were created for!
But you should know that not all hats look stylish on a shaved head. I mean you have to take that into consideration. Particularly if you don't want to end up looking and feeling out of place with a hat on your bald head.
That in place, let's find out what are your best options. But before that, you might have another query that needs to be addressed right away.
The question should be why shouldn't bald men wear hats?
(Youtube)Does wearing a hat make you go bald? Can bald guy wear hat every day?↓
The thing about hats is that they make a great accessory for guys with shaved heads. Because what the thing does is keep the head dry and warm. And this is especially useful when it's raining or snowing outside. At the same time, you can wear a hat on your bald head to even protect it from the harsh UV rays of the sun. Meaning for protection against sunburn.
But this doesn't mean that hats don't have other functions too. Such as being a stylish accessory. However, it's quite obvious that a man with a shaved head is wearing a hat for reasons more than just using it as a stylish accessory. Am I right?
Almost every bald head with a hat on is trying to disguise the baldness. There's no denying that. So it's okay for you to do the same if that's what you have in mind too. But then know one thing that a hat is also going to have an impact on your physical attire. In that case, it's important for you to choose one that looks stylish. And suits your outfit and personality.
Best Hat for Bald Men – Top 5 Styles
1. Baseball Cap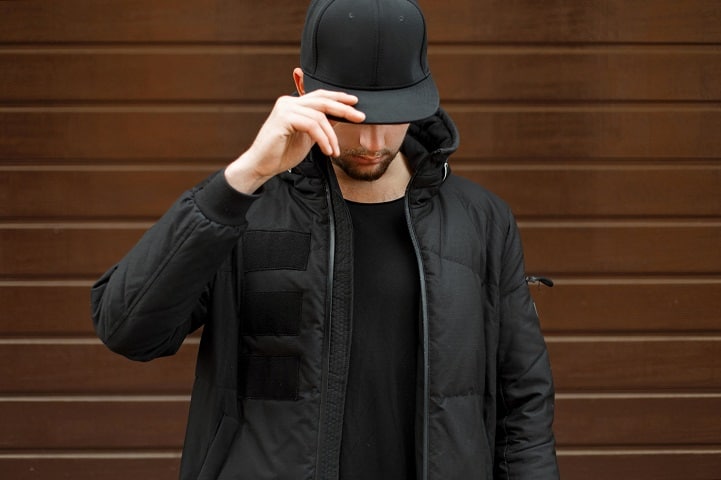 Retro baseball caps do indeed look very classy. And those buying on a budget are sure to find one that's both cost-effective and visually appealing.
It's one of the best types of caps. Simply because of the ergonomic and iconic design. A baseball cap might seem like a simple choice. Nonetheless, it offers a classic sense of style. At the same time, the hat does what it's supposed to. Meaning it offers adequate protection to your head against sunburn and heat.
Baseball caps can be worn during the colder months of the year too. Thanks to the unique shape and tight fit, they protect your bald head from cold weather as well.
2. Flat Cap
Yet another classy hat for bald men, flat caps can be worn in just about any season. They have the ability and style to withstand all types of weather conditions. But it's for the summer and spring kind of weather that flat caps are the most popular. Why is that though?
Because the stylish accessory is not equipped with neck, ear, and cheek protection. Also because flat caps are not constructed using high-quality, thick wool. That means protection against the cold gets compromised if you decide to cover your shaved head with a flat cap during the winter months of the year.
Nevertheless, it is a timeless classic. That sprung into existence in North England and South Italy during the 14th century. The best part about flat caps is that you can flaunt them with both formal and casual outfits. They add versatility, no doubt, to your clothing. While also adding volume to the scalp and accentuating chiseled facial features.
3. Aviator Hat
The Aviator hat is also a classic piece with a very distinguished history. The name itself says a lot about the hat's purpose. Aviator i.e. bomber hats were created for pilots to wear in the cockpit. Because during the initial stages of the 20th century, fighter planes used to be completely open. So these pilots would wear hats to keep their heads warm during the flight.
This explains why aviator hats have long ear flaps and a low brim. Such a design is best to protect your eyes and head against windy and cold conditions. Made using faux fur or fleece, aviator hats are an ideal choice for keeping your shaved head warm when it's cold outside.
4. Fedora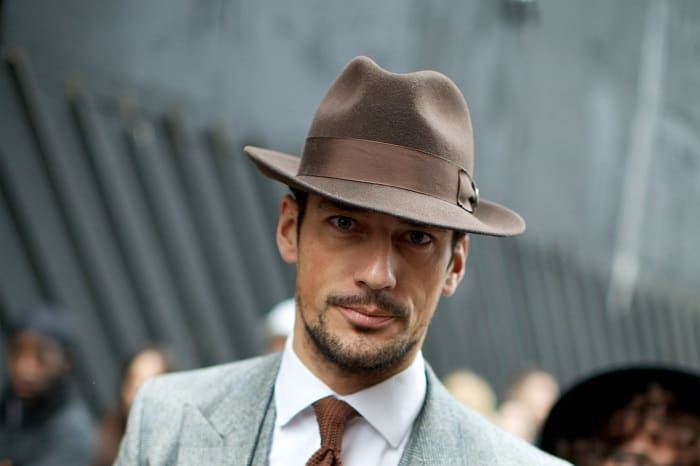 Now here's one of the best hats for a shaved head in the UK. This type of hat is the most popular and iconic. No doubt, a fedora is a classy accessory too. After all, Price Edward used to wear them during the 1920s.
But what about the fedora makes it so unique in terms of visual appeal? Hands down, it's the incredibly stylish structure of the hat. The distinctly formal design is the perfect choice for formal attire. I'm sure you know how hard it is to don a hat when combining it with a suit and pair of formal boots.
Needless to say, a fedora is a very attractive accessory in the case of high-end clothing. But how is it one of the most suitable hats for a shaved head? A fedora does indeed offer a lot of scalp coverage.
On top of that, its brim also protects your forehead against excessive sunlight and heat. And lastly, the hat fits very comfortably. This means you can indulge in extended wear. Without feeling any irritation or discomfort.
5. Fisherman Beanie
Here's the last of the best hats for men with bald heads. The fisherman beanie is a winter accessory, and classic by the way. Many men, bald or otherwise, flaunt the beanie when it gets cold outside. That means this hat is a great option for protection against windy, chilly weather.
Fisherman beanie, for the most part, is made using cotton or fleece. It's got folded brim covers to protect your ears. And as the name suggests, the hat was designed for fishermen, hunters, and other such outdoor workers. Those that had to deal with extreme climatic conditions.
The EndNote
So now you know what is the best hat for bald men and why. Just keep in mind that hats are a great style accessory. Be it for bald heads or otherwise.
But in the case of a shaved head, there are only these 5 options that look good. While also providing the protection your naked scalp demands. So choose anyone depending on the weather and your personal preferences.
Read More:
The Best Hipster Styles for Bald Men