The Best No-Show Underwear for Workout Leggings
Our Editors independently test and rate the best products. When you buy through links on our site, we may earn an affiliate commission,at no cost to you.
When it comes to workouts we are all about yoga pants, comfy workout trousers, and sports bras that are not suffocating. On the other side of the coin are the neglected underwears. For most of us, the choices include the ones that are clean, whatever available, and the ones that are not too tight. In other words, we hardly ever pay attention to the panties we are putting on before the workout session.
In this piece of writing, we will take a look at how and why you should choose to wear underwear with workout leggings. Moreover, after thorough research, we have narrowed down some comfy panties that will go well under workout leggings. Let's dig into the topic for further understandings.
Best No Show underwear for workout leggings
To make choice and shopping easier for you we have made our recommendation for the no-show underwear that is ideal for workout leggings.
Don't worry! We have taken into account the personal preferences of women and have narrowed down the top class articles from all the major categories.
For instance, if you prefer boy-shorts over thongs, then you can choose the listed product from your favorite categories. Let's take a look at our recommendations
Our recommendations:
For your convenience, we have listed some of our tops picks that are perfect to be worn under workout leggings. For an all-rounder approach and to cater to the individual preferences of type of underwear we choose articles from all the major categories.
(In A Hurry? Click on the text below to skip directly to the ones you find most interesting.)
No show Thong for workout leggings
VOENXE Seamless Thongs for Women No Show
Yummie Women's Cotton Seamless Shapewear Thong
Closecret Lingerie Seamless Thongs Comfy G-string Panties
Classic seamless underwear for workout leggings
Chantelle Women's Soft Stretch One Size High Rise Brief
Nightaste Women's Seamless Briefs No Show Underwear
Intermix Women's Seamless Laser-cut Brief Panties
Period Panties for workout leggings
Wealurre Seamless Invisible No Show Women Panties
High-waist seamless panties for workout leggings
Annen Women's High Waist Cotton Underwear
No Show High Waist Briefs Underwear for Women
Bolivian Women's Seamless High Waist No Show Underwear
Boy short style seamless underwear for workout leggings
Knit Essential Boyshort
Boody Body EcoWear Women's wear
Hiphugger seamless underwear for workout leggings:
Women's No Show Hiphugger Panties pack of 6
Victoria's Secret No-show Hiphugger Panty
14 Best Underwear to wear under the workout leggings
Below we have reviewed some of the top picks and our recommendations. This guide will help you choose the best underwear according to your taste and preference. Moreover, we have also accounted for our reviewed items for plus-size individuals. In addition to that, our high in-demand high-waist underwear is also included in the guide.
Thong 
1.VOENXE Seamless Thongs for Women No Show Thong Underwear-

Best comfy thong
Thongs top the list of underwear that have no-show characteristics. Vonexe brings you the ultimate soft and silky touch of no seam thongs. With a wide variety of colors, you can choose the one that is similar to your workout leggings. It is machine wash safe and won't deform even with multiple washes. Made with stretchable fabric it will not feel foreign to the skin or cause discomfort.
It is designed to reduce friction, which makes it perfect for wearing under leggings and workout pants. Even in summers, it is the perfect fabric that will not cause you to sweat a lot. The company gives out the complete size guide, so you can choose the perfect pair without the hassle of going to the store and trying out the item. Lastly, it will not leave a line on your skin or your leggings.
Pros
Cons

· Does not deform by washing

· Low waist

· Moisture absorption and sweat removal

· Perfect for the workouts

· Made from organic material

· Might be uncomfortable for some people
Our take:
This is one of the comfiest and breathable items on our list. If you like thongs then it is the top-recommended item of a no-show look.
2.Yummie Women's Cotton Seamless Shapewear Thong-

Best item for new mamas
For new mommas that are getting their workout routine back, this shapewear thong is a perfect option. Post-partum recovery also comes with sagging skin and a mom pouch. It sometimes makes it difficult to fit into old thong or legging. This shape wearer plus thong is made for such times. With moderate compression, it will tuck the mother's apron belly right in.
It is thong-style underwear with a high-rise to cover the stomach. The seamless finishing is perfect for the workout leggings and does not show any panty lines. It is silky smooth to touch and very gentle against the belly skin of the new mother. Thus, it will not irritate the skin. You can effortlessly clean it with a simple machine wash.
Pros
Cons

· Shape-wear ability

· Leaves no mark

· Moderate compression

· High-rise style

· Not good for low-rise leggings, crop tops, and sports bra

· A large variety of colors is not available
Our take:
We recommend it for the new mamas that are stepping into their workout routines and want stomach support with no-show edges.
3.Closecret Lingerie Women Thongs Comfy G-string-

Best for the minimal coverage
If you love to go semi-commando, with minimalistic panty designs then this G-string-inspired thong is a perfect fit for you. Its blend of amazing fabric is ideal for a cool and cozy feel all day long. It is much like the second skin and you will not even feel like you are wearing anything. With its elastic material, it stretches to fit around the curves.
With the complete size guide, you will find exactly the size that you are looking for. Rock the day at the gym with absolutely no panty lines or seam shows.  The sleek cut seam will blend into the skin and even with the tight fitted leggings, it will not be visible. If you don't love the nude colors then there are plenty of pastel shades available for you to choose from
Pros
Cons

· Elastic

· Minimal coverage

· No seams and no show

· Variety of colors

· No back coverage
Our take:
If you are all for minimalistic panties with minimum coverage, then these G-strings thongs are the ones we highly recommend for you.
Classic
1.Chantelle Women's Soft Stretch One Size High Rise Brief-

Best for full coverage
Classics in underwear are the most loved and comfortable option for many ladies. Classics never go out of style and hurt nobody. Chantelle Store brings you your favorite seamless option in classic undies. These pairs of briefs are high-rise and give a little extra coverage on the stomach. The cotton blend is made from light fabric that is breathable and cool during workout and sweat sessions.
The best thing is that despite offering full coverage, they are seamless and no-show underwear. Thus, you can comfortably wear them under leggings or yoga pants without worrying about the panty lines showing. Moreover, these panties are one size fits all, thus they are extra stretchy to fit all types of curves.
Pros
Cons

· Full coverage

· Extra stomach support

· Extra soft

· Seamless and no show

· Only one size that might not be suitable for the plus-size individuals
Our take:
If you absolutely love classics with full coverage and want to enjoy the no-show perks, then these panties are made for you.
2.Nightaste Women's Seamless Briefs  Mid-Rise No Show-

Perfect for everyday wear
Breezy feeling and ice silk texture are widely demanded and loved by women. Nightaste brings you the perfect mid-waisted panties. These are made of combination cloth for breathability and cool feeling fabric. These are the perfect pair of classic underwear with no seams and perfect fitting. Moreover, you can easily wash them in a washing machine, without the loss of quality, elasticity, or shape.
These panties are great for summer and everyday workouts. Even under the leggings and yoga pants, the edges will not be visible at all. Moreover, it has the most comfortable waistband that will not leave marks against the skin. For ultra-comfort and to absorb the bodily fluids the crotch lining is made from 100% cotton. There is a wide variety of colors available including nudes and the light shades of blues and pinks.
Pros
Cons

· Machine wash friendly

· Seamless

· Mid waist

· For everyday-wear and workouts

· Might not be suitable for the plus sizes and zero size
Our take:
If you like classic underwear then, for workouts and for everyday use, these panties are perfect to be worn.
3.Anzermix Womens Seamless Laser cut Brief-

Best all-rounder Panties
Who does not love classic pairs that are seamless and don't show on the outside? Anzermix brings you a comfortable pair of everyday panties that can become your workout companions as well. The top-notch fabric quality and softness of these panties make the perfect combination. The laser-cut wavy seams are no show and wrap comfortably around the skin.
The midrise waist of the panties doesn't let the muffin top show and tuck in the extra fatty layer. Yoga pants, leggings, workout, or everyday wear, these panties are all-rounder for all types of use. Moreover, the 100% cotton lining within the external fabric makes this article even more comfortable. It is one of the top quality products that are definitely worth buying.
Pros
Cons

· Laser-cut seam

· Smooth look under all types of clothes

· Not very pricy

· Classic cut

· Not a preference for low-rise and thong lovers.
Our take:
If you are in need of a panty that covers all of your bases including workouts and everyday wears then, this is the item you need.
Period Panties
1.Wealurre Seamless Invisible Bikini panties-

Best during the heavy flow of periods
Get your hands on these soft, high-quality fabric and pretty comfortable panties, especially on difficult days like periods. Now, working out in periods is no longer an issue, all you need is the good support and flexibility that comes with these laser-cut fashion bikini style panties. The seamless designs help you maintain the style of your outfits without anyone noticing.
Unique outfits, no matter if they are jeans, tights, or even yoga pants, these soft bikini panties are good to go with almost all sorts of clothing. The flexible design and comfortable fabric take good care of your hygiene and helps you go through your periods easily and without any trouble. With a wide range of sizes, these panties are available for every size and every shape. Wear these with confidence and without any worry.
Pros
Cons

· Amazing for crop tops and sport bra

· Soft and smooth

· Laser cut edges

· Amazing for workouts

· No maximum coverage
Our take:
If you want to work out during your days, then we recommend this item for a comfortable workout even during heavy flow days.
High-waisted seamless panties
1.Annenmy Women's High Waist Panties-

Amazing for standard sizes and plus sizes
High waist soft cotton underwear, with a double-layer and high-quality fabric, is exactly what you need to go with your professional and outdoor routine. These high-waisted underwears cover the soft belly appearance and have a firm and high-waisted look that helps you beam with confidence and walk with comfort in daily life.
Moisture-wicking technology maintains hygiene and prevents you from facing uncomfortable itching or sweat irritation on your skin. Expandable material used in the production of these high-waisted underwear aids workouts and your normal daily chores without any hindrance. Our large variety of sizes makes it easy for every woman from every field of work and age group to have a comfortable and confident experience. We assure satisfaction and comfort to our clients.
Pros
Cons

· Machine wash friendly

· Several plus sizes for heavier individuals

· Full coverage

· Post-partum and suitable for maternal recovery

· May feel suffocating for the minimal coverage users.
Our take:
It is plus size friendly brand that caters to all shapes and sizes. Thus, if you don't wear the normal size then this is the perfect brand for you
2.Fall Sweet No Show High Waist Panties-

Best for no show full coverage
Seamless high waist briefs are packed with comfort and ease, which is a perfect solution in one pack. These multiple panties with affordable ranges and high-class material bring ease and hygiene to your life. The Easy machine washes these panties without being worried about the fabric. Those days are gone where you had to rub them off manually and protect the life of your essential pieces of clothes.
The highly durable material lives long and provides you with a soft and comfortable experience in your daily life routine. Now you don't need to worry about the panty lines on your outfit, these seamless panties go well with anything you want to wear. Our wide range of sizes from small, medium, large, XL, and XXL helps everyone to redeem the confidence and uniqueness of their own. Choose your own color with our broad color range.
Pros
Cons

· Perfect for tummy tuck

· Amazing pastel colors

· Seamless and no show

· A wide range of colors are not available
Our take:
If you want the perks of full coverage with seamless no panty line finishing then this item is perfect for you.
3.Bolivelan High Waist No Show Ladies Underwear-

Best for the pastel color undies
Gone are the days where panties were just supposed to help in period days, now panties are as hip as your style. Choose the style that suits you. Seamless Bolivelan panties give you the ultimate freedom from the embarrassment of panty lines. If you totally love the pastel colors then these undies are for you.
The elastic and strong fabric material increases the life of your panties and protects the hygienic environment of your most delicate body parts. The high waist design contours your abdomen and gives you a well-shaped belly. The pack of 5 seamless hipster's panties is also reasonably priced with a supreme quality experience to the user.
Pros
Cons

· Soft microfiber make up

· Lightweight and breezy

· No stitching

· Numbered sizes

· Only available in five colors
Our take:
For the pastel colors and breathable quality, we recommend these undies as the top pastel-colored articles they also serve the function.
Knix fails to disappoint women on the edges of the weight spectrum and brings on one of the massive collections for plus-size women. The last available size can go up to XXXXL. Knix essential boy short is the epitome of perfect finishing, astounding material, and comfortable design. It is made from stretchable fabric that expands to fit around the curves.
For everyday wear under tight pants or under legging during the workout, the heat-bonded seams of these panties do not show. The fabric has a four-way stretch-ability that allows it to fit around buttocks of plus sizes as well. The cool fabric material is breathable and quick-drying to make your workout less sweaty. In addition to that, it also conceals the odour to keep everything fresh and breezy.
Pros
Cons

· Largest variety for the plus size women

· Breathable and cool fabric

· Seamless no show design

· Only two core colors (other colors are limited edition)
Our take:
These breathable panties are on top of our list for plus-size women.
2.Boody Body EcoWear Women's Boyleg Briefs -Bamboo Viscose-

Best Eco-friendly wear option
Perfect pair of undies is like a second skin that does not feel suffocating and itchy. Boody Body Company offers you exactly that. These boy-short styles of underwear are perfect for everyday wear and also for workouts. With its full-coverage design, it will not show panty lines even if the leggings are tight-fitted.
Made from 80% bamboo viscose, it is a sustainable and ethically made product with low environmental impact. The midrise design perfectly wraps around the curves and makes them look more attractive. Moreover, its blend is hypoallergenic and works really well for people with sensitive skin. The keeps the moisture away and makes your workouts light, feathery and sweat-free.
Pros
Cons

· Eco-friendly

· Range of nude dark to light shades

· Hypoallergenic

· Fuller coverage

· No show with no visible panty lines

· All sizes may not be available
Our take:
If you are all for eco-friendly living then these bamboo-made undies are your best friend. Moreover, they also fulfill the no-show needs to wear under the leggings.
Hiphugger:
1.Women's No Show Hiphugger Panties-

The best material blend that is elastic free
Alury is another name to remember when it comes to hip-hugger and the perfect blend of materials for the panties. Say goodbye to the visible panty lines with the laser cut perfectly fitted fabric. These underpants have the perfect blend of fabric types that makes them hug the buttock with coverage while enhancing your curves. With the full back coverage, you will not have to worry about the slip-downs.
It is super smooth against the skin and feels like you are not wearing anything under the leggings. Buy the pack of six and get all workout days covered. There is a variety in sizes as well as the colors of this underwear. If you are not a very big fan of elastic in the fabric, then these panties are perfect for you. Zero stitches on the edge make them a non-VPL (visible panty lines) article among the hip huggers.
Pros
Cons

· sleek design

· laser-cut edges that are no show

· hand wash and machine wash safe

·

· Might be uncomfortable for plus sizes
Our take:
These panties have the best blend of fabric that is elastic-free. They are comfy and edge at the same time.
2.Victoria's Secret No-show Hiphugger Panty-

Best paired with cropped tops and sports bra
Any review can hardly be complete without listing the product from the top player in the panty business. Victoria secret brings you no show hip hugger panty that is perfect for any type of workout. It can effortlessly be worn under the workout leggings without any accidental shows. The perfect feature is that it is low rise cut, which is not visible even when you are wearing a cropped top or sports bra.
It is a blended fabric that is moisture-wicking and does not let the fluid accumulate. Moreover, it comes in a variety of shades that vary from nudes to bright reds. You can easily wash it in the machine. In addition to that, it is seamless hence you will not have to worry about any kind of panty lines.
Pros
Cons

· Machine Washable

· Variety in colors and prints

· A perfect blend of fabric

· Seamless no show variety

· Comparatively pricy
Our take:
These victoria's secret panties are best if you are looking for low to medium rise to pair with a sports bra or crop top.
---
Conclusion:-
The above-reviewed brands and their underwear are the best among the best. Each of the items is chosen with great care and precision to deliver the desired results. In addition to that, we have kept in mind the diversity and wide range of individual preferences. All the articles that we have chosen have workout-friendly fabric that will not be harsh on your skin. Whether you want full coverage underwear or prefer thong beneath the leggings, we have got it all covered. With the great diversity, you will surely be able to find the perfect pair of underwear for yourself.
---
Buying Guide of  No-show Underwear for Workout Leggings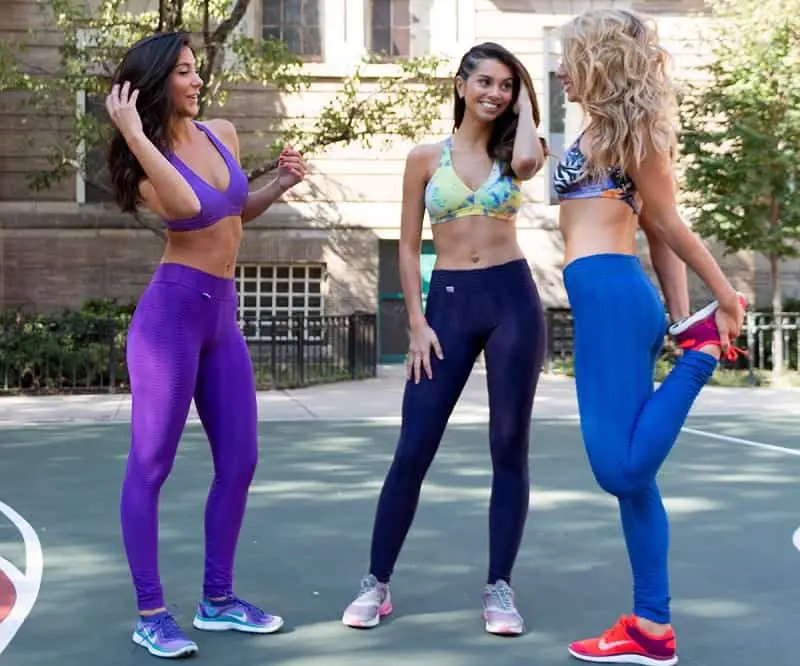 Do you have to wear underwear with leggings?
Wearing underwear and going commando are two workout approaches that are often debated to choose the best one. Both approaches seem to work well with different people as it is mostly a matter of preference. Moreover, we don't tend to pay attention to underpants while buying them specifically for the workout. Most underwears are too tight for the workout or are not comfortable enough. Thus, we end up choosing not to wear underneath workout leggings.
However, we recommend that one should always put one. The reason behind this is that our lady parts are sensitive and prone to bacterial growth. Going commando can sometimes cause chaffing and irritate the skin around the area. Moreover, if your leggings are not wicking away the moisture, there will be a sweaty buildup. Wet places are breeding grounds for bacteria and yeast. Thus there is a possibility of infection. Underwear will absorb the sweat and will keep your lady parts from getting too wet from the sweat. Hence, wearing underwear is a good choice for workouts.
What to wear under workout leggings?
The next question is what to wear? With the blooming undergarment industry, we have too many choices even when it comes to underpants. Moreover, many of the products are wrongly marketed as something else just so the consumers will buy them.  Thus, buying the right kind of underwear can be a troublesome job.
Luckily, we have talked to some experts in the sports sector. The one prominent recommendation to be worn under workout leggings is thongs. These are the minimalistic type of underwear that offers minimum coverage but are not visible under the leggings. There are other options as well, like G-string and high-waist underwear. It always depends on the personal preference that what does a person wants to wear and what style they are most comfortable in.
Why you should pay attention to your workout underwear?
There are several reasons why you should pay close attention to what you wrap around your butt. Firstly, workout leggings are no doubt very comfy, but at the same time, they are very revealing. Panty lines and seams are often very visible, which can become a source of discomfort and you will get conscious. Consequently, it will affect your workout routine and to make it less revealing you will try to restrict the movement. Secondly, the issues of wedgies and slip that we all suffer from can also get annoying in a workout. Thus, your daily loosely fit, worn-out underwear won't do the job. Lastly, workouts ought to get sweaty and microorganisms love the dark and damp place. To avoid potential yeast infection proper underwear beneath the workout leggings is a must.
What underwear doesn't show under leggings?
The thing about leggings and workout trousers is that they cling to the skin very closely. They define the shape, thus anything you wear under it will be visible. How can you avoid that? The answer to this question is that you choose underwears that don't show underneath the leggings. We have listed our top recommendations of types of underwear that are no show.
Thongs
Thongs are minimal underwears that have very limited coverage on the buttocks. It is the reason why they are not visible even under the fitted pair of leggings.
Boy shorts
Boy shorts are sorts of inspired underwear that have fuller butt coverage and end just beneath the curve of the gluts. Since they don't come over the buttocks, there are no panty lines.
Seamless perfect fit
Seamless perfect fits have no fold and stitched fabric along the boundary. They are made of elastic material that fits perfectly, thus there is no overlapping or extra fabric eliminating any showing lines.
How to wear leggings Without Underwear Lines or Panty Lines?
Ways you can wear leggings without underwear are by going commando or wearing a substitute for underwear. Body fitters and bikers shorts are also amazing alternatives to underwear. One thing that you should remember is that choose the light and moisture-wicking fabric. Otherwise, you will get too sweaty post-workout.
Another option is to go commando. However, it might not work well if you tend to sweat a lot or have vaginal discharges. Moreover, choose comfy and soft yoga pants so movements may not lead to irritation.
Tips for Buying Underwear You Can't See Under Leggings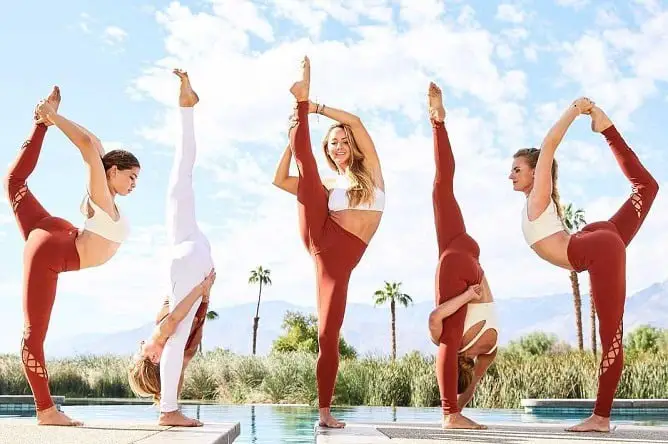 To make your underwear choosing journey easier for you, we bring you some tips and points to remember while shopping. Remember these points for a comfortable shopping journey.
Comfy-ness
The first thing that you should focus on is that your underwear should be comfortable. It should not pierce your skin or cause irritation or red marks. It should be soft, smooth, and moisture-wicking.
Fabric
For underneath the leggings always choose the fabric that is lightweight and absorbs moisture. Spandex and nylon blends are good choices for legging underpants.
Seamless
Leave out the edges if you want no-show underpants for your yoga pants. Seamless panties are the most preferred ones because they don't form lines on the outside of leggings.
Size and color
Wearing the right size is also important. Large size will sag and there will be unnecessary fold visible on the outside. Smaller than your size will be too tight and will lead to discomfort. Moreover, nude shade or the ones that match your leggings are preferred.
---
FAQ
Can you wear black underwear with black leggings?
Yes! You can totally wear black underwear with black leggings. Matching of the two is often preferred to avoid the contrasting color appearance and shaded outlook that comes with wearing panties of a different color. Make sure you choose the right fabric for both items. Moreover, black in winter workout or indoors work the best.
However, if you run and jog outside, then black might not be your best friend. If you work out outside, oftentimes with the sun out, then black is not your best friend. Darker colors especially black tend to absorb radiation and heat energy. Your panties and leggings can get more sweaty because of the wrong choice of color. Thus, for outdoor and summer workouts it is best to stick with the lighter shades and cool colors.
Can you wear white underwear with black leggings?
Both yes and no can be the answers to these questions. Firstly, if you have chosen a non-see-through, thick legging fabric, then it is okay to wear contrasting colors. However, if your leggings are of light fabric and see-through then to avoid the shades of leggings, it is crucial to match the colors and not wear white underwear.
Secondly, the thing that should be kept in mind is that white is not a preferable color for the underpants. The reason behind this is that it is a light shade that stains very easily. Moreover, sweating and discharge can cause further wear-outs and discoloration. Thus, it is preferred that you choose a different color for the underpants with the black leggings and others.
Is it better to run with or without underwear?
This question is more of a personal choice than a scientific query. If you prefer to go commando, then there is no extreme harm in that. Make sure your leggings are comfy and provide enough support.
However, if you are plus size, or have a pear-shaped figure in which buttocks are heavier in comparison to the rest of the body, then underpants might offer a little support. Without the grip of underwear, there might be too many moments that can cause discomfort while working out. Moreover, the choice also depends on the type of pants or leggings you wear while working out. If they are enough to absorb bodily fluids, then not wearing underwear will not do any harm. If that is not the case then, wearing underwear that is moisture-wicking is a good option to avoid yeast growth and infection.
What material should I choose for the underwear while jogging?
Anything comfy and moisture-wicking will do the job. Jogging requires a lot of movement, thus comfort is the priority. Anything comfortable will not restrict the leg movement or cause itching on the legs. Moisture-wicking ability of the fabric will absorb all the bodily fluids and keep you dry down there. Thus, these should be your requirements for underwear while jogging.
Don't forget to choose the high-quality underwears that we have recommended in the review article above. If you are tired of the panty lines and showing underwear, then choose a thong or a boy short. Keep in mind our tips of choosing the right underwear and you will be good to go.
Do I need underwear for yoga pants as well?
Yoga pants tend to be stretchy and skinny in their build. It highlights the shape of the legs and all your curves. Thus, it is a matter of how much of it you are okay with. In addition to that, it also depends on your comfort. Some people are more comfortable while wearing underpants, while others like not to wear one while doing yoga.
Do what you are comfortable in. In case you get vaginal discharges very often, then it would be best to put on the underwear. It helps with the one-time wearing life of the yoga pants. Otherwise, the insides of the pants will be ruined and you will have to wash them after every wear. Depending on your preference and circumstance the need for underwear for the yoga pant may vary.
How do I know I am choosing the right size of underwear?
There are two hacks of choosing the right size of underwear. One, look out for the saggy bag and two avoid the piercing line. The right side of the underwear would be the one that feels like you are not wearing one. It should fit perfectly around the waist and butt. Thus, it should neither be tight nor lose.
If you see a saggy bag or fold when you put on underwear, then that size is not right for you. It is too big and like you form excessive folds on your curves. If your underwear is pinching your skin and feeling suffocating, then it is too small. The perfect size firmly wraps around the body fitting into the curves and around the waist. If it does that, then you are choosing the right size of underwear.
---
writer

's 

attitude:
I write this article because it is highly debatable what to wear under the leggings?
If you're wearing leggings you'll be able to see a line.
I saw many comments about it: "why do you have to wear leggings? if you don't want to show the panty lines, Just wear loose sweatpants!"
First of all, Women should be free to dress and act as they please。
Secondly, I love wearing leggings. It is elastic, very light, no binding.
It can reduce friction in sports, and also quick-dry and ventilate. Workout leggings Will Keep You Comfy.
Comparison Table of Best No-Show Underwear for workout leggings
 
VOENXE Seamless Thongs
Yummie Shapewear Thong
Closecret G-string tong

Chantelle One Size High Rise Briefs

 

Nightaste Briefs s Mid-Rise No Show

 

Anzermix Laser cut Brief

 

Wealurre Invisible Bikini panties

 

Annenmy Women's High Waist Panties

No Show High Waist Briefs by fall sweet
Bolivelan High Waist No Show Ladies Underwear
Knix Essentials Boyshort
Boody Body EcoWear Women's Boyleg Briefs 
Women's No Show Hiphugger Panties
Victoria secret's Hip Hugger
Size
S-XL
S-XL
S-XL
Universal
S-XL
S-XL
S-XL
S-5XL
S-2XL
6-10
XS-4XL
S and XS
2X-XL
S-L
Style
T-shaped Elastin thong
High-waist shaper thong
G-sting thong
Classic High-rise
Seamless classic high-rise
Classic seamless
Bikini no show
High-waisted briefs
High waisted seamless
High-waisted undies
Boy shorts low rise undies
Full coverage boy short
Hiphugger medium rise
Low rise Hip Hugger
Material
90% nylon, 10% elastane
80% cotton, 10 nylon, 10% spandex
86% nylon, 14% elastane, 5%spandex
80% nylon, 20% spandex
86% nylon, 14% spandex
84% nylon, 16% spandex
Blend of nylon and spandex
95% cotton and 5% elastane
86% nylon and 14%
85% nylon, 15% spandex

77%Nylon, 23%Lycra

80% Bamboo viscose, 13% nylon, 7% Spandex
90% Nylon, 10% spandex
62% polyester,
Seamless
Yes
Yes
Yes
Yes
yes
Yes
yes
Yes
Yes
Yes
Yes
Yes
Yes
No
No-6PL
Yes
Yes
Yes
Yes
Yes
Yes
Yes
Yes
Yes
Yes
Yes
Yes
Yes
No
Breathable fabric
Yes
Yes
Yes
Yes
yes
Not mentioned
Yes
Yes
Yes
Yes
Yes
Yes
Yes
Not present
Colours
20
3
Lace, simple and printed
14
6
6
20
15
12
5
2 core 12 limited edition
8
6
4