Nylon vs Polyester Leggings – What is the Best? (Differences You Need to Know)
Our Editors independently test and rate the best products. When you buy through links on our site, we may earn an affiliate commission,at no cost to you.
Every woman owns at least one pair of leggings. Although this seems like a very teeny tiny number. I mean I'm certain that most women have plenty of leggings in their wardrobe. And that's because leggings have become a very versatile item of clothing. This brings into the picture the very popular debate of nylon vs polyester leggings.
There are many styles, fabrics, and lengths to choose from. In this article, however, the fabric is the main concern. After all, it's what determines the comfort level and flexibility of the garment, right?
More often than not, women buying leggings are as bothered about the material as they are about the fit. That said, it's time to delve deeper and then compare…
Nylon Leggings
Before I begin, let me make one thing very clear. And that's the fact that nylon, polyamide, and chinlon are not different fabrics. They're the same just so you know. So now let me tell you what nylon is. It's a material made from plastic composed of high mass polyamides. That is manufactured as fiber.
Nylon is one of the most common fabrics used all over the world. It comes right after the top choice, which is cotton. This explains why nylon leggings are as popular as their cotton counterparts.
Pros
Abrasion-resistant and stain-resistant, thus more durable.
Highly elastic and resilient.
Easy to clean.
Resistant to mildew and mold.
Cons
Shiny appearance.
Generates static electricity.
Fades when exposed to sunlight.
Not recyclable, thus not environment-friendly.
Polyester Leggings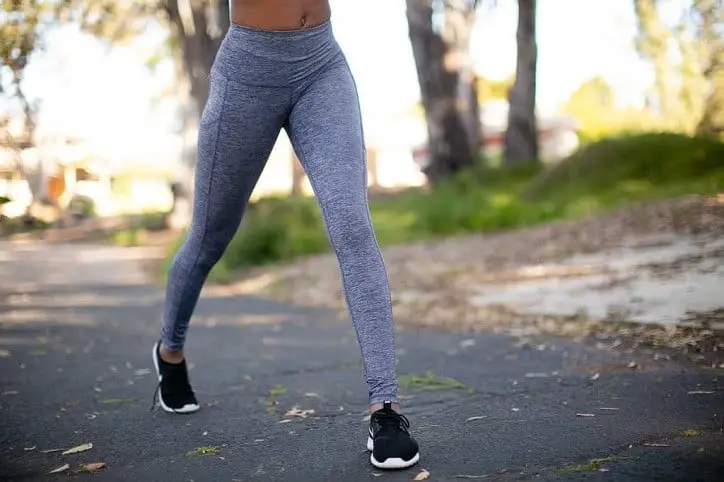 The majority of polyester fibers of today are made of ethylene glycol and terephthalic. But you might be more interested in knowing that polyester tights or clothing are generally very elastic. Meaning they retain their natural shape for a very, very long time.
Polyester yarns are incredibly strong. Along with being exceptionally wrinkle-resistant and high abrasion-resistant. In some cases, polyester fibers combined with natural fibers. For adding more value to the product. For example, leggings built using a combination of polyester and cotton.
In comparison to plant-based fibers, synthetic polyester offers better resistance. In terms of wear and tear, water resistance, and environment resistance.
Pros
Stain-resistant and heat-resistant.
Environment-friendly.
Low absorbency.
Resistant to fading or bleaching.
Cons
When stretched for too long, polyester doesn't retain shape.
It is highly resistant to dyes.
Now that you know the overview of nylon and polyester leggings. Let me talk a little about other materials too. And then we shall move on to the comparison of nylon vs polyester leggings.
3 Best Polyester Leggings:
Cotton Leggings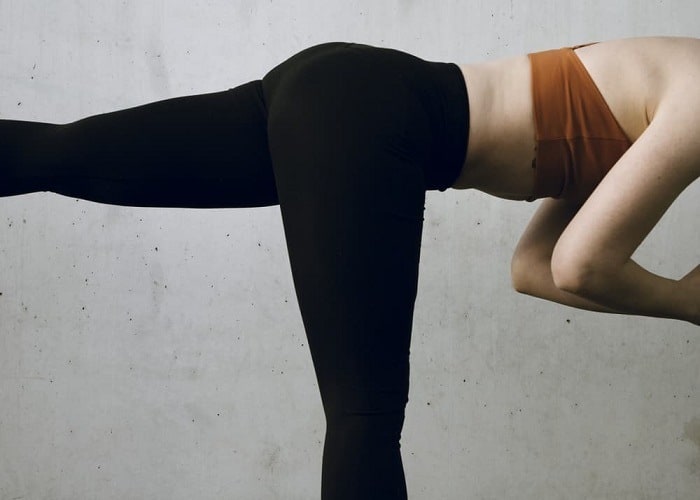 These are the most common types of leggings. All thanks to the soft, breathable, comfortable, and durable nature of cotton. However, it comes with drawbacks too. Such as the lack of stretch. Even though strong, cotton tends to lose shape over time. This explains why the blend of cotton and spandex is customary.
In fact, many workout leggings and activewear are constructed using cotton and spandex for this very reason.
Then another problem with cotton is that it doesn't wick away sweat and moisture. The fabric is plenty breathable, no doubt. But only when dry. Meaning once it gets wet, you cannot expect your leggings to dry out quickly. And that explains why, more often than not, cotton and spandex blends are also accompanied by moisture-wicking polyester.
Wool Leggings
What is the best fabric to make leggings if you're living in a region that's cold most months of the year? The answer, without the shadow of a doubt, is wool.
Wool leggings keep air pockets trapped. Therefore, holding in all the warmth. However, wool leggings are slightly expensive.
3 Best Wool Leggings:
Spandex Leggings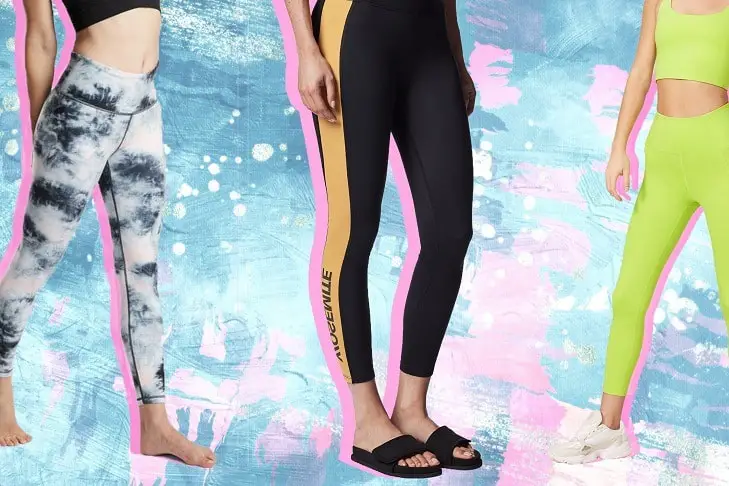 Activewear leggings cloth material blend always consists of spandex. But how much spandex should be in leggings? For daily wear, not more than 5-percent. Spandex is the stretchiest of all fabrics. So even 5-percent is more than enough in terms of hugging your body. And giving it a flattering shape.
And the fact that spandex is often combined with other fabrics compensates for its lack of breathability. Such as nylon spandex leggings, polyester spandex leggings, etc. Or even a cotton, polyester, and spandex blend.
3 Best Spandex Leggings:
Nylon vs Polyester Leggings
Hands down, polyester is the better choice. And why is that? It's because polyester performs better in comparison to nylon. Especially when it comes to moisture management. The same applies to polyester leggings vs cotton leggings. Cotton is the less preferred choice for the same reason as nylon.
Nylon is not as hydrophobic as polyester. So the former absorbs more water. This means it's more likely to feel colder if wet. In fact, nylon even stays wet for a longer time.
And the only noteworthy downside of polyester is poor durability.
But there's a lot more you need to know about this comparison…
1. Feel
Nylon compression leggings have something that their polyester counterparts don't. And that is remarkable softness and smoothness.
But now polyester has also become soft. Thanks to the advanced manufacturing of our modern world. Even so, it's still not the first choice like polyester or cotton as far as softness is concerned.
2. Color Retention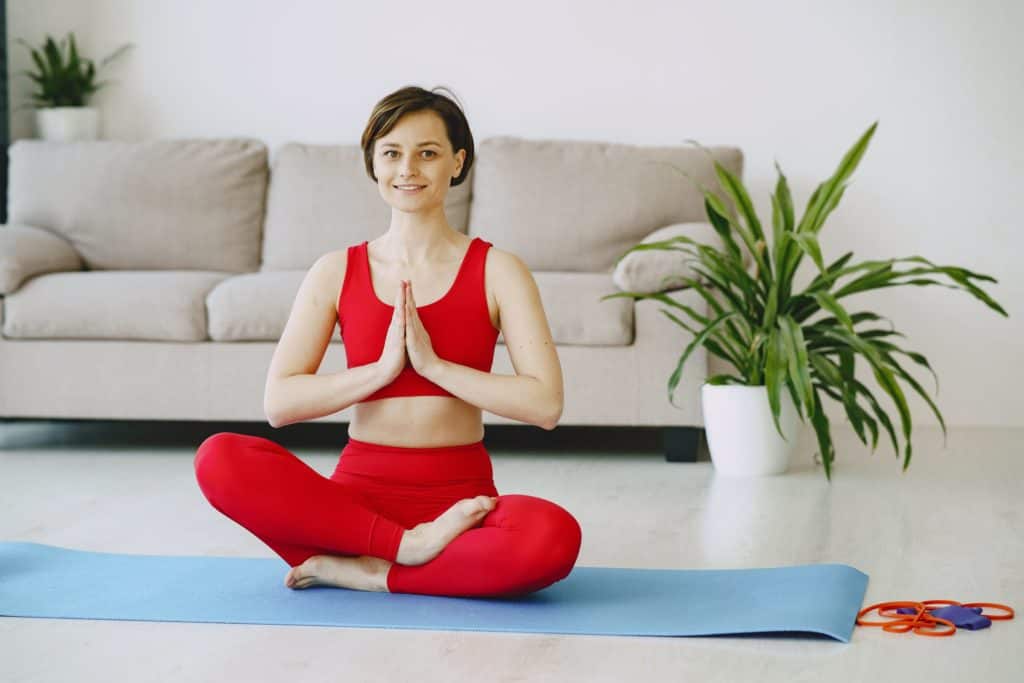 In the case of polyester, since it's hydrophobic. The dye color dissolves completely into the material. And that's how the color takes permanent form.
On the contrary, nylon resists water. So the dye ends up weakening the molecular composition of the fabric. This also opens the door to quick fading over time. This implies that polyester is the better option even when it comes to retaining color for a long time.
3. Durability
Both nylon and polyester leggings are equally lightweight and strong. Because both have a polymer-based foundation. Nevertheless, nylon is relatively stronger. Because of the greater stretch. But it's polyester that resists pilling. So pick your battles wisely.
4. Moisture-Wicking Capacity
The fabric should be quick-drying, right? In that case, polyester works better. The material expels water to the surface. And this facilitates faster evaporation. As opposed to nylon, which absorbs some of the water. Meaning a long time for your leggings to dry.
The Bottom Line
Are you more confused? Or has the article helped in choosing the better option? If you're still confused, then let me make one thing very clear. Whatever the material, the quality of the fabric is what matters the most. I mean what's the point of buying leggings if they're going to show signs of wear and tear in no time!
Keeping that in mind, you might want to choose nylon leggings. Or at least a blend that has nylon in it. As for polyester tights, they're durable in terms of fade resistance. Also, polyester is cheaper than nylon.
So now it's all up to you!