What is the Best Underwear for Big Dicks? (The Most Important Features)
Our Editors independently test and rate the best products. When you buy through links on our site, we may earn an affiliate commission,at no cost to you.
The thing about men's package is that it's not created equally. Meaning there are some men that have pretty large goods down below. More often than not, they consider this to be a great thing. But not always. Especially when it comes to fitting those large genitals into regular undies. So it's only logical for brands now to design the best underwear for well-endowed men.
The amount of discomfort you feel in a pair of uncomfortable tighty whities is like trying to stuff just way too many groceries in a grocery bag. Enter underwear built with contoured pouches, and other such thoughtful features.
The beauty of contoured pouch undies is that it fits both men with a large penis and those with an average-sized package. After all, just a simple center seam can go a long way. In providing the much-needed comfort and support. Along with enhancing your profile down there. So why shouldn't you make the most of the extra space this center seam has to offer!
Best Underwear for Well-Endowed Men – Top 5 Choices for Big Dicks
#1 ExOfficio Men's Give-N-Go Boxer Brief –

Top Choice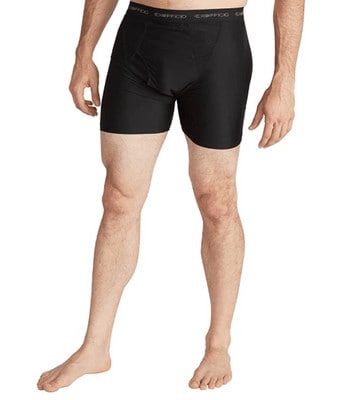 The breathable comfort these undies can provide is something that even outdoor enthusiasts simply cannot dismiss. The ExOfficio Men's Give-N-Go Boxer Briefs have earned a pretty neat reputation among hikers, explorers, campers, and travelers. Thanks to superior comfort. And also to exceptional moisture-wicking properties.
The mesh fabric that is a part of the construction of the underwear improves breathability. Mesh works flawlessly when it comes to wicking away sweat and moisture. So that your man parts down there can remain comfortable, odor-free, and dry.
Speaking of odor, the brand has incorporated Silvadur technology. This deliberately eliminates odor to keep you fresh as long as you're wearing the undies. 94-percent nylon is used. And that means this is a pair of quick-drying boxer briefs.
The waistband of the underwear is among the most important features, isn't it? So long as ExOfficio is the manufacturer, you don't have to worry about such factors. The brand has included a stretchable, comfortable waistband. One that fits and even retains shape.
Moving on, the structure of the boxer briefs consists of a light diamond knit. This particular design stretches to accommodate the most comfortable fit. No matter how large or well-endowed you are as a man.
On top of that, lycra spandex is also a part of the construction. So your private parts can get all the space they require. Meaning ExOfficio Boxer Briefs do not restrict your everyday movements in any way.
ExOfficio Give-N-Go Underwear – Alaska to Argentina(Youtube)↓
Breathable mesh wicks away sweat and moisture

Quick-drying, odor-eliminating technology

Lightweight, stretchy diamond knit for comfort and fit
#2 David Archy Men's Dual Pouch Underwear –

Best dual pouch underwear for well-endowed men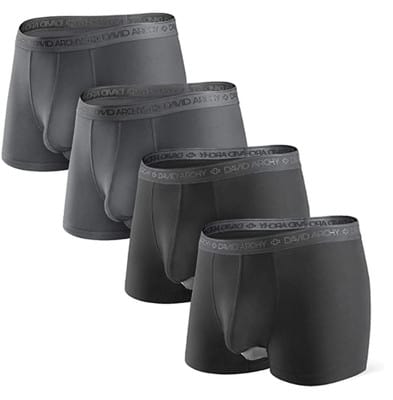 How does this rank as superior underwear? Particularly for men with large goods? It's a very simple answer if you ask me. The David Archy Men's Dual Pouch Underwear features patented individual pouches. Each one keeps your personal area separate from the other. And that too in an extremely comfortable manner.
Let me also not forget to mention that soft, super-smooth micro modal fabric is used. This type of material adds a luxurious feel to the undies. On top of that, the micro modal is abundantly breathable and lightweight.
Then comes the remarkable window panel design. You can call this a stay-cool, breathable panel. That creates a fresh and dry environment inside your trunks all day long. That's exactly what air circulation does.
Now here's the best part about David Archy Men's Dual Pouch Underwear. It's built with supportive pouches. Each pouch holds your private parts to support them. As well as provide ultimate comfort.
Furthermore, the waistband of the undies seems like a long-lasting feature. So, out goes the common issue of the waistband losing its elasticity and shape over time. Neither are the seams something you're likely to get frustrated with in terms of durability. Both the seams and waistband are comfortable and durable to a great extent.
Needless to say, you can put these on even during your workout sessions. After all, micro modal takes care of eliminating sweat and moisture. This explains why so many athletes choose David Archy underwear.
Separate, supportive pouches

Breathable window panel activates airflow

Smooth, soft micro modal used for construction
#3 Under Armour Men's Original Series 3" Boxerjock –

Best athletic performance underwear for well-endowed men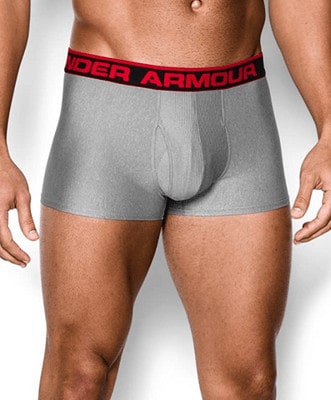 Now it's time for me to present to you the best underwear for well-endowed men that you can put on for your athletic or workout sessions. But what about Under Armour Men's Original Series 3" Boxerjock makes it such a suitable choice for performance? It's not one but many features!
First of all, the brand has incorporated its exclusive smooth and lightweight HeatGear fabric. Along with the articulated fly panel that consists of mesh material. If that wasn't enough, which it never is in the case of performance undies, Under Armour also decided to include a four-way stretch. Such a stretchy construction allows you to move better in all directions.
How about the materials used? Do they wick away sweat and moisture? Without the shadow of a doubt, the boxer briefs here dry you up really fast. And why wouldn't they when 90-percent of the construction is built using polyester!
What's also quite impressive is the excellent anti-odor or antimicrobial technology integrated into the underwear. It does an excellent job of keeping bad, unpleasant odor away from your junk.
Top it off with a performance waistband. And you have a pair of boxer briefs you can put on for all your sports-driven activities.
4-way stretch for flexibility and movement

Smooth, lightweight HeatGear fabric

Anti-odor technology and performance waistband
#4 David Archy Men's Underwear Bamboo Rayon Comfort Lightweight Pouch Briefs –

Best briefs for well-endowed men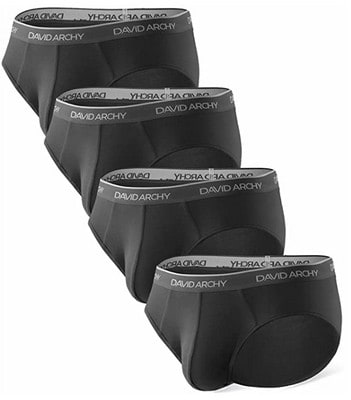 There's no denying that these briefs are specifically designed for men with a large package. The proof? It takes the form of the U-pouch structure. This U-pouch is very useful when it comes to providing your large genitals with more room. That too without causing any constraint or extrusion. These briefs, no doubt, rank among the best big pouch undies for men.
The stay-put, strong waistband is also a very impressive feature. It's got that classic logo. More importantly, the waistband reduces friction. Along with preventing chafing and other such common problems generally associated with an uncomfortable waistband.
But are these undies designed for versatile, flexible performance? I don't see why not, given the bamboo rayon construction. This particular fabric comes from bamboo. And is quite well known for its quick moisture-wicking properties. Along with the lightweight structure and exceptional air permeability.
Furthermore, the single-piece, clean-cut design makes room for no wedgies at the back. So there's no chance these undies are created to cause any amount of discomfort. You don't even feel the need to make any embarrassing adjustments during your day. No matter what movements you're performing!
Speaking of which, the full-coverage hip design also makes these briefs suitable for all types of activities. Be it sitting, walking, or jogging!
U-pouch design offers more space

Comfortable, stay-put waistband

Made of moisture-wicking, lightweight bamboo rayon
Butt-climbing briefs in the case of a small tushy
#5 Calvin Klein Underwear Men's Iron Strength Boxer Briefs –

Best underwear for well-endowed men with a contoured pouch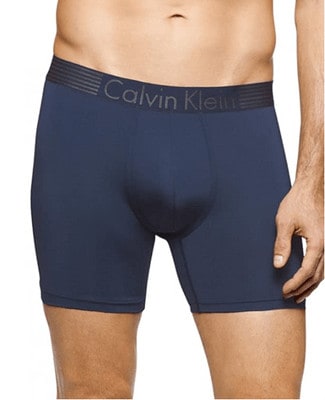 With a contoured pouch, this Calvin Klein underwear automatically becomes a part of the list of the best undies for a large package. First off, there's the classic Calvin Kelin logo waistband. But is the functional aspect of the underwear as appealing as the looks? The answer is YES. No wonder this pair of Iron Strength Boxer Briefs is such a sought-after choice!
The underwear conforms to the shape of your body, no doubt. Meaning the fit is very smooth and close. One that offers stretch comfort as well. So you don't have to worry about the boxer briefs restricting your range of motion.
But what matters the most here is the contoured pouch. It's this particular feature that gives the undies the ability to accommodate your well-endowed goods. Along with that, active support is also a part of the experience.
So it's not just the modern design with the printed iconic logo of Calvin Klein in the front that seems enticing. The functional facet of the boxer briefs is also quite impressive. In the sense that it performs the task of providing extra comfort, support, and room.
Body-conforming, smooth, close fit

Contoured pouch and active support

Iconic Calvin Klein logo printed on the waistband
Not a very breathable pair of boxer briefs
What Is the Best Underwear for Well-Endowed Men – Buying Guide
You will not know the comfort of good underwear until you wear one. And for well-endowed men, this feels more like a lifelong dream than reality. If you're looking for underwear for big dicks, this is where you finally find your bearings.
How is underwear for big dicks different? For men or women, underwear is the first item they slip into. For men, it may be the only item of undergarments. So they'd have to do it right.
Finding the right pair of underwear for big dicks is not difficult. What's important is understanding your personal size and fit. And not just what is famous for other men out there.
This article will guide you through what works for you. Your guide to buying supportive underwear for a well-endowed size. So let's begin.
Look for These Features:
1. Pouch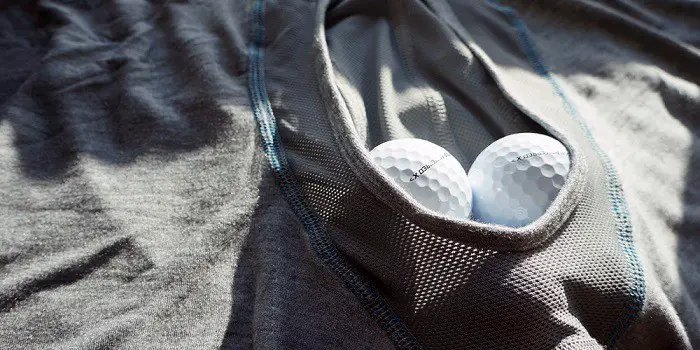 A pouch in a man's underwear goes a long way. It provides extra room for supporting a large penis. So your testicles don't rub against your penis. And in turn, your penis doesn't rub against your thigh skin.
The pouch creates these special compartments. It helps to keep your underwear clean and organized. Even if your sock and underwear drawer isn't.
And more importantly, this shows when you're wearing pants. So even if you have a large penis, nothing bulges out. A pouch keeps everything inside, protected and shapely. So that one thing that made you embarrassed as a well-endowed man. In the right underwear, it is a confidence-booster!
2. Boxers vs. Briefs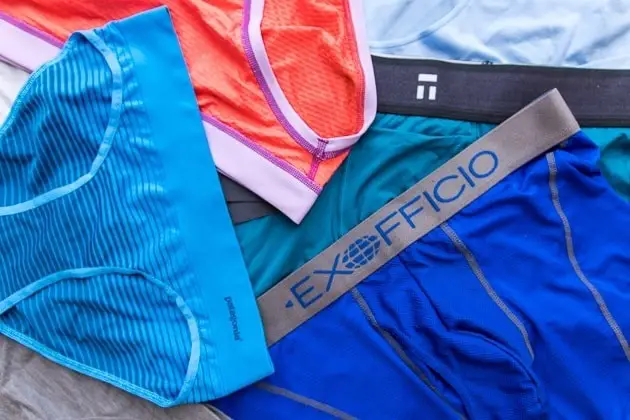 It's not uncommon to opt for boxers as the best underwear for big dicks. In fact, men looking to swap support for space often wear boxers. But that's exactly how you will always be in boxers…. relaxed.
Briefs are more supportive in that they offer a stretch. So your soldier is not on guard all the time. And can actually ease up and stay composed. In boxers, because of their loose fit, this is not ideal. They do offer leg movement but may cause bunching in jeans.
That's why boxers are best worn at home. The fabric is baggy, spacious, and accommodating.
Briefs are stretchable and supportive. Sometimes, they may feel a little too constricting. Good for giving your penis a structured shape. But is that ideal? There is a way to reap the benefits of boxers and briefs. Enter – boxer briefs!
They're the best underwear for big dicks. It will give you structure but without stamping on your assets. And there will be plenty of leg and crotch room to feel at ease in.
Underwear 101: Men's Underwear Styles(Youtube)↓
3. Size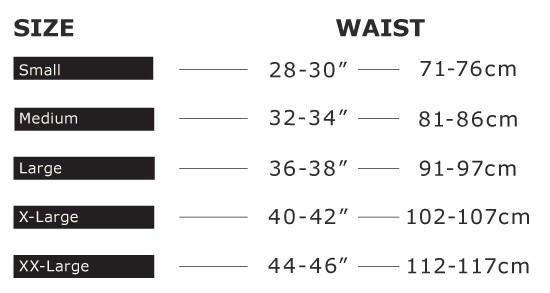 Do you want your underwear to fit you like a glove? If you've been adjusting and re-adjusting your underwear a lot lately, it's time to change. Your underwear size should match your size (if you know what I mean). And not the other way around.
You need a change of underwear size if you've been doing this a lot lately.
Are you stretching the waistband constantly before and after taking off your pants? Are you pulling or tugging from the bottom to make room for your penis? Are you tucking your shirt inside the waistband to make up for size? Does the base of your pouch act more as a minimizer than a shaper?
If you said yes to any of these questions, bin the size! You need a bigger size. Most waistbands are made of elastic. So if the waistband is pinching or squeezing, it's not because it's elastic. Walk away from the small size and make room for a bigger one.
(Youtube)How To Measure Your Waist Size↓
Types Underwear for Men with A Well-Endowed Package
You have to grow out of all the underwear your mom bought you some time! And if you're really growing out, you need underwear for big dicks. Modern and sleeker underwear styles have taken over the market.
Stylish underwear is the new fashion statement. And for men with well-endowed penises, you need something extra-supportive. The only thing to bear in mind is size. If you're blessed with a big dick, you need better coverage to back it up.
Because anything smaller or narrower or tighter will hurt your nether regions. So make sure the underwear you finally buy is less constrictive. It's a real confidence booster if you ask me!
Then it's important to take certain factors into account during the selection process if you want a pair of underwear to fit and accommodate you perfectly, irrespective of your size. 
Spacious Underwear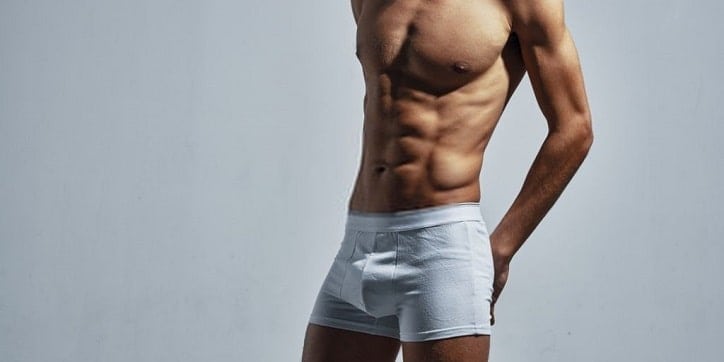 By spacious, I mean undies built with a center seam, for example. This, by default, offers more room for your well-endowed parts. Or you can buy underwear, mostly boxer briefs, built with a double pouch. Both styles provide ample of room to fit in your large goods.
At this point, keep in mind that too tight underwear makes you feel restricted and uncomfortable. This happens whether or not you have a large penis. So whatever you choose, make sure to pick out properly sized undies.
Breathable Underwear
No matter what you plan on doing, your underwear should keep you dry and cool down there. Isn't that right? If you agree, then how about buying a pair constructed using breathable materials. Such as nylon and polyester. Some underwear styles feature mesh window panels to boost air circulation. Thus, wicking away sweat and moisture as soon as possible.
Speaking of which, many underwear brands incorporate quick-drying, moisture-wicking, anti-odor, etc. technology. So these have the capacity to keep your genitals dry, cool, fresh, and odor-free.
Comfortable Underwear
What about the underwear is responsible for providing comfort? I have reviewed quite a few underwear designs for well-endowed men in this article. And what all of them have in common is a stretchy, body-conforming, and comfortable fit. Along with a waistband that feels smooth against the skin. It should be snug while also not digging into your skin or causing friction.
Seamless Underwear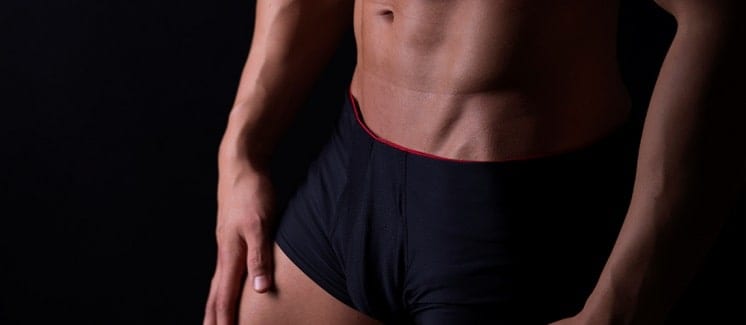 With seamless construction, the underwear prevents rubbing against your skin. Therefore, no chafing to deal with at all. This is especially useful for men with a large bulge down below. And also for activities like walking, running, biking, hiking, etc.
And by seamless, I mean flatlock seams. Instead of ones that protrude from the underwear.
Underwear Care Tips
There's more to taking care of underwear than you think. Underwear for big dicks needs extra care and attention. Because if you don't, they lose shape quicker and become saggy and unsupportive.
When washing your underwear, never mix colors. The whites with whites. And all the colored ones separate. Temperature is important too. Underwear fabric is different than denim in that it is easily affected by temperature.
A gentle wash cycle can clean underwear properly. For denim, you need a stronger, deeper cleaning cycle. The same applies to dry your underwear in the air dryer. It's best to stay away from the dryer for your underwear. Air-drying underwear prolongs its shelf life.
Conclusion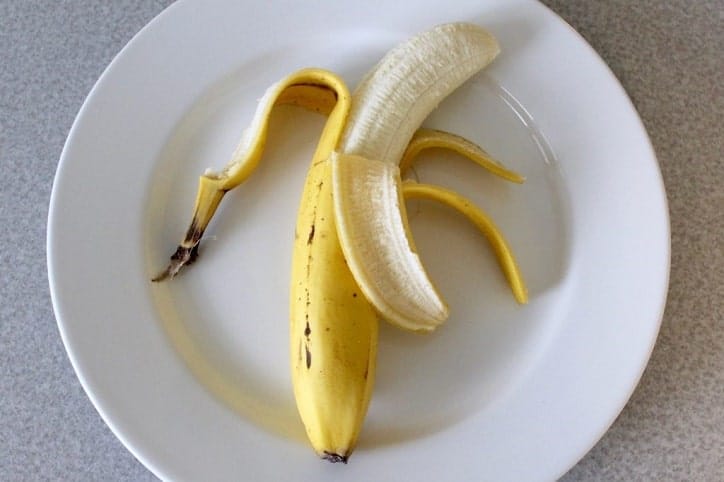 The problem is returning home empty-handed after a long search of underwear suitable for well-endowed men. It's only common to not find undies that can accommodate a large junk. In fact, the majority of underwear brands out there manufacture only regular styles. You know the kind that fits men with an average-sized penis only.
That means your search for your type of underwear continues. And if you don't want all your efforts to go in vain, then it's time for you to seize the day here. Meaning makes your pick from the top 5 underwear options I've reviewed for you. The best of the lot being the ExOfficio Men's Give-N-Go Boxer Brief.
These are boxer briefs that are quite well-known for their breathable fit. It's a very good choice for hiking, camping, working out, playing sports, exploring, and traveling. The anti-odor microbial treatment keeps bad odor away. Then there's moisture-wicking mesh all over. For keeping your zone sweat-free and moisture-free.
As for the waistband, it brings plenty of comfort into the picture. Plus, the thing stretches perfectly well to fit your body shape. And it retains its own original shape for a very long time. Despite frequent washes!
So you can never go wrong with ExOfficio. Or with the other brands I've shortlisted, like Calvin Klein, David Archy, and Under Armour.
Top 5  Underwear for Well-Endowed Men Comparison Table
| NAME | RATING | TYPE | MATERIAL |
| --- | --- | --- | --- |
| Calvin Klein Underwear Men's Iron Strength Boxer Briefs | #5 | Boxer brief | Nylon, elastane |
| David Archy Men's Underwear Bamboo Rayon Comfort Lightweight Pouch Briefs | #4 | Briefs | Bamboo rayon, spandex |
| Under Armour Men's Original Series 3" Boxerjock | #3 | Boxer brief | Polyester, elastane |
| David Archy Men's Dual Pouch Underwear | #2 | Trunks | Micro modal, spandex |
| ExOfficio Men's Give-N-Go Boxer Brief | #1 Top Choice | Boxer brief | Nylon, lycra spandex |