What is a Water Bra? A water bra, believe it or not, is quite supportive and comfortable. They are, as the name suggests, bras with water padding in them. The cups have water packets inserted in them. This extra padding (you guessed it right!) increases breast volume and it shapes.
So do you need a water bra? A water bra is perfect for small-chested women. Women who need contouring and want to enhance their cleavage. A water bra is a wonder-bra as it does both those things effectively.
I'm sure you're thinking –Are water bras popular? Do women really wear them? I hope you'll find the answer in the information below.
Different Types of Water Bras
1. Push-Up Bra
This is the most common and popular type of water bra. It works because it lifts and supports the breasts. But it also accentuates the shape and size. The cups consist of water inserts supported by an underwire. This gives structure and shape to the bra.
The padding in a standard push up bra may feel uncomfortable. It's sometimes too tight, too suffocating, too rigid. Water inserts are fluid and soft. So instead of the cardboard-like padding, you get this. It not only improves the comfort level, but it also increases the shelf life of the bra.  
2. Demi Bra
A demi bra covers your breasts only halfway. Great for showing cleavage. Demi water bras are worn under flattering clothes. They offer padding and can lift your breasts for a fuller shape.
3. Plunge Bra
A plunge bra does what a demi bra – it gives you a cleavage. But you can expect a plunge bra to go all the way. That is to really shape your breasts for deep neck dresses and tops. They may not be as support and enhance. But they definitely push your breasts up and that is what you need.
How Does A Water Bra Work?
A water bra may contain a mixture of water and oil for proper shaping. It elevates the shape, size, and volume of your breasts. The perfect choice for small-breasted women. Who want cleavage and an enhanced look without compromising on support and lift.
A water bra is made up of water or gel or oil or all of them. A combination of water and oil is a great choice. It keeps the bra firm and rigid. So nothing will break the structure of the cushioning. And there's less risk of punctures or leaks.
A water + oil combination feels good too. It's soft, breathable, and seamless. So it's best to work with water bras that have both water and oil in the inserts.
Here are some of the known pros and cons of wearing a water bra.
Pros:
Perfect for saggy breasts.
They give your breasts a natural and fuller look.
It is seamless, breathable, and comfortable to wear.
The padding is soft so it doesn't cause tightness.
They make small breasts appear larger and more lifted.
Excellent weight distribution between both breasts.
Cons:
You cannot wash the bra in a washing machine.
There is a risk of damage or popping.
You can puncture the water inserts.
Not to be worn for a prolonged time.
Frequently Asked Questions (FAQs)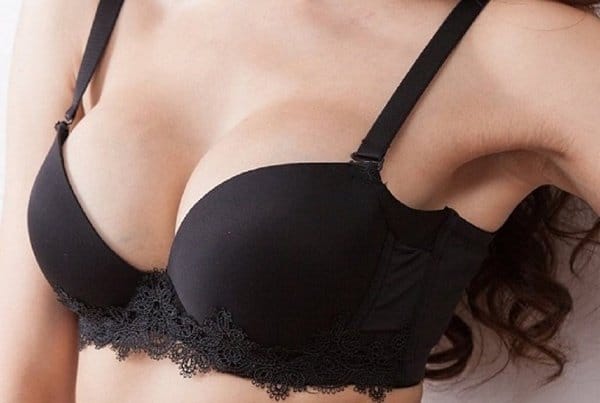 1. Is a water bra suitable for well-endowed women?
While it's the not recommended choice for big breasts. If the size and shape of the water bra fit you, go for it. The reason why water bras are so popular is that they're for flat-chested women. It's effective because it increases the breast sizes. So you don't need expensive surgeries to make your breasts look big. This is a quick and easy fix.
For well-endowed women, enhancing the breasts is the last thing you need. But if you still want to have a go at it, go for a push-up bra or a plunge-bra. These bras have less enhancement at the bust. So your breasts won't look abnormally large or elevated.
2. When can I wear a water bra?
A water bra is meant to lift and enhance your breasts. They offer very little support the way a seamless and supportive bra would. So what you need to keep in mind is why and where you wear it.
If you're going into work, wearing a water bra is ideal. But only if it's for a couple of hours. Wearing a water bra for more than 7 hours may start to feel uncomfortable. This also means wearing the bra for dinners and dates. It's for a short time so it's perfect.
And you must not, under any circumstance, wear a water bra to the gym. It's not supportive and you may risk puncturing it at any moment.
3. Can I remove the water inserts?
You can always buy a water bra that lets you remove the water inserts. So it's like any other push-up or demi or plunge bra. But with padding that's secure and firm enough to support water inserts.
However, the structure of a water bra is different than a standard bra. So it may be difficult to find a water bra that has removable cups. Usually, bras with an underwire offer such features.
The charm of a water bra is in those water inserts. They uplift, enhance, and accentuate your breasts. If you take them out, you lose out on all these exciting benefits. 
Final Thoughts
As you can see, a water bra is a perfect temptation. If you have sagging breasts or if you think you have small breasts, try on a water bra. It's modern, effective, and 100% foolproof. No marketing gimmicks here to take you for a ride.
Lots of women wear a water bra and swear by its effectiveness. It really accentuates your breasts and gives it a fuller shape. You don't want your breasts to be all over the place, right?
For a firm and full shape, go for a water bra with a comfortable structure. You've got to try it at least once in your life. The water inserts are completely harmless and strong. A high-quality water bra comes with gel or oil-infused water. So it's safe, cushiony, and supported.
SEE MORE: