What is A Water Bra? How Does It Work? (All You Need to Know)
Our Editors independently test and rate the best products. When you buy through links on our site, we may earn an affiliate commission,at no cost to you.
What is a Water Bra? A water bra, believe it or not, is quite supportive and comfortable. They are, as the name suggests, bras with water padding in them. The cups have water packets inserted in them. This extra padding (you guessed it right!) increases breast volume and it shapes.
So do you need a water bra? A water bra is perfect for small-chested women. Women who need contouring and want to enhance their cleavage. A water bra is a wonder-bra as it does both those things effectively.
I'm sure you're thinking –Are water bras popular? Do women really wear them? I hope you'll find the answer in the information below.
Top 5 Best Water Bras
Without any further delay, let's take a look at the detailed review of the top 5 water bras that will provide you with everything you need from comfort and support to fit and style. Let's dig into the details of our recommended options for you.
Fashion forms women's The original water push up Bra –

Best for daily use/ best for a natural look
Fashion forms women's original water push-up bra is your go-to-bra for everyday wear. It not only accentuates your cleavage but provides the comfort and support you're looking for.
It comes with an underwire that keeps your breast in place without compromising on comfort. Commonly bras with underwire are uncomfortable to wear but this one doesn't dig in your skin and provides the shape and lift you're looking for.
Normally the padding in the bras can be too rigid, too uncomfortable, and do not conform to the shape of your chest effectively. This bra is padded with water inserts that not only feel soft and look natural but also conform to your chest shape. This makes them very comfortable to wear.
The seamless finish of fashion forms women's original water push-up bra makes it the perfect choice to wear every day for any occasion and gives a smooth and flawless look under your clothes.
The bra is made of 84% Nylon and 16% spandex and is available in black and nude color.
The nude shade is an excellent neutral tone that blends perfectly with your white clothes.
Pros
 

Gives a natural look
Comfortable to wear
Seamless finish
Perfect for everyday wear
Comes with an underwire

 
Cons
Can only be hand washed
Risk of puncture
Our take:
 Fashion forms women's original water push-up bra is the perfect bra that not only feels natural but looks natural and gives you the lift and support you require.
2.Fashion forms women's water bra –

extremely comfortable to wear
Fashion Forms Women's Water...
A padded bra that achieves natural shape...
Provides cleavage enhancement and...
Bra: 83 percent polyester, 17 percent...
If you're looking to enhance your cleavage without giving comfort away, fashion forms women's water bra is the right choice for you. It enhances your chest volume and provides adequate support and comfort.
Padded bras come in a variety of materials and styles but they can be quite uncomfortable and look very unnatural. Fashion form's women's water bra comes with padding of water and oil inserts that feel extremely comfortable against your skin and give you a natural look. Not just that, it fits perfectly.
The water padded cups are supported by an underwire that not only supports your chest and increases breast volume but gives it structure and shape.
Its natural, breathable, and seamless finish makes it perfect to wear under any type of clothes. This can be your go-to bra for any event from casual and informal to formal and fancy.
Fashion forms women's water bra is stitched to perfection with the most comfortable fabric made up of 83% polyester and 17% spandex. It comes in amazing colours of black and nude that are a must-have for your wardrobe.
Pros
 

Extremely comfortable to wear
Seamless finish
Breathable and soft
Fits well
Provides adequate support
Accentuates cleavage

 
Cons
Risk of damage
Cannot be washed in a washing machine
Our take:
Fashion form's Women's water bra is the perfect and reliable choice for small chested women who are looking to elevate the shape and size of their chest without compromising their comfort.
3.Frugue women's silicone-filled water push- up sexy T-shirt Bra -a perfect fit for every size
Finding a bra that suits your every need can be pretty challenging sometimes. Style, comfort, and support are the basic things that every woman searches for while buying a bra. What if you could get all of this along with enhanced cleavage in just one bra? Sounds impossible, but it isn't.
Frugue women's silicone-filled water push-up-sexy T-shirt bra brings you everything you need.
This plunge style demi-bra covers half of your breast, creating the perfect amount of cleavage while keeping you at ease. Moreover, its less coverage and gel touch soft padding supported by an underwire provides the lift you're looking for and you get the feeling of not wearing a bra with all the perks of wearing one.
Its ultra-soft pillow cup gives you a flawless shape and complete support. This silicone-filled water pushes up bra with passion lace not only adds two cup sizes but its back-smoothing design gives a perfect and comfortable fit without any visible bra lines.
Frugue women's silicone-filled water push-up – sexy t-shirt bra offers a flawless design that fits perfectly with all sizes and makes it a reliable option for every occasion.
Pros
 

Comfortable to wear
Stylish
Back smoothing design
No visible bra lines
Ultra-soft
Fits perfectly
Enhances cleavage

 
Cons
Our take:
 Frugue women's silicone-filled water push-up – sexy t-shirt bra is the new favorite of the season. With a touch of skin, comfortable padding, and back smoothing design, they're just right.
4.Fallsweet add two cups Brassiere for Women – adapts to your curves/ easily adjustable
One of the best qualities of a push-up bra is that it provides adequate support, Fallsweet adds two cups brassiere for women is no exception. It not only provides support, but it is extremely comfortable and affordable.
Fall sweet add two cups brassiere for women is designed with a lace-up option so you can adjust it according to your preference. It provides enough support for your bust and gives you the option to perfect your cleavage and fitting.
Push-up bras are usually not the best options for longer wear as they can get uncomfortable at some point but Fallsweet adds two cups of brassiere for women allows you to wear it for longer periods of time as you can easily adjust the constriction according to your comfort when needed.
Fallsweet brassiere for women is designed seamlessly and unlined which provides a smooth finish under your clothes. It comes with a detachable strap that makes it perfect to wear with every kind of clothing from wide-necked dresses to tube style tops. Moreover, its soft and durable padding ensures full comfort and support.
Pros
 

Easily adjustable
Lace-up option
Comes with Detachable straps
Comfortable to wear
Provides Adequate support
Seamless and unlined
Affordable
Durable padding

 
Cons
Can only be hand washed
You need to order one size larger for a perfect fit
Our take:
Fallsweet adds two cups brassiere for women is highly recommended if you're looking for a comfortable and affordable choice.
5.MaMia Women's full cup push up lace bra –

provides complete support
Push-up bras are known to be women's best friends. Whether you're looking to boost your cleavage or even add an extra cup size, MaMia Women's full cup push-up lace bra is a perfect addition to your wardrobe.
Mamia women's lace bra comes in a variety of sizes and colors. The comfortable underwire beneath the padding provides complete support and required shape and volume. Its seamless cups provide a fine finish under your shirt and offer the enhancement you're looking for. Mamia women's full cup push up lace bra is an acceptable option for women with bigger busts as its light padding ensures proper cleavage and the underwire offers the required support.
This full cup bra comes with detachable straps that make it even more versatile. It is perfect for every event as you can wear it with any type of clothing from broad necked to off-shoulder dresses.
Pros
 

Comfortable to wear
Provide complete support
Comes with an underwire
Comfortable fabric
 Includes detachable straps

 
Cons
Our take:
Mamia women's full cup push-up lace bra is your ticket to comfort and support.  soft fabric, detachable straps and comfortable padding is what makes it stand out and you must consider it while shopping for bras.
Bras: How to Measure for the Perfect Fit(Youtube)↓
Different Types of Water Bras
1. Push-Up Bra
This is the most common and popular type of water bra. It works because it lifts and supports the breasts. But it also accentuates the shape and size. The cups consist of water inserts supported by an underwire. This gives structure and shape to the bra.
The padding in a standard push up bra may feel uncomfortable. It's sometimes too tight, too suffocating, too rigid. Water inserts are fluid and soft. So instead of the cardboard-like padding, you get this. It not only improves the comfort level, but it also increases the shelf life of the bra.  
2. Demi Bra
A demi bra covers your breasts only halfway. Great for showing cleavage. Demi water bras are worn under flattering clothes. They offer padding and can lift your breasts for a fuller shape.
3. Plunge Bra
A plunge bra does what a demi bra – it gives you a cleavage. But you can expect a plunge bra to go all the way. That is to really shape your breasts for deep neck dresses and tops. They may not be as support and enhance. But they definitely push your breasts up and that is what you need.
How Does Water Bra Work?
A water bra may contain a mixture of water and oil for proper shaping. It elevates the shape, size, and volume of your breasts. The perfect choice for small-breasted women. Who want cleavage and an enhanced look without compromising on support and lift.
A water bra is made up of water or gel or oil or all of them. A combination of water and oil is a great choice. It keeps the bra firm and rigid. So nothing will break the structure of the cushioning. And there's less risk of punctures or leaks.
A water + oil combination feels good too. It's soft, breathable, and seamless. So it's best to work with water bras that have both water and oil in the inserts.
Here are some of the known pros and cons of wearing a water bra.
Pros:
Perfect for saggy breasts.
They give your breasts a natural and fuller look.
It is seamless, breathable, and comfortable to wear.
The padding is soft so it doesn't cause tightness.
They make small breasts appear larger and more lifted.
Excellent weight distribution between both breasts.
Cons:
You cannot wash the bra in a washing machine.
There is a risk of damage or popping.
You can puncture the water inserts.
Not to be worn for a prolonged time.
Frequently Asked Questions (FAQs)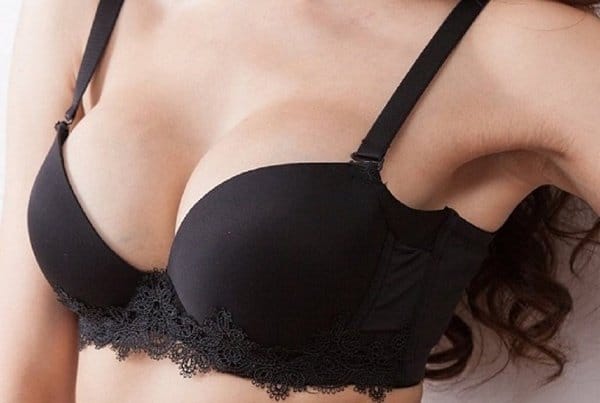 1. Is a water bra suitable for well-endowed women?
While it's the not recommended choice for big breasts. If the size and shape of the water bra fit you, go for it. The reason why water bras are so popular is that they're for flat-chested women. It's effective because it increases the breast sizes. So you don't need expensive surgeries to make your breasts look big. This is a quick and easy fix.
For well-endowed women, enhancing the breasts is the last thing you need. But if you still want to have a go at it, go for a push-up bra or a plunge-bra. These bras have less enhancement at the bust. So your breasts won't look abnormally large or elevated.
2. When can I wear a water bra?
A water bra is meant to lift and enhance your breasts. They offer very little support the way a seamless and supportive bra would. So what you need to keep in mind is why and where you wear it.
If you're going into work, wearing a water bra is ideal. But only if it's for a couple of hours. Wearing a water bra for more than 7 hours may start to feel uncomfortable. This also means wearing the bra for dinners and dates. It's for a short time so it's perfect.
And you must not, under any circumstance, wear a water bra to the gym. It's not supportive and you may risk puncturing it at any moment.
3. Can I remove the water inserts?
You can always buy a water bra that lets you remove the water inserts. So it's like any other push-up or demi or plunge bra. But with padding that's secure and firm enough to support water inserts.
However, the structure of a water bra is different than a standard bra. So it may be difficult to find a water bra that has removable cups. Usually, bras with an underwire offer such features.
The charm of a water bra is in those water inserts. They uplift, enhance, and accentuate your breasts. If you take them out, you lose out on all these exciting benefits. 
---
Final Thoughts
As you can see, a water bra is a perfect temptation. If you have sagging breasts or if you think you have small breasts, try on a water bra. It's modern, effective, and 100% foolproof. No marketing gimmicks here to take you for a ride.
Lots of women wear a water bra and swear by its effectiveness. It really accentuates your breasts and gives it a fuller shape. You don't want your breasts to be all over the place, right?
For a firm and full shape, go for a water bra with a comfortable structure. You've got to try it at least once in your life. The water inserts are completely harmless and strong. A high-quality water bra comes with gel or oil-infused water. So it's safe, cushiony, and supported.
SEE MORE: