What's the Best Pull-on Jeans?(Top 10 Reviews)
Our Editors independently test and rate the best products. When you buy through links on our site, we may earn an affiliate commission,at no cost to you.
Almost everyone we know, male or female, wear jeans. They are probably the most popular type of pants in the world. Jeans are comfortable to wear, last long, never go out of season and are usually not too expensive, and this is why jeans have become the poster clothing for casual wear.
It is hard to go wrong with a pair of jeans as they have what could be considered wardrobe versatility as women can pair them with almost anything in your closet. They are arguably the best fashion investment anyone can make; throw on a blazer and a pair of heels, you have a dinner outfit, that same jeans with an oversized tee would give you a casual chic look. Some jeans are flattering for every body type, so you don't even have to worry about that.
However, jeans are not always comfortable to wear, denim is a slightly heavy fabric, so there is still the possibility that the jeans would be heavy too. Everyone who owns or has ever worn a pair of jeans knows that it gets to a point where you cannot wait to take them off. Finding jeans that are both super flattering to your body types and comfortable is a near herculean task, and this is where pull-on jeans come in.
The rave about pull-on jeans is not unmerited, and they are made from fantastic fabric that is not as uncomfortable as the regular jeans and yet has been designed to be flattering to one's body. They are not as heavy as regular jeans, which means you can wear them for long without feeling any discomfort.
But how do you choose the best one for you? That in itself is another task, so as a fellow wearer of pull-on jeans, I will give you a detailed review of the best pull-on jeans in the market to help you choose the one that best fits you.
---
Ten Best Pull-On Jeans Reviews
Let's get into the top ten best pull-on jeans and what makes them the crème de la crème of pull-on jeans and highlight the features that put them at the top of your list to consider when shopping for pull-on jeans. 
#1.Signature by Levi Strauss & Co. Gold Label Women's Totally Shaping Pull-on Skinny Jeans-Best for all body types.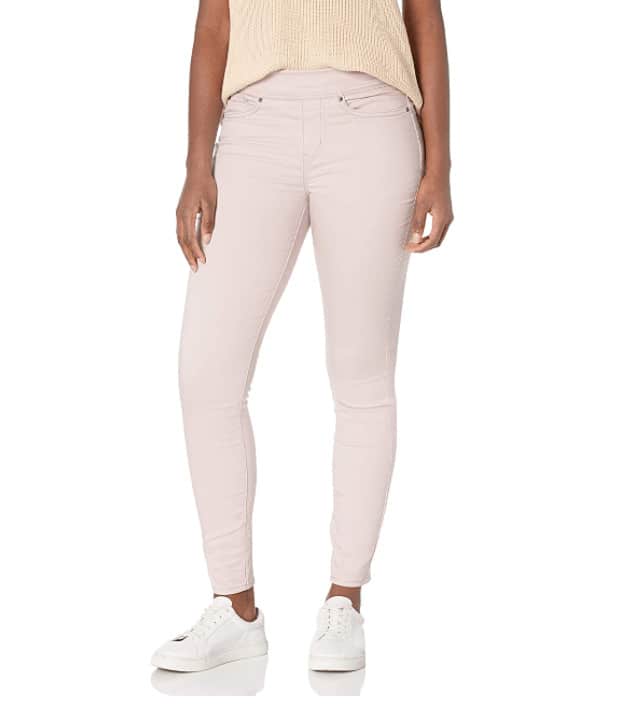 It is mid-rise skinny jeans with a pull-on elastic waistband that has been engineered with a tummy-slimming panel that enhances your body silhouette. The Signature is your best bet if you want something with a snug fit that maintains its shape and is super stretchy. It is made from a super comfortable brand of denim, made up of cotton, PolyesterPolyester, and elastane, which allows it to stretch according to your body while also having a vintage, worn-in aesthetic making it both comfortable and fashionable.
PROS
CONS

 It has a slimming effect on the silhouette.
 Super- stretchy so it doesn't lose shape and can last longer.
 Light denim, so it is very comfortable.
It comes in almost every size.

Only back-pockets are functional.
 Some customers have complained of it being too light.
OUR TAKE: The signature jeans by Levi Strauss and Co. are ideal for people looking for comfortable pull-on jeans or jeggings to wear casually. It is durable and can stretch to accommodate any body size.
#2.Lee women's Sculpting Fit Slim Leg Pull-On Jeans –

best for slim body types.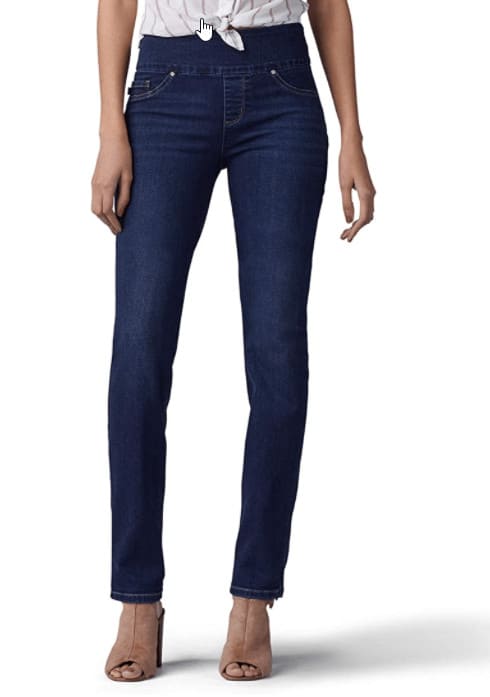 The Lee women's sculpting fit slim leg pull-on jeans feature a faux fly and faux pockets with an ultra-slim cut that hugs your legs from your hips to your ankles. It has a not-so-visible elastic waistline, and that gives off a stylish yet professional look. You could pair them with open-toe boots or sneakers and still have an A-1 look.
PROS
CONS

It looks very much like jeans and is not overly skinny at the ankles.
Comfortable and very fashion versatile; it can be worn just casually or for more serious occasions.

The price varies according to the size so it might be more expensive for plus-sized individuals.
 Some customers have complained that it doesn't stay up after a while, i.e., they expand.
OUR TAKE: If you're looking for pull-on jeans you can wear to work or on dates, then this might be the right pair for you. They have the look of expensive jeans without the heaviness and discomfort.
#3.Liverpool Women's Sienna Legging Pull-on Denim Jeans – B

est Overall.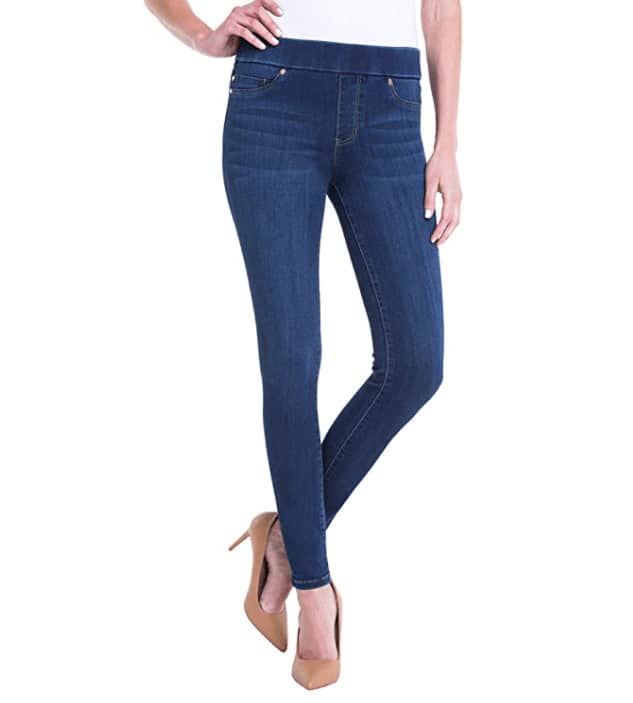 The Liverpool women's Sienna Legging Pull-on denim jeans are mid-rise ankle skinny jeans with a 30-inch inseam made with stretch fabric designed to not only be snug but super comfortable too.
It has an elastic waistband that doesn't shrink or twist for a more fashionable look; these jeans have been designed with faux pockets in the front and even patched pockets at the back to give them the look of good jeans without any of the heaviness of everyday jeans.
PROS
CONS

Super comfortable and form-fitting.
It Doesn't bag at the knees.
Very fashionable and trendy.
Elastic waistband that doesn't bunch up or twist.
OUR TAKE: Apart from the lack of practical pockets, these jeans are perfect. A lot of customer reviews came back positive, especially on the comfort and fitting of the jeans.
#4.PajamaJeans Women's Bootcut Stretch Knit Denim Jeans –

most fashionable.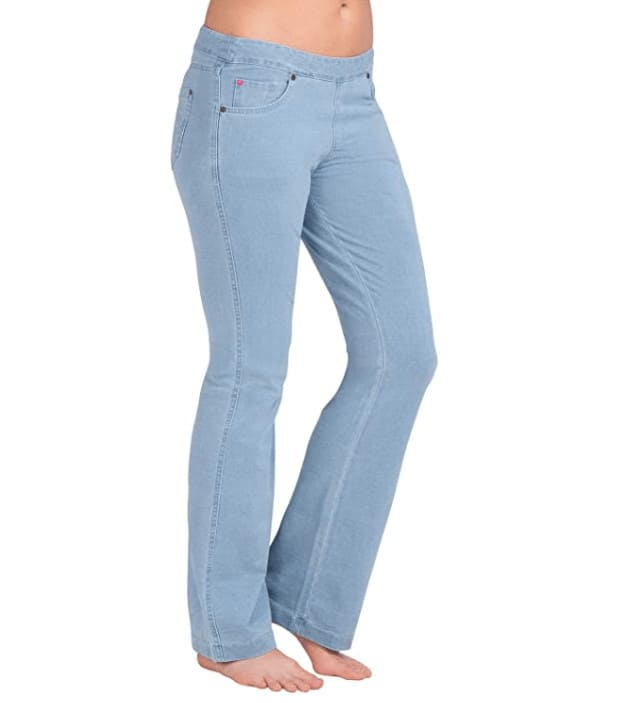 This set of jeans combines the worlds of comfort and style perfectly. It features an elastic hidden drawstring waist that is figure-flattering for all body shapes and sizes.
It is probably the most fashionable of them, featuring classic five-pocket designer styling alongside contrast stitching, a faux fly, and brass rivets, which give it the appearance of expensive designer jeans while still maintaining your comfort.
PROS
CONS

Extremely comfortable
Designer and fashionable appearance                                                                       

Some customers have expressed displeasure over the drawstring's presence, mostly due to customer fashion preference.
OUR TAKE: These jeans are the embodiment of the best of both worlds, not only is it super comfortable but it also very fashionable and can be worn as such. It is one to look out for.
#5.Just Love Denim Jeggings for Women with Pockets-

Comfortable Stretch Jeans Leggings.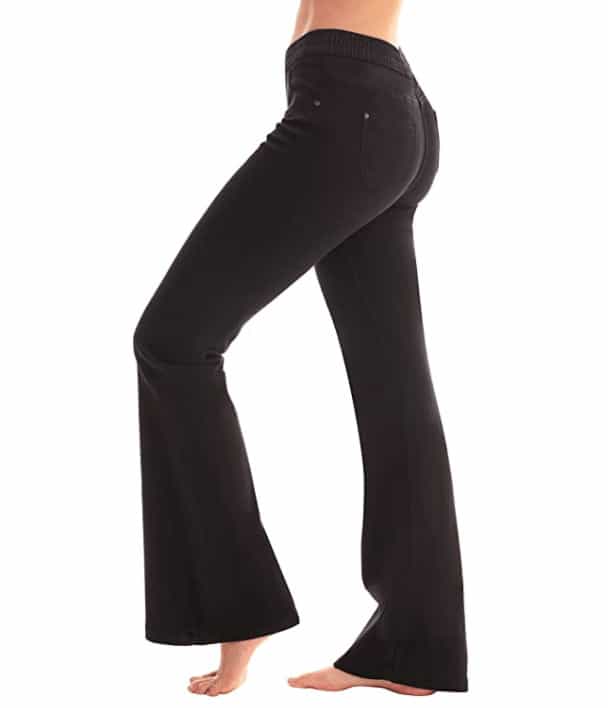 These jeggings are perfect for any size as it has a wide size range; it features an elastic waistband and the classic stretchy fabric. It also has two real back pockets and faux pockets in the front, which provide more structure to the jeans while adding more versatility to the jeggings.
PROS
CONS

It has actual pockets at the back.
It has a broad size range, which makes it body-friendly to all body types.

The waist has an elastic waistband that could get twisted or bunched up.
An elastic band could be uncomfortable for people with larger tummies.
OUR TAKE: Maybe not the most fashionable, but it is very comfortable, and the elastic band makes sure it stays fitted around the waist.
#6.Chic Classic Collection Women's Easy-fit Elastic Waist Pant –

Super affordable.
These jeans have the classic stretchy denim associated with pull-on jeans paired with flat elastic waistbands and back welt pockets. It is very affordable and doesn't just come in regular sizes but in petite sizes as well. They make for perfect casual wear and can easily be paired with flat comfy shoes.
PROS
CONS

It comes in both regular and petite sizes as well.
Cheap and affordable

Slightly heavier than other pull-on
OUR TAKE: If you're looking to shop on a budget without breaking the bank and still get something affordable, then you should check out these jeans.
#7.Goodthreads Women's Pull-on Skinny Jean –

Best for Slim Women.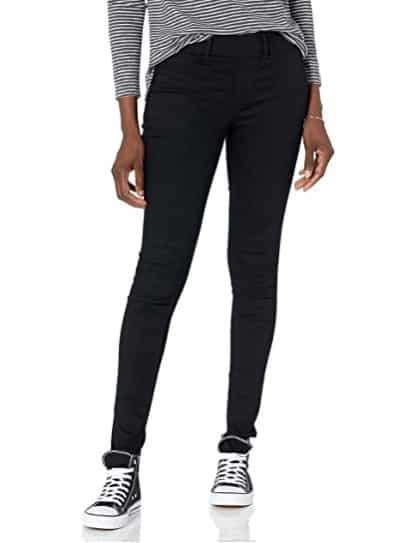 These mid-rise jeans are fabulous for women on the skinny side, as it has a limited size range. It has belt loops and pockets at the back, so it is structured just like everyday jeans.
PROS
CONS

It is affordable.
 It has belt-loops and pockets, so it looks very much like everyday jeans; the belt loops selling the fantasy.

 Limited size range and might be considered as too skinny.
Fabric is also not as stretchy as regular pull-on.
OUR TAKE: These jeans are perfect for shopping on a budget, the size range might be limited, but it doesn't have the usual appearance of pull-on jeans. The belt loops and functional pockets make it even more different from other pull-on, and styling it should be relatively easy.
#8.Jag Jeans Women's Nora Pull-on Skinny Fit Jean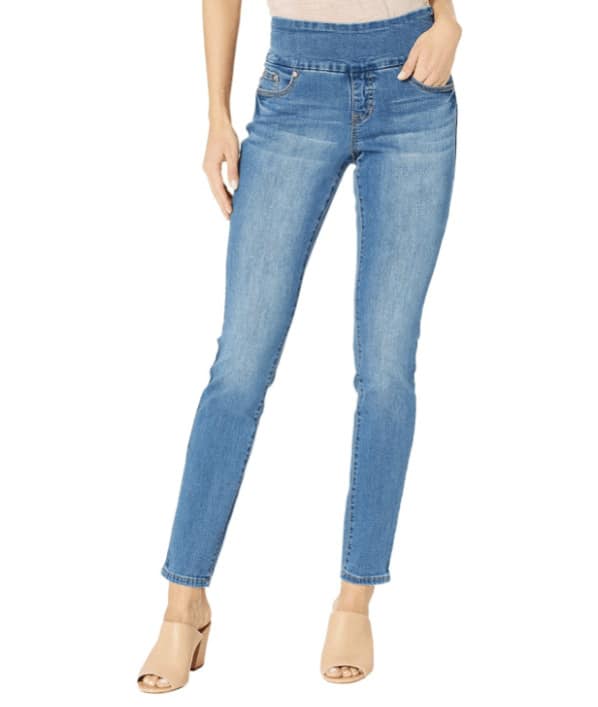 Made with mostly cotton, PolyesterPolyester, and spandex, these jeans is made from comfort denim that is breathable and snug. With its classic five-pocket design and faux fly, it looks just like the classic blue jean without any of the fuss. It has a mid-rise wide pull-on waistband and is fitted from hip to ankle for a skinny fit that is not too tight.
PROS
CONS

It is made from comfortable fabric that is both breathable and snug.
The classic five-pocket design makes it look like everyday jeans.
It is mid-rise, which means it fits the waist just right.

It might be considered too skinny at the ankles for-on some.
OUR TAKE: These pull-on jeans are perfect for corporate wear as they look a lot like regular jeans, although you might have to reconsider if you are shopping on a budget because they are slightly more expensive than other pull-on.
#9.Ruby Rd. Women's Plus-size Pull-on Extra Stretch Denim Jean –

Best for Plus-Sized Women.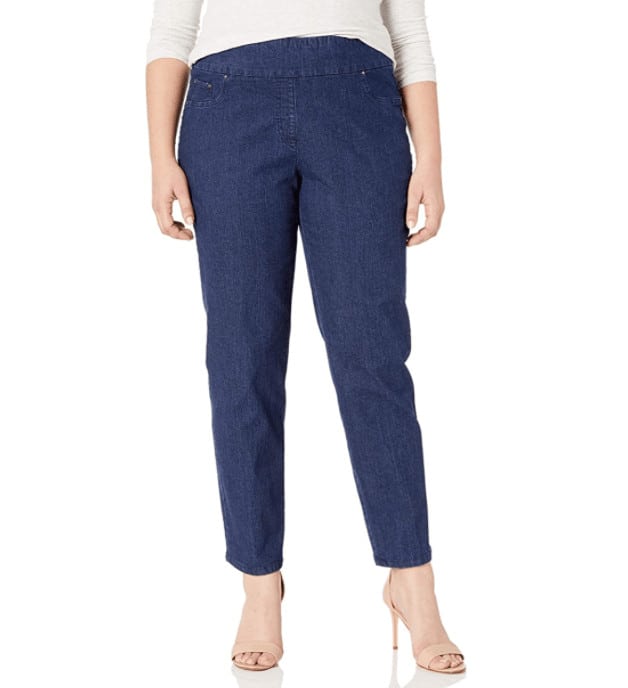 It is made solely for plus-sized women; these jeans have a comprehensive, slimming waistband design to enhance your silhouette as well as provide support. It is high-waisted and has faux pockets in the front as well as a mock fly but has two standard and functional pockets at the back. The legs are slightly tapered and straight, just shy of being bootcut. The reviews from various plus-sized women have been excellent.
PROS
CONS

Fit nicely around the waist and hips while still providing room for flexibility.
No shrinkage even after washing.
Contour waistband.
Functional back pockets.

They have a limited size range.
OUR TAKE: This product seems to cover most of the usual problems plus-sized women face when shopping for jeans, a great choice for plus-sized women!
#10.Alfred Dunner Women's Petite Short Denim Jean Pants –

Best for Petite Women.
Unlike the others, these jeans have no faux front or back pockets or any of the other classic looks associated with regular jeans. It does have side pockets and an elastic waistband and is pleated in the front, bringing something different from the usual pull-on look. They are made for petite women from 5'1 under as opposed to the general 5'5.
PROS
CONS

It is explicitly made for petite women.
It has a unique style that is different from the everyday pull-on/ jeans look.
It's affordable.
It has free at the legs and is therefore breathable.

It might be considered too casual or different.
OUR TAKE: These jeans are different and are tailored to a specific body type; they meet the need of petite women who have been ignored by most brands and size charts. They may be a little different from the usual pull-on, but the pleating in the front makes it a classic.
---
Should you buy pull-on jeans?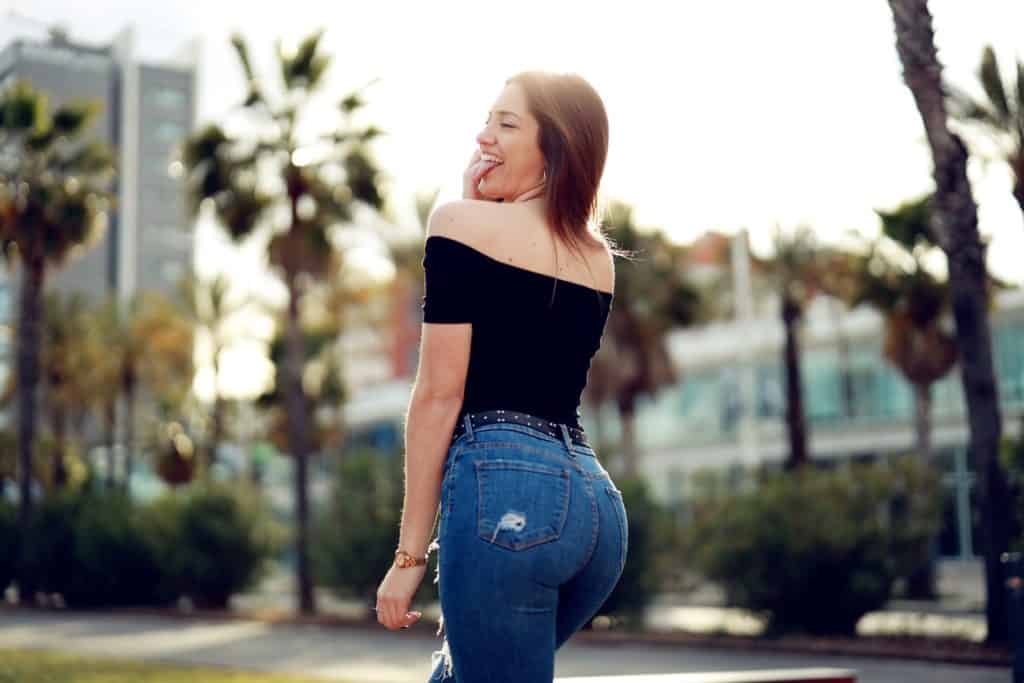 If you're a fan of regular jeans, then you might not want to try out pull-on jeans, but regular jeans can get heavy and can sometimes be restrictive and body type selective.
With pull-on jeans, you do away with the buttons, zippers, and heavy fabric; this means more comfort, more fitting, and more effortless movements. You can have them on for more than eight hours and not begin to feel the discomfort associated with wearing regular jeans for that time.
Also, pull-on jeans are more comfortable to take on and off than regular jean; if you're someone who is always on the move and who usually needs to get going quickly, then maybe pull-on jeans are a better option than standard jeans for you because of the absence of zippers and buttons, it's easier to take off and on.
They are also very versatile; pull-on can pair them with a jacket and boots for a more dressed up look or a nice tee or sweater for a more cozy and casual look.
---
How to choose the best pull-on jeans for you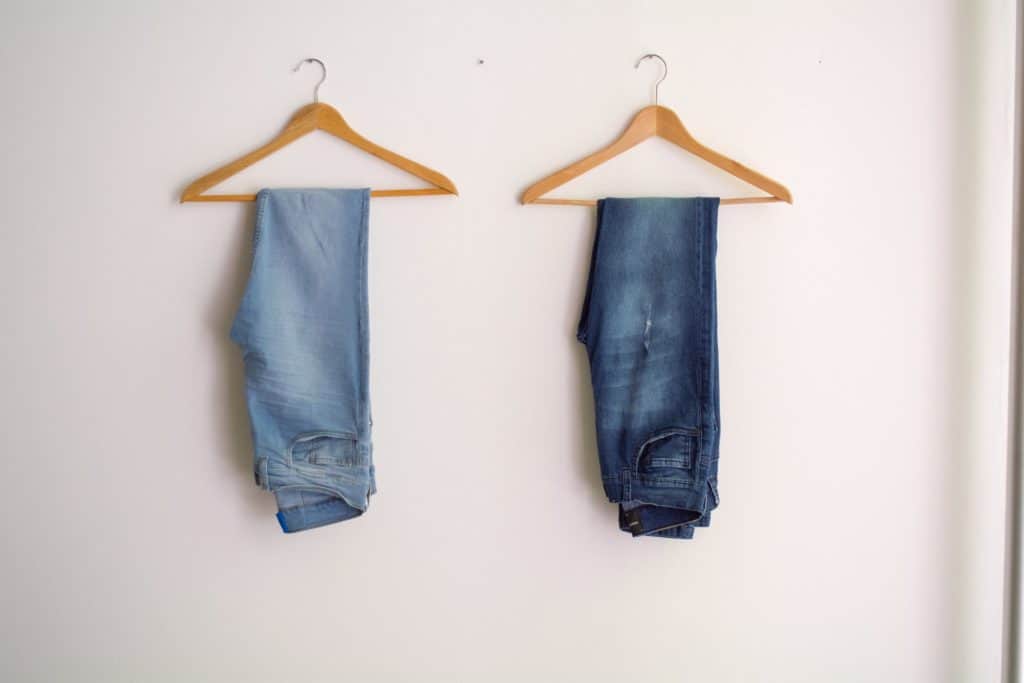 With so many options and styles available, choosing the right pull-on jeans should be relatively easy. However, there are so many options, and one could easily get carried away with the abundance of designs, knowing what you want from pull-on jeans and then applying them before shopping.
COMFORT
The main reason for buying pull-on jeans instead of regular jeans is for comfort. They provide more comfort and ease than the average every day jeans so when picking pull-on jeans, pick something you're very comfortable with. Choosing something that is too tight, or too small, or made out of uncomfortable fabric defeats the entire purpose of choosing pull-on.
COST
Most pull-on jeans are super affordable and would not leave a dent in your bank account. Although some are more expensive than others, remember that more expensive doesn't always mean better.
SIZE
It is true that most petite jeans are stretchy and, therefore, size friendly. However, not all pull-on jeans have the same size range, and often people who are petite or plus-sized have to pay attention to the size charts to pick a brand that is right for them.
FABRIC
However, they're all denim; some are more breathable than others, while some opt for more stretch and snug than others. Look at the fabric composition can sometimes give you an idea of which of the pull-on are more snug or breathable than the others and helps inform your decision. Also, some people have sensitive skin that reacts to a particular fabric type, so if you're one of those, please check out the fabric composition before making a choice.
STYLE
Bootcut or skinny ankles or tapered? Mid-rise or high rise? Pockets or no pockets or faux pockets? Drawstrings or elastic waistbands? These are all factors you should consider before making a decision. Choose something that fits your style and your body type. Women buying this should put even the color into consideration before making any decision. You can never go wrong with black, blue, or indigo pull-on, but if you want to be more adventurous color-wise, then go for it.
---
Frequently asked questions
How do I know what fits me?
One thing you should never do is guess. When placing an order for clothes, pull-on included, online, make sure you check the size charts and pick your size and your fit. The most significant fashion hack, after all, is to wear something that fits!
Can I wear my pull-on jeans the way I wear my jeans?
Why not? Styling is critical; pairing your pull-on jeans with the right tops, jackets, shoes, and even accessories are the key to pulling off a great outfit. Some pull-on jeans look better as date outfits or for corporate events while others are for more laid-back and casual events.
---
Final Thoughts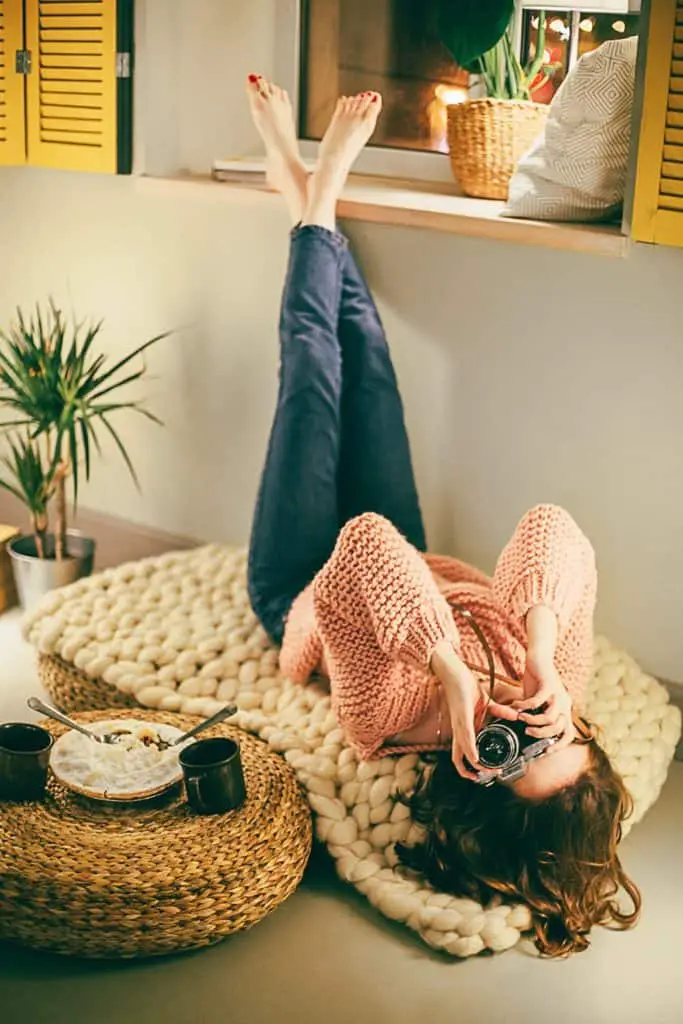 Most women know that usually when choosing clothing, it is hard to find clothes that are both fashionable and comfortable, a lot of times stylishness and fashion are chosen at the expense of comfort. The pull-on jeans are one of the few items of clothing that prioritize both, that leave you looking beautiful and comfortable. Sadly, these prized gems are not as well known as they should be.
This review not only brings to you the best of the pull-on jeans, but it also reduces the work of having to scour the market looking for the top products and recommendations. This should be considered as a fashion helping hand from one woman to another, picking comfort and fashion is an option that a lot of women did not previously have, maximize it.