Yoga Pants vs. Leggings – What Is the Most Important Difference?
Our Editors independently test and rate the best products. When you buy through links on our site, we may earn an affiliate commission,at no cost to you.
Every fashion stylist has been asked this question before. And so it's natural for you to wonder about yoga pants vs. leggings too. Yoga pants for casual wear? Leggings for yoga? Or for both?
Well, this article lets you in on what makes yoga pants and leggings different. This is your ultimate activewear guide to fall back on. Their material, fit, size, and purpose. It's all laid down here for the world (and you) to see.
Yoga Pants vs Leggings
If until now you've thought that yoga pants and leggings are one and the same. You've been looking at activewear wrong all along. Here's the difference between yoga pants vs. leggings.
What Are Yoga Pants?
Yoga pants are flexible and athletic. Fabrics like spandex, elastane, and polyester. They allow firm but stretchable movement. You can do as many yoga movements in yoga pants as you can. For however long you want and how many ever times you want.
Yoga pants are made of moisture- and sweat-wicking materials. This resists sweat stains to show around the crotch or near the waist. And speaking of the waist, the waistband is mostly high up on the waist. And it wraps around your waist with the help of a thick band.  So it doesn't show your tummy bulge if you have it.
The characteristics of yoga pants are breathability, contouring, and compression. Leggings, by now you'll understand, are not the same.
3 New Ways to Style Yoga Pants | ELLE(Youtube)↓
What Are Leggings?
Leggings are thin and sometimes loose. They are stretchy but the kind that doesn't offer compression or contouring. You can't wear leggings with sports bras or short tops because they're kind of see-through.
Leggings are can be made of a variety of fabrics. Nylon, cotton, bamboo, polyester, and elastane. They also come in a variety of styles and lengths. Such as printed, ripped, knee-length, ankle-length, etc.
So you see, leggings are made to feel comfortable and stylish. You can pair it up with different tunics, dresses, and long tops. And you can purchase tummy-cinching leggings that are incredibly high-waist and slimming. They will only hide your tummy without offering compression the way yoga pants do.
The characteristics of leggings are comfort, ultra-soft fit, and stretch. This brings me to something that's hit it big in the fashion industry.
The Ultimate Leggings Styling Guide(Youtube)↓
Yoga Leggings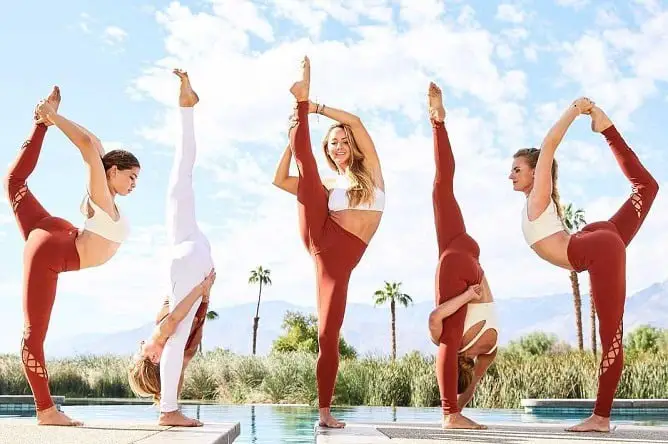 A combination of yoga pants and leggings, these are phenomenally popular. Everyone is wearing them. And not only to the gym or a yoga session. But to work, to dinner parties, to vacations.
Yoga leggings are versatile in that they can be worn anywhere. Made of moisture- and sweat-wicking fabrics, they offer incredible compression. And in a variety of sizes and styles. The compression is on point for colder climates. But it also offers proper ventilation for the hot season.
You can style yoga leggings with short tops or a sports bra. And the compression and the firm fabric doesn't show sweat stains or, what is known as, a Camel Toe. Most women who get a Camel toe are most likely wearing the wrong fit.
It happens when the crotch region is either too tight or too loose. So one can see everything going on in that area – even worse if you don't wear underwear that day!
Yoga leggings are an effective and immediate fix. The wide waistband, sweat-free crotch, and firm material.
Yoga Pants vs Leggings – The Key Differences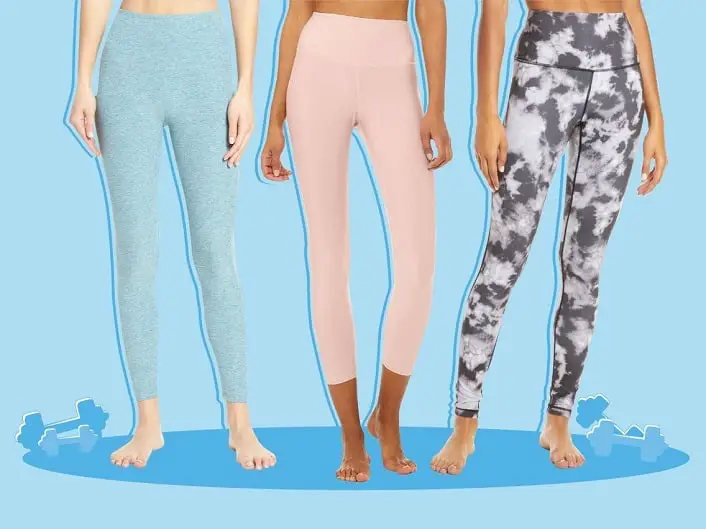 1. Material
Thick fabrics with medium stretch make perfect yoga pants. The fabric is sweat-wicking and offers ventilation and compression, at the same time.
Leggings are made up of thin and almost sheer materials. Cotton leggings are very popular in the summer months. They work as everyday leggings and aren't thick and sticky. So you can wear them all day and night without feeling too hot or tight in them.
2. Types
There are two types of yoga pants: tight-fitting and slightly loose-fitting. Skin-tight leggings offer shape and body contouring. They are also known as compression leggings. And are available in a variety of styles.
The looser fit is for a relaxed yoga session. Some women choose to wear loose yoga pants as everyday pants. They don't lookit but they're quite supportive and comfortable to wear.
There can be only one type of leggings. And they are comfortable and supportive enough. Looser fit leggings look wrinkled and awkward. So it's better to stick to leggings that fit your body shape and size without pinching.
3. Crotch Gusset
This is an important and often overlooked one. Almost all top-quality and modern yoga pants have a crotch gusset. This is extra padding on the inside of the crotch where the two legs meet.
They give your crotch region a proper and seamless shape. Preventing a Camel toe and improving the shelf life of the fabric. Leggings are too thin to have a crotch gusset stitched into them. That's why most women with only long tops and dresses with leggings.
4. Waistband
Yoga pants have higher and wider waistbands. This promotes better muscular coordination while you do yoga or workout. And the high rise of the waistband also supports the abdominal and hip muscles.
Leggings generally have a thin and tight waistband. It doesn't offer support or compression. And there are very few leggings that have a high rise waistband. They're either mid-waist or low-waist. This can be uncomfortable if you want to wear something more slimming.
Final Thoughts
It's obvious that between yoga pants vs. leggings – yoga pants win. They're versatile, comfortable, and long-lasting. But if you'd still like to give leggings a chance, go for yoga leggings. It's the perfect crossover between yoga pants and leggings.
The right time to wear leggings is at parties where you can wear a dress over it. Or during the winter months when you need to put on more than one pair of leggings. Leggings are casual and loose and super comfortable.
Yoga pants, on the other hand, are not loungewear. They support an active lifestyle. So when you're sweating it out in the gym or an intense or relaxing yoga class, you need yoga pants. They're comfy and stylish to wear for dinners, walks, movie-night, and outdoor activities.
At the end of the day, it's all about your personal preferences. Just as long as you can distinguish between yoga pants vs. leggings – you know how you can feel and look awesome!
SEE MORE: