What is the Best Bra for Side Spillage? (Top 10 Bras of 2022))
Our Editors independently test and rate the best products. When you buy through links on our site, we may earn an affiliate commission,at no cost to you.
This solves a common bra problem most women face. Side bulging or side spillage is more typical than you think. And it doesn't only contribute to a bad fit. It is annoying to keep jamming your breasts in the cups. Especially when you're outdoors working or eating or walking! So what's the solution? Buying the best bra for side spillage. You won't regret it.
Such bras share some unique and supportive characteristics. They have wider side panels, padded underwires, and shoulder support.
This article concerns itself with all the details about bra spillage. Starting from why does it happen, how to find the right bra fit, and what to buy. So let's begin!
Top 3 Bras for Side Spillage
1. Vanity Fair Women's Beauty Back Minimizer Full-Figure Underwire Bra –

Editor's Choice
The Vanity Fair Beauty Back Underwire Bra is a godsend. It's not only a full-figure bra but it's a minimizing bra. You know what a minimizer bra does, don't you? This bra, in particular, reduces your bust size by one and a half inches.
So it not only supports your breasts but it shapes and forms it too. This has much to say about this bra's side spillage solution. Because it gently compresses your bust, it hugs and wraps around your chest.
Your back feels comfortable and slender. And your breasts don't poke out from under tight-fitting outfits. The straps feel super soft and nimble. But not in a bad way either. They sit firmly on your shoulders and cause no slippage as well.
The hooks in the back are durable and secure. Even if this is a full-figure bra, it doesn't have to be a tight one, right? The material is breathable enough to wear all day. With no saggy appearance by the end of it.
That's the thing about wired bras. They completely catch you unawares. This bra, though it's comfortable, can sometimes dig into your skin.
"The side wings on this bra go far underneath the armpit area for a nice smoothing look."
The cups are seamless and invisible under clothes.

Minimizers and smoothens the breast.

It gives a good shape from all the sides.
The band becomes slightly loose after a few washes.
2. Bali Women's Comfort Revolution Front-Close Shaping Underwire Bra –

Best front-close bra for side spillage
Someone once told me that they adore front-close bras! I mean, I totally get why, don't you? It's easier to put on and saves your back from back pain. Sometimes the band can be quite irritating too if it digs into your skin.
Well, the Bali Comfort Revolution is a shaping and front-close bra. The multi-layered blend of nylon, polyester, and spandex are worth wearing. They give a good shape, no doubt. But they appear seamless and feel breathable on the skin.
There's no separate elastic band holding the bra together. The material has an elastic and firming quality to it. That does the job well. It doesn't push the breasts in such a manner to make wearing low plunge tops uncomfortable.
The side panels sit comfortably on your skin. They don't roll out or poke or chafe the area. It's supportive and cozy to wear for long periods.
If anything should feel unsatisfactory, it would be the pilling. Only after a few washes, the material's quality starts to fade.
Suitable for all-day use.

Soft, breathable, and comfortable to wear.
The fabric starts snagging after a few washes.
3. Olga Women's No Side Effects Underwire Contour Bra –

Best shaping bra for side spillage
You can buy this in all sizes and it will fit perfectly. The Olga No Side Effects Contour Bra has surprisingly soft material. It covers your bust region, your back, and your underarm region. Without rubbing off the wrong way or causing, even more, sweating in summer.
The "No Side Effects" means no bad reactions or snagging. You can bid farewell to feel hot or sweaty or irritable all the time. The contouring of each cup is well-defined. Firm enough to support from all sides while offering better shape.
The cups have plenty of coverage. They eliminate the bulging boob effect over each cup. Your breasts stay firm, separated, and sexy. Even if you have wide-set breasts, the cups are welcoming. Smooth, balanced, and supportive.
However, the only complaint is for full-figured women. The shoulder straps are wide enough on smaller sizes. But not that supportive for bigger cup sizes.
Elastic-free side panels for extra smoothening.

Full-coverage cups with good support.
The shoulder straps aren't wide enough.
4. Warner's Women's Full-Coverage Underwire Bra –

Best lightly-padded bra for side spillage
It isn't a good review without the Warner Full-Coverage Underwire Bra. It's basic and essential in every closet. Because it's so hard to find a simple and good-fitting underwire bra. You happen to settle for anything less. But not anymore.
This underwire bra has better coverage for bigger sizes. But it also minimizes the bust shape and size. The material is a combination of nylon and spandex. So there's no bumpy or sagging feeling under the bust or underarms.
Both cups are padded comfortably. Including the underwire which prevents poking or rolling. This is a common problem with most other bras. The underwire is never padded and so it digs into the skin. And it fails to provide side spillage coverage. But not this best bra for side spillage.
The downside, however, is worth considering. The plastic ring that connects the cups to the straps makes a squeaky noise. This happens only when you move around in them a lot.
Perfect shaping for bigger boobs.

Adjustable shoulder straps for all sizes.
The plastic clasp makes a noise when you move.
5. Hanes Women's Comfort Evolution Bra –

Best bra for side spillage for home
The Hanes Comfort Evolution Bra has "comfort" written in it, not just for fun. It's actually a very comfortable bra to wear. It doesn't rise, roll up, or pinch. And it definitely doesn't give you an underboob. As most wire-free bras do, made of the same material.
The Hanes brings the best bra for side spillage. It's easy to take on and take off. The straps sit comfortably on your shoulders. And the fabric feels the lightest and yet the most supportive.
The material is extremely flattering. Where the cups would normally go, there's more form-fitting tightness to it. The breasts will stay firm inside with comfortable room to breathe. Some sleep in bras, did you know that?
Well, if it's a bra as comfortable as this one. Why wouldn't you? It provides side support for side sleepers. The breast tissue doesn't poke out when you wake up to pee in the middle of the night. Everything is well-cushioned, airy, and smoothening.
What takes time to get used to is the appearance of this bra. It's not your ideal sexy-looking lingerie bra. But it's a healthier choice if you're sick and tired of wearing underwire bras.
Side support level is on point.

The cups are unlined and invisible.

Smooth and breathable fabric.
It doesn't look sexy or appealing.

The straps are not adjustable.
6. Warner's Women's No Side Effects Full-Coverage Underwire Bra –

Best elastic-free bra for side spillage
The Warner Full Coverage Underwire is a stand-up bra for women. It keeps your breasts perky and firm all day long. You can wear it for work, casual dinners, or date nights. The band size is snug and the straps supportive.
The proper size is a bit hard to find. But once you do, it's definitely unlike most other underwire bras. The padding and lining around the cups and at the back are seamless. The fabric sits on your skin and doesn't press on it.
You could also say the same for the shoulder straps. Being adjustable from the front, they're adorable! The finish is smooth and body-fitting. With side panels that have a comfortable elastic-free lining.
The side panels are equipped with extra side coverage. Perfect for preventing side spillage while resisting sweat stains. What else do you need?
The fit is a bit bigger in size than standard sizing charts. This makes it harder for women with smaller boobs to get a perfect fit.
No overflow or boob spillage in the underarm region.

It stays on the body without causing pain.

The extra panel is supportive.
Difficult to find a size for small boobs.

Don't spray deodorant directly on the fabric.
7. Playtex Women's 18 Hour Ultimate Lift and Support Wire-Free Bra –

Best uplifting bra for side spillage
There's nothing better than finding the perfect fitting bra. The Playtex 18 Hour Wire-Free Bra is one such bra. It's comfortable and has a great fabric blend. A bit of breathability, firmness, and tightness are ideal.
The straps on each side support the body well. They don't squeak or slip or rub the skin as you walk. You could also say the same for the rest of the fabric. The cups have better support than those with wires.
They may not look as good but they definitely perform better. For anyone with breast pain or tenderness, you need to quit wearing wires. And nothing fits better than the Playtex Lift and Support Bra.
Again, if you run a bit smaller than most sizes. It may be hard for you to find the perfect size. The band and cups of the smallest size run a bit wider than normal.
The cups provide plenty of support.

They push the breasts up to show cleavage.
Not suitable for small boobs.
8. Panache Jasmine Underwire Bra –

Best plunge underwire bra for side spillage
The Panache Jasmine Underwire Bra is hard to get away from. It's my most favorite bra because it ticks all of the boxes. For comfort, support, life, and cushioning. It may look like a really uncomfortable bra, but truly it is not.
The Panache is made up of Polyamide which is a supportive fabric. The top half of each cup is lace which looks sexy. And the lower half is well-supported with a wire for the perfect lift.
There's a special elastic lining at the front of the cups to ensure better support. This elastic lining is not intrusive or poking. It sits on your skin without causing chafing or pilling after a few washes.
If you are fuller on the top part of your breasts. This underwire bra would be perfect for you. It doesn't bite and give you a bulge which is often see-through. From the sides, the panel is well-supported and firm. And it doesn't budge either.
The only drawback to think of is the horizontal lines of the cups. You can see it through thin tops and dresses.
It holds up to everyday use.

The underwire doesn't ride up or poke.
The lining is not seamless and invisible.
9. Warner's Women's No Side Effects Wire-Free Contour Bra –

Best T-shirt bra for side spillage
Don't like the previous pick for its drawback? I know what you want. The Warner's Wire-Free Contour Bra is shaping and seamless. It is the kind of bra you wear and forget. So it doesn't show through fabrics no matter how thin or delicate.
This wire-free bra has a comforting look. As you can see, the panels are smooth and soft. The cups vow to hold your breasts well. With no side bulging or gaping of any kind. The straps are adjustable from the front. With a better footing of clasp between the straps and cups.
This is a T-shirt bra for everyday wear. You can see the sides are elastic-free and layered. And the fabric that's made of remains breathable and comfortable. So no worries there!
The bra needs to be washed a few times to get rid of the chemical smell. I assure you the smell will completely disappear after a few washes.
It fits snugly around the torso and back.

No bulging out from the sides or top.
The chemical smell takes a while to disappear.
10. Lilyette by Bali Women's #939 Tailored Minimizer Bra –

Best convertible-straps bra for side spillage
I say this from experience that you need better strap options. Wearing it the normal way doesn't cut it anymore. Sometimes, you have a backache or you're wearing a new top. And to be able to adjust not only the length but the positioning of the straps. Trust me; it's life-changing!
That's why the Bali Women Lilyette Minimizer Bra caught my attention. It has a seamless and shaping fit. And with straps that you can criss-cross, demi, halter, or remove completely!
The fit is tight enough to not slip off your breasts. The back has a standard hook-and-eye closure which is comfortable enough. So it still feels like you're wearing your everyday bra outside.
The side panels are wide and supportive. It's not a thin band stretching all the way to the back. The fabric is smooth to touch and move around in. From the front, there's plenty of coverage for big breasts.
The inner cup lining has silicone grippers. Allowing you to wear it strapless, if you want to. However, this lining is not enough to prevent nippage.s:
The silicone lining keeps the bra in place.

The fabric is smooth, breathable, and supportive.
No padding under the cups.
Best Bra for Side Spillage – Buying Guide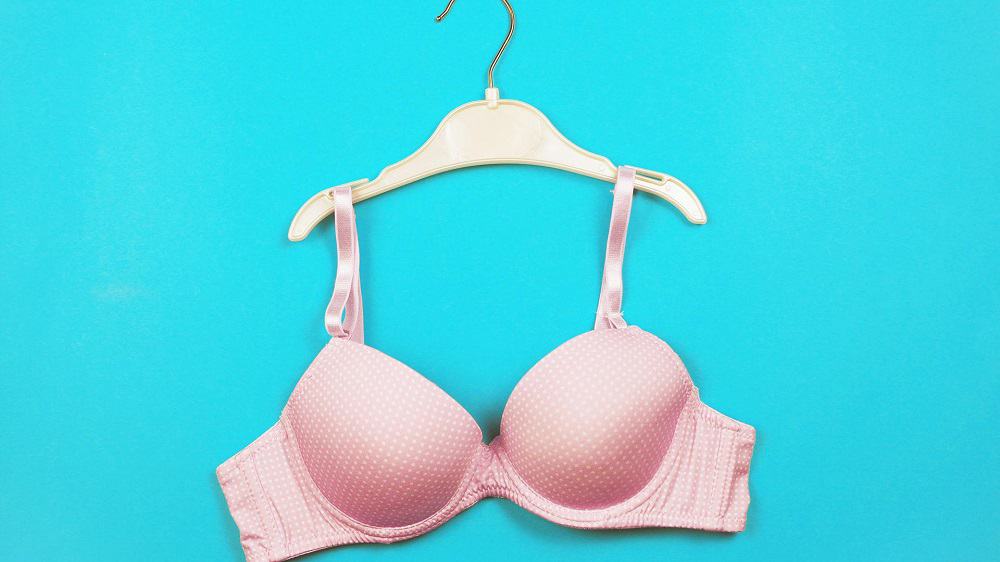 What causes side spillage? By now you must have understood that a wrong-fitting bra can. It's not because your boobs are too wide or too big. There's always a bra for every size and shape. So don't worry.
There's no such thing as improper breasts!
What you need is the best bra for side spillage. Something that suits your size and shape. To get better acquainted with this truth. Let's look at a few factors of consideration.
What I will be talking about for the rest of this article is:
The importance of a Side Spillage Bra
Side spillage has a lot to do with proper bra alignment. You don't want to focus only on side support. And get disappointed because your breasts don't sit at the center of the cup. Plus, you don't want bigger cups with straps that don't support them well.
The best bra for side spillage takes all these factors into consideration.
It offers shaping in a seamless fashion while preventing spillage. Having said that, a good bra can also help prevent skin sagging due to weight loss, gain, or aging. The cup support must be intact. The straps must not dig into your shoulders. And the back band must not press into skin.
So if a bra for side spillage can do all of this. Why can't you help yourself and buy one right away?
The Features of a Side Spillage Bra
Good side support focuses on the muscles under your arms all the way to the back. Raise your arms over your head and check for side spillage on either side of the cups. If your breasts are not pointing forward.
If the side bulge gets in the way of your arm movements. You will feel like even when your arms are at rest by your side. This calls for a better and best bra for side spillage.
Here's what you should look for.
In other words, this is also known as "side panels." They are wider than normal bras. To provide support and adjust to the width of your bust size. The band must cover your underarm region to cushion the side tissue.
Boning structure is when the side panels and cups have a proper lining. It keeps the band in the correct position, the bust aligned center, and the band at the back. Without a boning structure, your breasts will go all over the place. Causing more side bulging and even a 'quad-boob'.
Stretchy but Firm Material
If the material is either too tight or loose. This would just break the entire foundation of the best bra for side spillage. The fabric sews all the other important features of a bra together. You can opt for a thin material with double layers or extra-thick lining.
Full-coverage cups offer better support than others. If your breasts are fuller at the top, then you need this. Once you buy the best bra for side spillage with full coverage. You can bid farewell to side spillage for well-endowed breasts.
Conclusion
The part where you decide what you want has finally come. Do you want to go for something specific to you? Or do you want to go for what's popular and much-loved?
I'm talking about the Vanity Fair Beauty Back Underwire Bra. It's a minimizing bra with a broad back design. This means better support, comfort, and durability. Its sides have a smoother appearance than most everyday bras.
The sides of the cup are sewn in with elastic-free materials. So it doesn't rub the skin the wrong way. And you're out of the woods!
What do you think makes the best bra for side spillage? Share your personal experience about side spillage in the comments section below.
Top 10 Bras for Side Spillage – Comparison Table and Reviews
| NAME | RATING | MATERIAL | TYPE |
| --- | --- | --- | --- |
| Vanity Fair Women's Beauty Back Minimizer Full-Figure Underwire Bra | #1 – Editor's Choice | Nylon, Spandex | Underwire Bra |
| Bali Women's Comfort Revolution Front-Close Shaping Underwire Bra | #2 | Nylon, Spandex, Polyester | Underwire Bra |
| Olga Women's No Side Effects Underwire Contour Bra | #3 | Nylon, Spandex | Underwire Bra |
| Warner's Women's Full-Coverage Underwire Bra | #4 | Nylon, Spandex | Underwire Bra |
| Hanes Women's Comfort Evolution Bra | #5 | Polyester, Spandex | Wire-Free Bra |
| Warner's Women's No Side Effects Full-Coverage Underwire Bra | #6 | Nylon, Elastane | Underwire Bra |
| Playtex Women's 18 Hour Ultimate Lift and Support Wire-Free Bra | #7 | Cotton, Polyester, Spandex | Wire-Free Bra |
| Panache Jasmine Underwire Bra | #8 | Polyamide, Polyester, Elastane | Underwire Bra |
| Warner's Women's No Side Effects Wire-Free Contour Bra | #9 | Nylon, Elastane | Wire-Free Bra |
| Lilyette by Bali Women's #939 Tailored Minimizer Bra | #10 | Nylon, Elastane | Underwire Bra |