What is the Best Lingerie for Pear-Shaped Women? (The Best Underwear and Bra)
Our Editors independently test and rate the best products. When you buy through links on our site, we may earn an affiliate commission,at no cost to you.
Shopping for lingerie is becoming a more practical experience these days. I mean more and more women are now prioritizing how comfortable the bra feels over how stylish it looks. But that doesn't mean the most comfortable bras and panties aren't aesthetically pleasing. There are plenty of such options available nowadays. But are these options suitable for all body types?
In this article, my focus is on the pear-shaped body. And the best lingerie for pear-shaped women.
Underwear for pear-shaped women is supposed to minimize the size of the buttocks and hips. As for bras for this particular body type, they should balance out the pear shape. Either by adding some volume to your breasts in case they're small. Or by lifting and supporting your bosoms in case they're big.
Now let's get into more specific details. So you can make better lingerie decisions for your pear-shaped body.
The Best Underwear for Pear-Shaped Body Your Hips Need 
Don't we all have a thing for flattering and comfortable underwear? The kind of underwear style that doesn't press into your stomach. That doesn't cause ass bulging or ride up or roll down or give you a wedgie. As you know, underwear can go wrong in hundreds of ways. Thankfully, you can skip the trouble.
These are the best underwear for pear-shaped figures. They're supportive, comfortable, and lightweight. Modern underwear styles offer incredible options. To help reduce the appearance of big thighs and smoothen out the curves.
For pear-shaped women, you need high-cut underwear such as briefs and hipsters. Anything low-rise is bound to cause a wedgie or chafing. If you want your larger areas to look more flattering, this is what you need.
Top 5 Best Underwear Choices for Pear-Shaped Women
These will probably be the underwear you can't live without. There's something for everyone. For fancy outfits, for yoga, for intense workout sessions, and sleeping, etc.
You can own hundreds of pieces of lingerie. But none would compare to these best underwear for pear-shaped. They're sexy, stylish, comfortable, and super long-lasting!
5. Fruit of the Loom Women's Everlight Underwear –

Best breathable panties
Pros:
It fits smoothly and supportively.
The nylon and spandex blend is firm.
Feels soft and nice against the skin.
Cons:
They are not seamless panties.
The Fruit of the Loom Everlight Underwear looks and feels good. If you hate cotton panties and want a more comfortable alternative, this is the one to get. It's made up of nylon and spandex and it's available in a variety of colors.
The fabric feels soft to touch and quite supportive. The fabric is thin but durable. The size is accurate, too, very true to size. So you won't find any problems in fitting even if you're curvy.
Many women appreciate how soft and comfortable this panty is. It has a supportive overall fit. Nothing that squeezes or pinches your skin. Especially the waistband or the leg holes. These panties are so lightweight and moisture-wicking, you'd be surprised. And that's precisely why buying a non-cotton panty is so essential. You get to experience what it really feels like.
4.The Jockey's Elance Hipster Underwear
Pros:
Sleek and comfortable design.
It wicks away moisture and sweat.
Easy to move around in and bend.
The Jockey's Elance Hipster Underwear is an everyday and basic choice. These are the best breathable and comfortable panties to wear. The kind that makes you feel like you're not wearing any at all.
If you're looking for something that doesn't ride or bunch at the waist, this is it. The leg holes are lined with cotton so they're cushiony. No more scratches along the upper thighs from wearing the panty too long. You can sleep in them if you like.
The fabric is breathable and stays cool for warmer weather. You can even wear it if you'd like to exercise or do yoga in panties. A lot of women still exercise in panties and this underwear is probably the reason why. It's so soft and comfortable. You don't want to take them off.
You will find several colors and styles to your liking. To be honest, this is a rare find. It's soft, comfortable, and breathable to wear. You can wear them for as long as you want at home. The crotch, waistband, or the leg region doesn't feel itchy or damp. They're the perfect loungewear underwear to buy without a high price tag.
3. Areke Women's Bikini Panties Seamless Underwear –

Best Stretch Panties
Pros:
Stretchy, lightweight, and supportive.
The leg holes aren't very high or low.
Seamless design for yoga pants.
Cons:
Not the ideal choice for short women.
Hipsters like this one have more side support that women with pear-shaped figures need. These are soft panties, seamless, and lightweight. Yes, the panty does have an elastic closure but it's the good kind. It does not irritate the skin, pinch, ride up or down.
The panties are comfortable to wear day or night. And the best part about it is that you can wash it in the washing machine. You don't have to hand wash it to prolong its fabric. It's supportive and firm even after multiple machine washes.
For a curvy woman, this is great. It won't bind into a bunch or over-stretch to feel baggy. It sits perfectly and smoothly on all body types. The side support along the oblique muscles are amazing. You won't feel the fabric at all – it's so soft.
It's the best feeling in the world wide world. To wear a panty but to not feel like you're wearing one. These breathable and attractive panties are a cut above. They don't ride up or rip or fade. The color and construction stay intact and firm for all-day and all-night comfort.
2. Fruit of the Loom Women's Seamless Underwear –

Best Seamless Panties
Pros:
No elastic band that digs into the skin.
They're firm but stretchable.
No rolling down, wedgies, or binding.
Cons:
It doesn't have a cotton crotch.
Made completely of nylon, these panties are seamless and truly sensational. For a pear-shaped figure, it offers the most flattering fit. They're cute and comfortable down to the smallest detail. You won't feel the bagginess that just cotton panties fall prey to. The material stays firm and supportive of all sides.
For a pear-shaped figure, it's more likely that you have big buttocks. And so, it's hard to find underwear that really fits. You've finally got hold of something that does. As if it's made just for you.
The nylon construction offers firmness and a little bit of stretch. This gives you the panty that extra room to fit curvy bodies. It's comfortable without feeling baggy. And it stays dry and cool all day long.
The band is not too tight. It doesn't ride up from the back or cut into your skin on the waist. It cushions rather than squeezes your abdomens. Perfect for pregnant women and/or belly fat.
You can wear them out any many times as you like. They won't show a panty line even under tight-fitting leggings. Someone who adores this product thinks it's the best everyday choice for most people. It's long-lasting, durable, and supportive.
1. Hanes Women's Cool Comfort Cotton Brief Panties –

Editor's Choice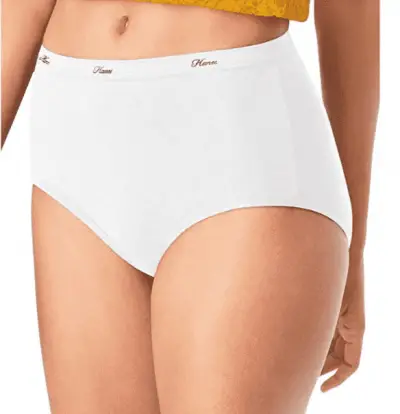 Pros:
100% Cotton
Breathable and supportive fit.
The fabric stays cool and sweat-free.
No wedgie or riding-up.
Cons:
It may show a panty line.
What makes women's underwear comfortable? It's underwear that suits your personal body type. If you have a pear-shaped figure, you need brief panties. Just like the ones of Hanes. It's comfortable and supportive to wear all day long.
These panties are lightweight and summer-friendly. They may not be seamless which means you can only wear them under skirts or dresses. But the high-waist fit is very supportive.
Cotton panties are ideal for the summer season. They don't feel damp or cling to your skin uncomfortably. These panties, in particular, are quite thin. But not thin enough to tear or look worn out easily. They just offer incredible support and comfort.
The polyester and cotton blend wicks away sweat and moisture easily. This is good for everyday wear. And it won't ride up when you're just about to rise from a chair. The fabric and feel of the panties last for a very long time. They're generous, cool, and cozy, to say the least.
What to Look for In Underwear for Pear-shaped Women?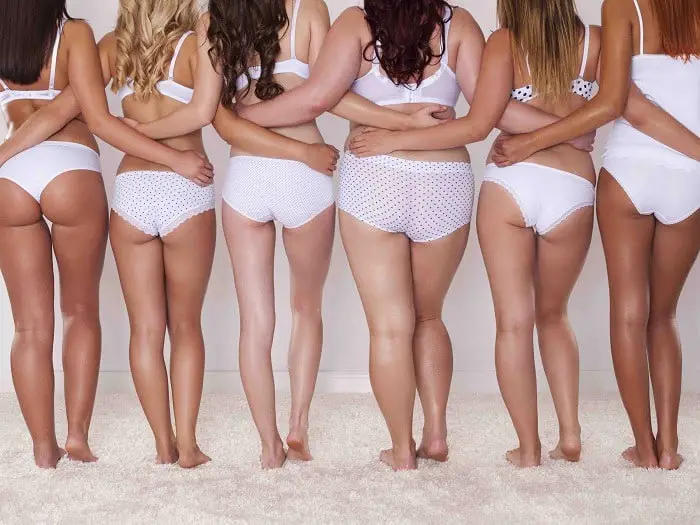 The way to buy the best underwear is to know your size and shape. So if you're pear-shaped what you need is any one of these 2 types of underwear. Or you can buy both and switch between whatever suits your mood best.
Those are briefs and hipsters. Here's what these types of women's underwear have in common.
The Main Characteristics of Pear-Shaped Figure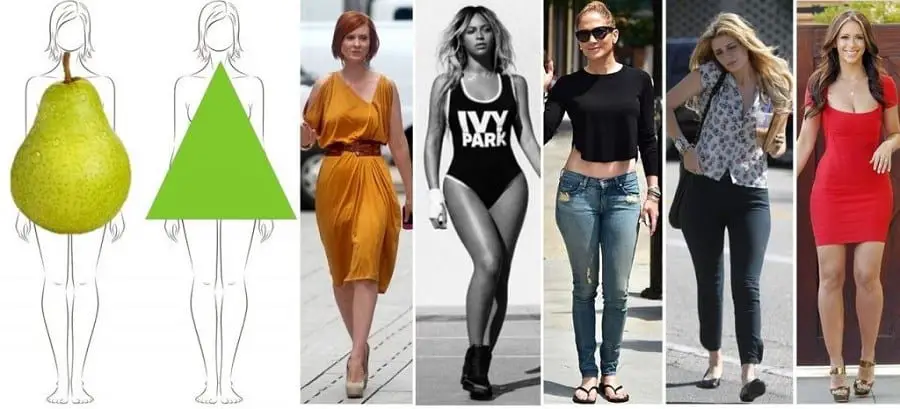 You may have wider thighs and hips with a narrower torso. The latter, more often than not, consists of a smaller bust and slender shoulders. This means your figure is a combination of a wider bottom and narrower top.
The pear-shaped body type demands to wear the correct type of underwear and bra, no doubt. At such times, well-fitted lingerie goes a long way. Particularly if you wish for it to complement that pear-shaped silhouette of yours.
And just because you want your figure to look appealing doesn't mean you're promoting an unhealthy body image. When your bra and underwear fit you well and provide all the support and comfort you require during your busy day. You're bound to feel more confident. And that's what matters here the most.
Especially in the case of the pear-shaped figure, finding lingerie that actually feels good and fits well is no easy task. So you have every reason to make the most of the best lingerie for pear-shaped women.
What is the Best Lingerie for Pear-Shaped Women? The Right Kind of Bra Styles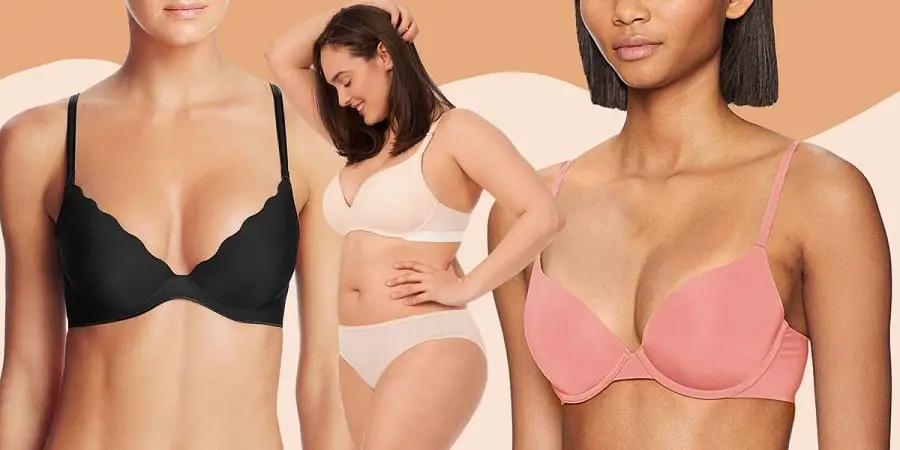 As you might already know, most pear-shaped women have a smaller breast size. So if you want to buy a bra to compensate for that, you get the wonderful opportunity to do so. And the answer is padded bras, push-up bras, and balconette bras.
These types of bras enhance the size of your bust. Not to make them look bigger in terms of visual appeal. But to keep them in proportion to the wider lower half of your pear-shaped body.
The thing about padded, push-up, and balconette bras is that they do more than just add volume to the chest. These styles make your hips look smaller and waist more defined. This means they have the ability to balance out your pear-shaped middle area. And take the attention away from your broader hips and buttocks.
As for a pear-shaped figure with a larger breast size, you can go for more support and lift. There are plenty of bras out there that are specifically designed for lifting and shaping larger bosoms.
Just make sure you find the correct size, which means measuring your breasts properly. Nothing ruins the experience than wearing an ill-fitting, unsupportive, cheap-quality bra. Particularly in the case of larger breasts and the pear-shaped body.
Then the last factor can be looked at. Lace detailing, print patterns, etc. These are visually appealing aspects that you should take into consideration the last. Because comfort and support matter more than anything else when it comes to bras. I mean you are going to wear the bra for the most part of your day. So it better be comfortable and well-fitted.
What is the Best Lingerie for Pear-Shaped Women? The Right Kind of Underwear Styles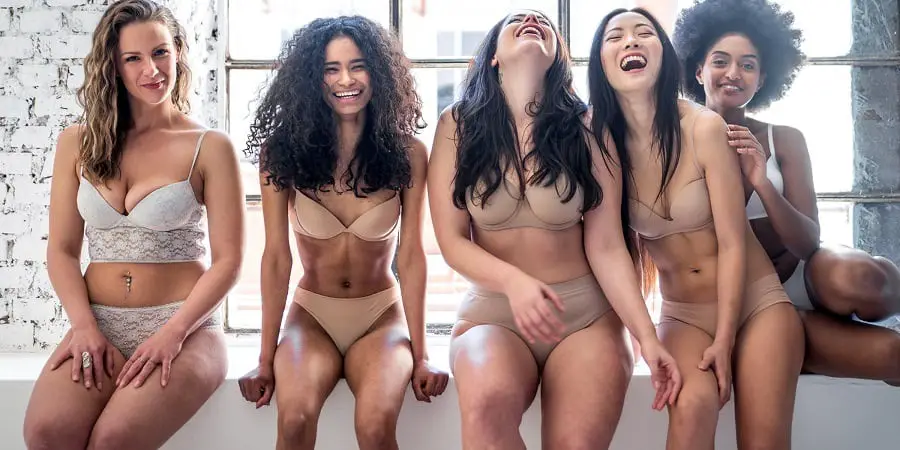 Do you know what works best for the pear-shaped figure? Shapewear! Plenty of women out there are already buying shapewear for slimming and smoothing the natural curves of their bodies. So there's no reason why you cannot do the same.
Shapewear does an excellent job of minimizing and pulling the buttocks, hips, and tummy. Over the years, shapewear undergarments have been drastically improved. They're no more uncomfortable, restricted pieces of lingerie. Instead, they've become more supportive, comfortable, breathable, and flexible.
Modern shapewear can help you achieve a whole lot when it comes to looking the way you want. Even if you're pear-shaped! But there are a few women who would prefer ditching shapewear for normal briefs. So are briefs suitable for the pear-shaped figure?
To be honest, not every pear-shaped woman wishes to smooth out her curves with the help of shapewear. If you don't want to achieve any of that, then briefs should be your go-to option. What kind of briefs though? I'm recommending high-cut briefs and bikini briefs. They help in making your legs and thighs look slimmer.
If you have larger hips and thighs, then it's the safest bet to rely on high-cut briefs. As they make those larger areas look slimmer. Just make sure the high-cut briefs have a lower-rise waistband.
This kind of underwear style is perfect for elongating and slimming your thigh and legs. Thus, creating the appearance of a more balanced lower body. That is in proportion to your narrower shoulders and smaller bust.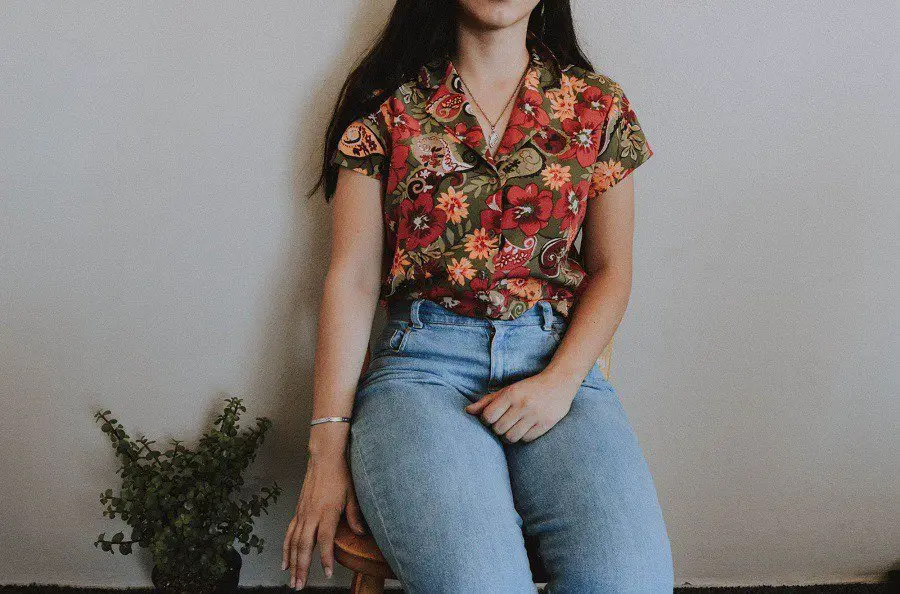 So what if you're curvier or wider in the lower half and narrow at the top! The most important thing here is to feel comfortable and confident with what you have. Bras and underwear are just for providing comfort and support. And there are plenty of options designed to cater to the pear-shaped figure.
Go for high-cut briefs and padded or push-up bras. But if your breast size is on the larger side, then make sure your bra is extra supportive from everywhere.
If you ask me, I would highly recommend you to stay away from hipsters and boy shorts. As they tend to create a broader appearance. This means your thighs, buttocks, and hips might end up looking even wider. And that's about the gist of it.
#1 High-Waist Fit
High-waist underwear is the perfect choice for pear-shaped women. It makes sure you have plenty of coverage to fall back on. There's more material protection from the sides. And you will find that such underwear – especially high-cut briefs – offer superb comfort.
#2 Leg Openings
Pear-shaped women have a curvy body type. This means their upper body is comparatively petite while the lower body is broader. This means slim and narrow underwear is not recommended.
What you need are wider leg openings. They support and comfort fuller legs. And prevent skin irritation and rubbing. More important, chafing on the inner thighs and crotch.
You can sleep comfortably in them. The seams near the openings won't squeeze or pinch your skin. And you won't feet too hot or sweaty were you to wear them outside.
How to Choose the Best Underwear?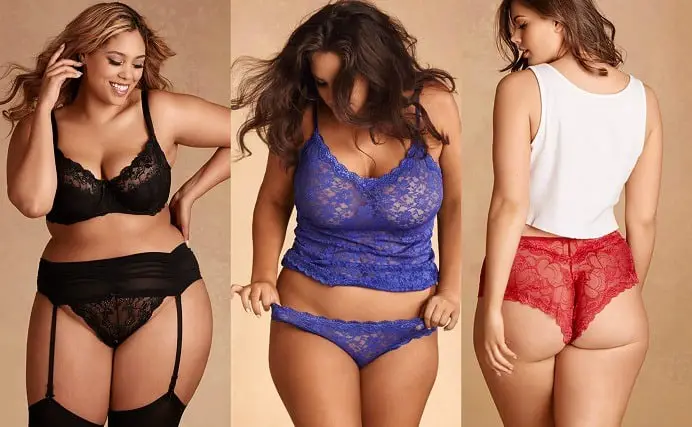 Buying the best underwear is not enough. You need to know how to buy one for you. You don't want to buy underwear that fits you perfectly but just that one time! Later it might start to sag or ride up or pinch.
Then what very expensive item of lingerie stays in the drawer forever!
What you need is a step-by-step guide on how to choose underwear. This applies to everyone looking for the correct size and style of underwear. So pay attention, folks!
1. Size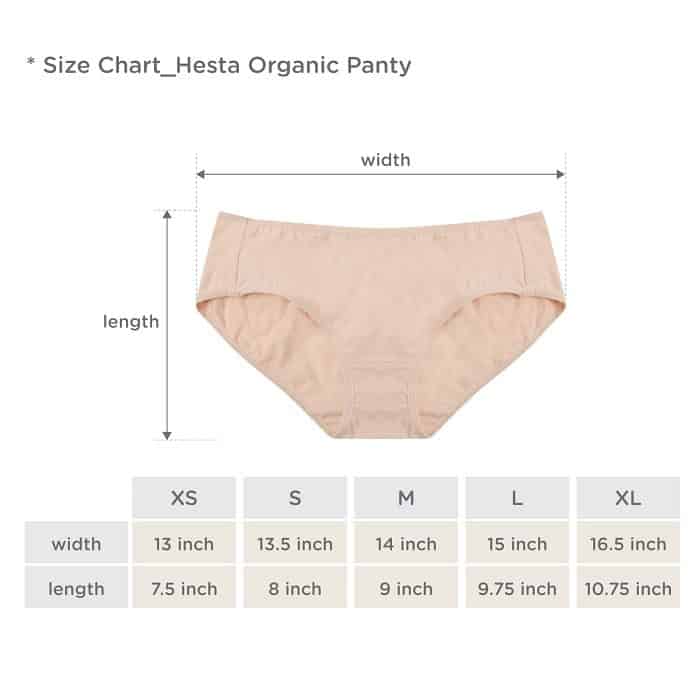 The first thing you need to do is find your underwear size. This is one thing you want to avoid making a mess of. This means measuring yourself. You could easily try on different sizes in a lingerie shop. But the fact that you're still here means you're shopping online. So this you have to do by yourself.
The first thing you must do is measure your hips and waist. Normally women just measure their waist to look for an underwear size. Wrap the tape around your natural waistline and the fullest part of your hips. This should help you identify your correct underwear size.
After you have both your hips and waist measurement, look at a size chart. Each brand has its own unique size chart. So it's best to look at the manufacturer details on the product's page.
2. Elastic Band
The best of the best underwear for pear-shaped women are comfortable. This means a firm but a supportive elastic band. If the elastic band is too loose, it will slip down your waist as you bend or lie back or stand. If the elastic band is too tight, it will leave red marks, ride-up, or cause your tummy area to bulge out.
A firm elastic band is what you need. One that caters to your unique body size and shape.
3. Material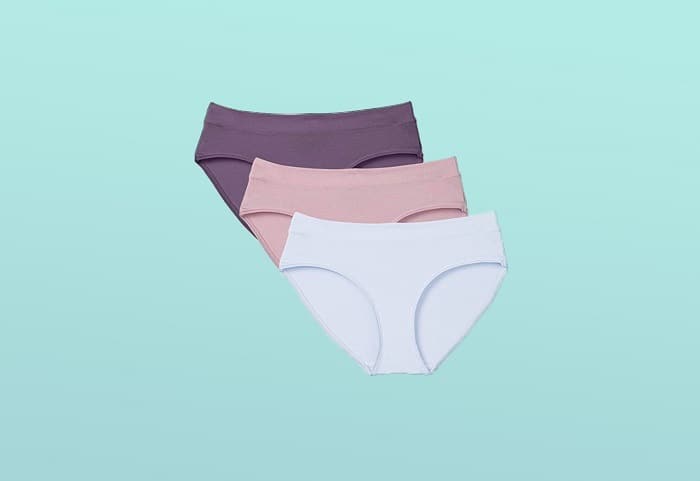 There are plenty of fabrics for the best underwear for pear-shaped women.
First, there's cotton. It's traditional and foolproof. Cotton panties are breathable and hypoallergenic. They wick away moisture, sweat, and bacteria. And they're less likely to cause chafing or skin rashes or yeast infections.
Nylon fabrics have a slimming effect. They're more stretchy and firm than cotton. Cotton is prone to sagging and fading after a couple of washes. But with nylon, you'll find no such problems.
Look for panties with nylon and cotton construction. The cotton will wick away moisture and sweat. While the nylon will ensure a firm, soft, and slim fit.
Conclusion
To be honest, not every underwear style will fit you. Some are perfect for full-figured while some aren't. There's no to cheat your way to the perfect underwear fit. What you need is specific types of underwear styles.
Enter: hi-cut briefs and panties. Like the Hanes Women's Cool Comfort Cotton Brief Panties. I believe this best underwear for pear-shaped women is a cut above. It's stylish, comfortable, and durable. It is ideal for elongating and curvier figures.
That's the perfect match for pear-shaped women, right? You have broader hips and thighs. So you need panties with wider leg openings and full coverage around the hips and waist. And that's exactly what these best panties for pear-shaped women have to offer!
↓(YOUTUBE)Best Panties for you Bottom Shape! bra and Lingerie fitting tips Choose the Right Knickers…
Comparison Table of The Best Underwear for Pear-Shaped Body
| NAME | RATING | MATERIAL | TYPE |
| --- | --- | --- | --- |
| Fruit of the Loom Women's Everlight Underwear | #5 | Nylon, Spandex | Hi-Cut Bikini |
| Jockey Women's Underwear Elance Hipster | #4 | Cotton | Hipster Briefs |
| Areke Women's Bikini Panties Seamless Underwear | #3 | Nylon, Spandex | Hipster Briefs |
| Fruit of the Loom Women's Seamless Underwear | #2 | Nylon | Hi-Cut Bikini |
| Hanes Women's Cool Comfort Cotton Brief Panties | #1 Editor's Choice | Cotton, Polyester | Briefs |