What Do You Wear In Summer? (The Best Summer Outfit Ideas)
Our Editors independently test and rate the best products. When you buy through links on our site, we may earn an affiliate commission,at no cost to you.
Warmer weather is slowly creeping up on is. With summer lurking on the horizon, don't you think it's time to start planning for the seasonal change of your wardrobe? What do you wear in summer? This question now comes into the picture with a slow increase in temperature.
When it comes to what clothes to wear in the summer season, the options are not limited. But it can be confusing to come up with summer outfit ideas. That said, here are some of the best tips you might want to keep in mind when planning your summer wardrobe.
What Do You Wear In Summer – The Most Useful Summer Outfit Ideas
#1 Floral dress and sandals for casual days
The breezy, sunny days of summer call for floral dresses. Easy to throw on, stylish dresses in the floral pattern are a summer must-have for every woman. You can pair your floral dress with neutral accessories like white sunglasses and strappy sandals.
The best part about such an outfit is that it works for the night too. Breezy weather does indeed demand breezy dresses that don't cause you to sweat in the summer. And there's no chance you'll run out of floral patterns to choose from. So keep experimenting with different floral prints but keep the neutral accessories the same.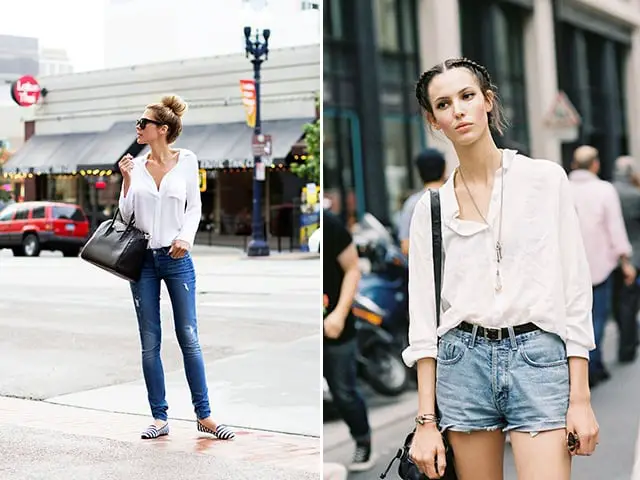 A classic white button-down shirt is essential for every season if you ask me. But this casual style is even more important during warmer weather. The breathable material keeps your body cool and keeps you looking fresh. Irrespective of the temperature!
No doubt, it's a timeless design that fits each and every occasion. And you can pair just about anything with a classic white button-down. Fun pants like striped crop jeans, distressed denims, and even work pants. That's the beauty of a shirt like this, that it's versatile.
#3 Four-way stretch compression activewear for workouts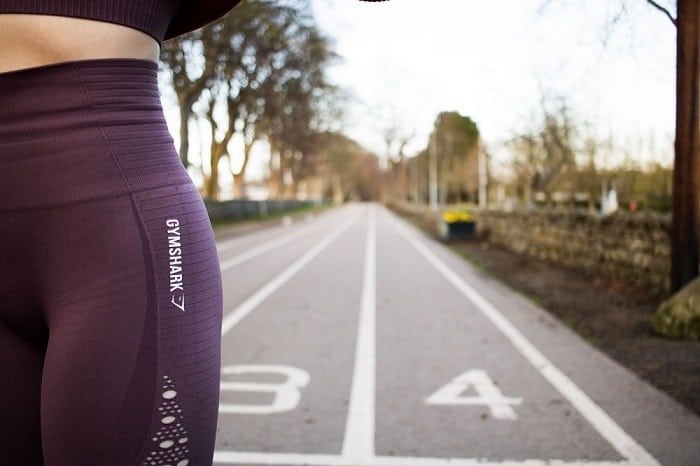 Now I understand that you might consider ditching your workout sessions because of the rise in the temperature. It's already hard to find motivation. And the hot weather just diminishes it even further. But it doesn't have to be this way if your summer workout clothes are done right.
My advice to you would be to go for athletic wear that offers 4-directional stretch as well as compression. The first thing that comes to mind is anti-cellulite pants. These do a wonderful job of shaping your body. And some even soothe fatigued muscles.
Just make sure the fabrics you choose are lightweight, sweat-absorbent, and breathable. Quick-drying activewear is not that difficult to find anymore. These pieces you can now transition into happy hour simply by swapping shoes.
#4 Embrace white denim in summer
When you think of summer, white is one of the colors that come to mind. And for good reasons in my opinion. Wearing white denim in the summertime is not only appropriate but also very stylish.
For example, white jeans look incredibly comfortable and flattering on just about any body type. It sets the perfect foundation for warm weather clothing. On top of that, white is a good choice for casual days, fancy nights, and even as workwear.
#5 One-piece romper for all the beach fun
Heading to the beach in the summertime is only common. But even if you're not planning on some beach fun, there's no harm in buying a one-piece cover-up. I'm talking about a chic romper here. Do you know the kind that is so widely available in floral and tropical prints?
You just need a pair of sunglasses to go with this outfit. And once again, it's a very versatile summer outfit idea.
#6 A floral or striped summer skirt
If floral dresses are a must in the summer, then why shouldn't floral skirts! Chic floral-patterned skirts in shades or blend of shades like pink, yellow, blue, orange, etc. look best when paired with neutral t-shirts. Or even with pale-colored tank tops.
Likewise, statement pieces like a fun-looking striped summer skirt are perfect for the hot weather. Even a striped skirt you can wear with simple t-shirts and tank tops.
What's even more appealing about this kind of an outfit is that it looks great with casual, summer sneakers too.
Conclusion
What do you wear in summer? This is a commonly asked question, agreed. I also agree with the fact that putting together summer outfits is never easy. But this article here provides some great tips to help you get started.
Just keep in mind to choose lightweight, breathable fabrics. Go for subtle, breezy colors instead of darker shades. And don't forget to put on SPF and your sunglasses.
SEE MORE: