What Are The Best Anti-Cellulite Leggings and How to Choose Them?
Our Editors independently test and rate the best products. When you buy through links on our site, we may earn an affiliate commission,at no cost to you.
Why are dimples on the butt and thighs considered to be ugly and dimples on the face considered to be adorable? Sadly, the commercial side of the beauty industry wants you to feel even more insecure about your insecurities. But let me tell you one thing for sure. That over 90% of women have cellulite. So wearing anti-cellulite leggings is a common occurrence.
But that's not my point here. What I'm trying to say is that cellulite is a very natural and common phenomenon. It's nothing to be ashamed or embarrassed about. Cellulite is just your fatty cells pushing through the layers of your skin. And fat cells are a part of the human body. Meaning they're present in everyone, including the healthy and fit.
So don't make yourself feel bad just because you have cellulite on your butt and thighs. If you don't like it so much, then how about incorporating some practices to banish the cellulite completely? Such as eating clean, working out daily, etc. And until you get there, why not put on these leggings that reduce the appearance of cellulite!
Top 10 Anti-Cellulite Leggings Reviews
Top 3 Anti-Cellulite Leggings
#1 Seasum Women's High Waist Yoga Pants –

Editor's Choice
Not the first of its kind but definitely the best of the lot. You'll find this option a part of almost all such anti-cellulite compression leggings reviews. These are the typically textured tummy-control, butt-lifting anti-cellulite leggings. They give your backside that perfect push-up effect you desire. And they're great for all kinds of workout, not just yoga.
The textured fabric is a combination of polyester and spandex. The textured part takes care of hiding your cellulite. It delivers anti-cellulite effects in the sense that the leggings make your natural bumps, lumps, and dimples appear practically nonexistent. At the same time, they lift and shape your booty.
Polyester fabric is moisture-wicking and quick-drying by the way. As for spandex, it's stretchy and incredibly soft and comfortable. So you can exercise to the maximum limit. That too without worrying about unimportant or irrelevant concerns.
The leggings belong to a collection that offers a variety of anti-cellulite textures. This includes bubble, ribbed, net, geometric diamond, 3D zebra, and more. It's a very eye-catching series manufactured by the popular brand Seasum.
To sum it up, the current option is the best in terms of every crucial aspect. The leggings are extremely lightweight and comfortable. Along with quick to get rid of sweat and moisture.
But here's the most important part. These honeycomb-textured leggings have the ability to completely conceal any cellulite or dimples. On top of that, the waistband is set high enough for much-needed tummy control.
The stretchy leggings offer enough compression to hide cellulite.

High-rise waistband is wide and comfortable.

Squat-proof with no visible camel toe.
They feel slightly itchy at first.
#2 Fittoo Women's High Waisted Yoga Pants –

Best textured anti-cellulite leggings
This pair and the next, which is the top pick, have a lot in common. The Fittoo Women's High Waisted Yoga Pants are great for lifting and shaping your lower body. Especially the butt! The leggings are textured and high-waisted. Activewear of this kind is gaining a lot of momentum among female fitness enthusiasts.
The materials used are polyamide and spandex. The combination invites no fading, no pilling, and other such worries. Instead, the leggings pave the way for total flexibility and freedom of movement. Thanks to the inclusion of spandex that makes the leggings stretchy and squat-proof.
The super-soft blend is responsible for smoothing out and concealing any cellulite or bumps. Extreme comfort is a part of the experience, no doubt. And even though the leggings are textured, they feel incredibly lightweight during walking, running, or gym training sessions. They have the power to hug all the things you don't want to show.
Speaking of hugging things you don't wish to display, the waist of the leggings is a high-rise with compression. But, to be completely honest with you, the pair is the most popular for its scrunch texture. As this does an excellent job of lifting and shaping your butt.
Needless to say, they are all-purpose workout leggings. You can wear them even when you're not doing yoga or burning calories and fats at the gym. They look very stylish. And feel very supportive and comfortable even for daily, casual wear. The tummy control effect is exceptional. And the leggings stretch generously to accommodate bigger sizes.
The textured leggings feel very comfortable and soft.

No-fading, no-pilling materials used.

Compression hides cellulite yet is stretchy for a proper fit.
#3 TrainingGirl Women Weight Loss Hot Neoprene Sauna Sweat Pants –

Best anti-cellulite leggings for weight loss
When I say the best for weight loss, I don't mean that all you have to do is wear the leggings and expect them to shed fat. It doesn't work that way. Irrespective of how exceptional the anti-cellulite leggings are. So when I say best for weight loss, I mean you can wear these leggings to perform your weight loss exercises at home or the gym.
The pair features a unique technology in the form of hot thermal neoprene. And what this does is allow your body to sweat even more during your training sessions. With more sweat and unwanted toxins coming out of your body, you get to shed more water weight. In short, you can make the most of your every exercise routine. Thus, reaching your weight loss goals faster.
The high compression of these hot neoprene sauna sweat pants is added to the waistband too. The wide waistband doesn't disappoint when it comes to shaping your tummy. So if you want to hide your cellulite and lower belly fat, then you've just hit the jackpot.
Without the shadow of a doubt, the leggings minimize the stubborn visibility of cellulite in the butt and thighs. At the same time, they constantly offer tummy control, compress your thigh bulge, and lift your hips. Think of it as shapewear to improve your posture.
But what counts is the ability of the leggings to create an environment where you can you're your fats faster. The pair preserves body heat, which is what neoprene does best. And it also increases thermal activity and boosts perspiration.
So feel free to put these on even when heading out for chores or just a walk in the park. Why not expedite the burning of calories even then! Aside from the wonderful sauna effect, the leggings are lightweight and stretchy. They allow you to move however you want freely. And they're quick-drying by nature. So you can sweat profusely without any worries.
Neoprene workout leggings perfect for weight loss.

They boost thermal activity and perspiration.

Snug and stretchy fit with a lightweight feel.
#4 90 Degree By Reflex High Waist Tummy Control Shapewear –

Best anti-cellulite Compression Capris
It's not important for the best anti-cellulite leggings to be full-length or ankle-length. They can be Capri-sized too. Such as this very popular High Waist Tummy Control Shapewear manufactured by 90 Degree By Reflex. The Capris are high-waisted, stretchy, and soft for both athletic wear and casual/loungewear.
The pair has a lot of compression and comfort to offer. No matter the activity you're undertaking! These are so comfortable and supportive that you're highly likely to end up wearing them all the time. After all, the materials used to wick away moisture and sweat. To keep you dry, odor-free, and fresh.
The materials, just by the way, are nylon and spandex. The blend makes sure to keep your lower body dry. Irrespective of how sweaty you get during your workouts! The fabric combination also delivers the much-needed 4-way stretch. This means the door to bending and stretching however you like is wide open.
The high waistband promotes support as well as compression. The streamlined fit boosts confidence in the sense that it conceals your natural cellulite, dimples, bumps, and the like. Then there's the gusseted crotch design for enabling freedom of movement. You might also appreciate the interlocked seams. As they minimize chafing and rubbing.
No doubt, the Capris are incredibly versatile in terms of design and functionality. They come with hidden pockets. So you can stash your tiny belongings safely into the waistband. And just so you know, the anti-cellulite workout Capri leggings are squat-proof. They create a very flattering shape, no two ways about that. And while doing so, the pair feels extremely comfortable too.
4-way stretch, moisture-wicking anti-cellulite Capris.

High-waist tummy control is very helpful.

Suitable for larger women too.
ee-through when you bend over.
#5 Brazilian Belle Neoprene Sauna Anti Cellulite Pants –

Best Capri-length sauna leggings
Let me tell you why Brazilian Belle Neoprene Sauna Anti Cellulite Pants are so popular. And why you should seriously consider buying them. But that is only if you prefer Capri-length.
These anti-cellulite leggings, no doubt, minimize the visibility of cellulite. They transform the way your natural silhouette looks. But these are just the superficial benefits. For the real ones, please keep reading.
The pair is equipped with technology that removes unwanted toxins from your body. Along with excessive water weight.
When you wear them for your workout sessions, they can boost blood circulation. And even increase the activity of your sweat glands. This targets your lower belly, butt, and thighs. In short, the leggings focus on areas that often carry most of the cellulite.
But how do the leggings allow your body to sweat more? The answer is pretty straightforward. The Capri-length sauna leggings are made of neoprene. This is a fabric that proves to be very effective when it comes to boosting thermogenic temperature. When this happens around your belly, butt, and thighs, you can expect faster weight loss and anti-cellulite benefits.
But is neoprene a durable material too? Will the leggings be able to stand the test of time even with strenuous, daily exercise? I don't see why not! The brand uses only premium-quality neoprene that guarantees durability. You're very likely to end up wearing these for many years.
You can wear them for your casual evening walks, cardio sessions, or even at home when doing chores. Whatever the setting, the Capri pants reduce the appearance of cellulite. And feel very comfortable and soft against the skin.
Sauna-effect leggings create heat during exercise.

Neoprene not only makes you sweat more but is also durable.

It maximizes fat burning in targeted zones.
They make an unpleasant, constant rubbing sound.
#6 Aimilia Butt Lifting Anti Cellulite Leggings –

Best anti-cellulite leggings with high elasticity
How are these Aimilia Butt Lifting Anti Cellulite Leggings any different from the rest? Well, for starters, the leggings offer a 4-way stretch. High elasticity is the most appealing quality here. The amount of spandex used for this particular pair is greater in comparison to the other blends. More spandex brings into the picture more stretch and comfort.
At the same time, a 4-way stretch is a part of the design. The combination of spandex and polyamide conforms, contours, and slims your every posture and movement. The push-up effect in the butt is yet another popular reason for popularity. The textured leggings have a high-waist for doing more than just giving your backside a streamlined, well-shaped look.
The high-rise waistband provides comfortable tummy control as well. As a fitness enthusiast, you might like to know that the fabric blend removes moisture and sweat from your body. The compression may be strong and tight. But, in no way, is it uncomfortable, painful, or inappropriate. In fact, it's also moisture-wicking and quick-drying.
The leggings feel like a second skin, no doubt. You can wear them for all types of outdoor activities. Or even at home when you're just unwinding. In terms of fit, they're not in the least bit disappointing. Rather that's the most welcoming aspect here. Not many cellulite-banishing workout leggings offer this kind of a deal at such an affordable price.
Moisture-wicking, quick-drying materials used

Non-see-through, 4-way stretch conforms to shape.

Gusseted crotch allows chafe-free freedom of movement.
#7 Homma Premium High Waist Tummy Compression Leggings –

Best anti-cellulite leggings that mix function and fashion
How can you rely on the Homma Premium High Waist Tummy Compression Leggings? For your yoga practice sessions, gym training sessions, running sessions, or just at-home, chilling sessions. Well, the answer is simple. Just take my word at face value.
I assure you that this pair of anti-cellulite compression leggings are a combination of function and fashion. The latter means they look very appealing once you put them on. And by appealing, I mean your cellulite doesn't stand a chance here. But that's also function. So in terms of function, expect nothing short of the best anti-cellulite action.
On top of that, the high-waist, tummy control leggings offer a generous amount of stretch. Plus, it enables a full recovery. Not your muscle recovery of course. Rather its original shape is maintained no matter the type of movement you're performing.
Furthermore, the leggings are luxuriously soft and durable. The fabrics used are extremely resistant to moisture and sweat. That gives strenuous fat-burning exercise routines the green signal.
Moreover, the thick, high-rise, stay-put waistband contours to the shape of your tummy. Factors like compression, comfort, and stretch are inevitable in the case of every Homma creation.
The level of thickness is greater here in order to make the leggings non-see-through. Also, do they rank as the best anti-cellulite leggings plus size? I don't see why not considering the exceptional 4-way stretch that conforms to the natural shape of your body. The great control through the thighs and tummy is an unbeatable quality. So how about seizing that opportunity!
Abundantly thick anti-cellulite compression leggings.

High-quality construction holds up well over time.

4-way stretch, tight fit, and chafe-free.
Waistband tends to roll down.
#8 YOFIT Women Ruched Butt Lift High Waist Tummy Control Yoga Leggings –

Best textured anti-cellulite leggings in a variety of colors
If you've been on the lookout for the best anti-cellulite compression leggings for a while now, then one thing is for sure. That you know how popular these types of textured leggings are. When it comes to reducing the appearance of cellulite! So here's yet another pair, and there are many more to come.
This one is built using polyester and spandex. The material combination here activates the much-needed air permeability. Speaking of which, sweat and moisture absorption is also a part of the experience. That means your workout sessions can be as high-intensity as you like. And you don't have to worry about not feeling dry and fresh in the lower body.
The leggings, no doubt, perform all the cellulite-banishing action because of compression. The compression is generously added for shaping and lifting your butt and thighs. But doesn't that interfere with your freedom of movement? No, absolutely not!
These are not only yoga pants to hide cellulite by the way. You can wear them to the gym, for runs, for weightlifting, and when lounging at home. And the best part about them is the wide availability of different colors.
But are they super stretchy? Yes. Do they have a waistband that offers tummy control? Yes. Do they feel lightweight even with so much compression? Yes. And are they going to keep the body warm during workouts in order to contribute to burning more fat and calories? Yes, but to a certain extent. So don't you think you have enough reasons to consider this textured pair?
The leggings cover cellulite and tummy pouch.

Compression fit and shape-enhancing.

Suitable for larger thighs and a larger waistline.
#9.

Varuwy High Waist TIK Tok Butt Lifting Anti Cellulite Workout Leggings

–

Best affordable anti-cellulite leggings
This may be the first pair of the famous anti-cellulite textured leggings. But it's certainly not the only one. In fact, the top pick of the list is also an outstanding textured option. As for the Varuwy High Waist leggings, they're alright.
A combination of spandex and polyester is involved. And this is pretty basic as far as providing stretch is concerned. It also means no fading and no pilling. Along with no lack of any freedom of movement.
Then comes the high-waist elastic band that delivers tummy control. Most women who want to buy leggings for reducing cellulite also want the same pair to tuck in their tummy. In that case, you get both benefits from just a single pair of leggings here.
The honeycomb pattern is very well constructed. The back consists of a ruched design. And what this does is press your butt gently for boosting volume. The result of this is a flattering, streamlined appearance. It also disguises panty lines.
The brand here has improved the thickness of the leggings. Because many textured leggings are so thin that they turn out to be see-through whenever you bend over or stretch. So keeping that in mind, the thickness has been increased to prevent that. You get maximum protection and comfort during your every posture and movement.
In all, the leggings have the ability to hold your bottom really well. So much so that you can actually feel your thighs and butt tightening. It's the best for concealing cellulite if you ask me.
Won't show dimples or cellulite

High-performance polyester and spandex.

Backside scrunch shapes the butt very well.

Stretchy fit contours to the shape of the body
#10 CzSalus Anti Cellulite Slimming Leggings –

Best compression anti-cellulite leggings
Do you think all anti-cellulite leggings have compression to offer? Let me make it very clear that only the best ones do. And that is why the first choice, although I'm going backward, is a pair of anti-cellulite slimming leggings by CzSalus.
These are equipped with features that, no doubt, you won't find in another pair. So this is proof of the fact that the last rating is definitely not the least favorite. The incredibly elastic and compressed fabric here gives materials like neoprene a run for its money.
You should probably know that these leggings are great for those dealing with back pain as well. They're thermal pants with lumbar support. The constant flow of massage the molded elastic material provides feels like no other.
These leggings stimulate capillary microcirculation. They also encourage the removal of toxins from the body. And these unwanted toxins are one of the primary causes of cellulite in the first place.
No doubt, the best part is the compression fit. Even though the compression is high, the leggings feel very stretchy. So you can put them for burning calories at home or the gym. And you can even put them on for your regular outdoor chores and strolls.
Most comfortable anti-cellulite compression leggings.

The compression is very tight yet comfortable.

They offer thermal support and lumbar support.
Feels too stiff at first.
Best Anti-Cellulite Leggings – Buying Guide
What is Cellulite?
The very first thing to understand here is the definition of cellulite. What exactly is cellulite?
Under your skin, there's a subcutaneous fatty layer. And then there's the fascia layer. The latter is a shiny surface above the muscle. Now let me tell you about fibrous bands. These go through all the layers of the skin. Starting from your skin's first layer all the way to the fascia layer. And what the bands are responsible for is preventing any changes on the surface of the skin.
As you gain weight, you might think your fat cells are increasing in number. But that's not the case because everyone is born with a certain number of fat cells. The amount of cells doesn't increase though. What increases instead is the size of these cells. And a larger size means a greater capacity for the storage of more fat.
When more fat is stored, it pushes all that is present behind those fibrous bands upward. Thus, giving rise to a dimple. And that is how cellulite in a particular area is formed.
Do Anti-Cellulite Leggings Really Work? And How?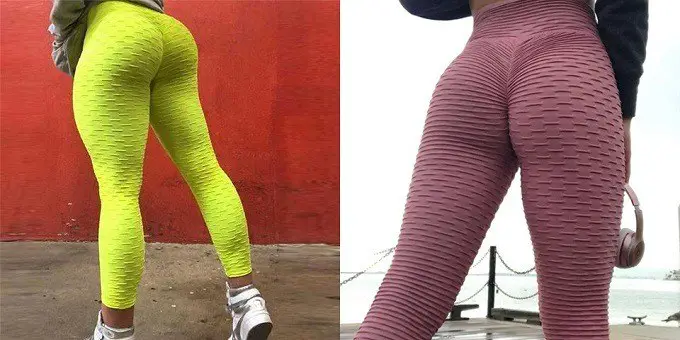 Now, do you think you can reduce the appearance of your cellulite simply by just wearing these kinds of leggings? If yes, then you're wrong. Instead, try working out in cellulite-banishing leggings. The leggings are equipped with thermal energy in the form of neoprene fabric and/or loads of compression. And what both do is create more heat during exercise.
With more heat, you get the golden opportunity to sweat more and burn more fat. But for this to work, you have to make it a point to exercise daily and strenuously. Only then do unwanted toxins release from the body in the form of sweat. And it's these unwanted toxins themselves that are responsible for forming your cellulite.
But you have to combine your workout sessions with healthy eating too. That means avoiding foods like fried items, sugary treats, processed meat, cheese, white bread, etc. Drinking lots of water also contributes to reducing cellulite.
As for the workout, focus more on lower body exercises that burn fat. Such as squats, lunges, wall sit, fire hydrants, etc. Even cardio is a great way to lose fat. So you can lose all the extra weight with the help of cardio. And then tone your muscles to firm up the skin with the help of strength training.
The 30-Minute Sayonara Cellulite Workout! | Class FitSuga(Youtube)↓
Other ways to minimize the visibility of cellulite include applying self-tanners. What tanning formulas do is darken your skin tone. And that, in turn, camouflages the shadow that cellulite creates. Along the same line, don't skip sunscreen. Then there are body massages too.
How Do Anti-Cellulite Leggings Feel?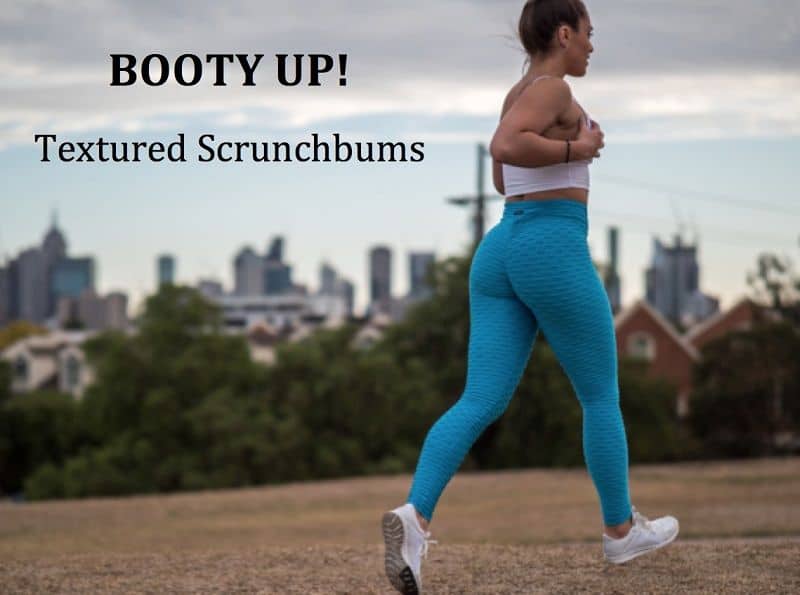 The leggings offer a very snug yet comfortable fit around the legs, thighs, and butt. The compression feels tight and smooth against the skin. It starts from the high-rise waistband, which is ideal for tummy control. And travels all the way down to your mid-thigh.
If you buy from a renowned or high-quality brand, then you can expect the elasticity and firmness of the leggings to last even after multiple washes. Otherwise, it's quite a shame when the original compression and snug fit get compromised.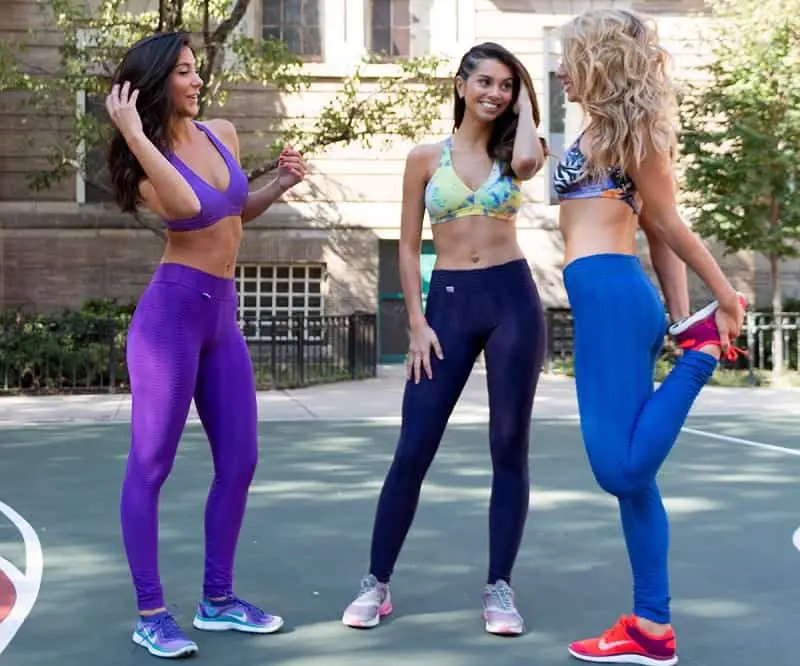 Final Say
While it's true that you can reduce the visibility of cellulite with these leggings. You have to also understand that effort on your part is required. And by effort, I mean wearing anti-cellulite leggings to the gym or for your home workouts.
When you exercise in compression leggings, you're actually getting rid of cellulite. For good! As opposed to just hiding it in the case of only wearing them. So it all depends on whether you want a mere temporary fix. Or a more permanent solution to your cellulite problem.
Whatever the case, don't see your cellulite as an enemy. It's a very natural part of your body. Most women have cellulite in the butts and thighs. But there's no harm in wanting to hide or get rid of it. Particularly when then there are workouts you can do and leggings you can wear for that!
The top choice on the list is a very commendable piece. The Seasum Women's High Waist Yoga Pants perform the best anti-cellulite action for smoothing out your bumps and dimples. The leggings are super-stretchy, quick-drying, and moisture-wicking as well.
But the most important aspect is the ability of the pair to create the much-needed toning effect. In simple words, the leggings feature lift and shape your butt and thighs. While also offering all the tummy control you might desire. They move and stretch along with you. So your workouts can be as diverse, high-intensity, and long as you like.
And if you don't like the honeycomb texture of these leggings. Then the brand offers other textures too. Such as geometric diamond, ribbed, net, bubble, etc.
Top 10 Anti-Cellulite Leggings – Comparison Table 
| NAME | RATING | MATERIAL | FIT |
| --- | --- | --- | --- |
| CzSalus Anti Cellulite Slimming Leggings | #10 | Polyamide, spandex | High-waist, full-length |
| Kamots Beauty Yoga Queen Butt Lifting Leggings | #9 | Polyester, spandex | High-waist, full-length |
| YOFIT Women Ruched Butt Lift High Waist Tummy Control Yoga Leggings | #8 | Polyester, spandex | High-waist, full-length |
| Homma Premium High Waist Tummy Compression Leggings | #7 | Nylon, spandex | High-waist, full-length |
| Aimilia Butt Lifting Anti Cellulite Leggings | #6 | Polyamide, spandex | High-waist, full-length |
| Brazilian Belle Neoprene Sauna Anti Cellulite Pants | #5 | Neoprene, polyamide, polyester | High-waist, Capri-length |
| 90 Degree By Reflex High Waist Tummy Control Shapewear | #4 | Nylon, spandex | High-waist, Capri-length |
| TrainingGirl Women Weight Loss Hot Neoprene Sauna Sweat Pants | #3 | Polyester, neoprene | High-waist, ankle-length |
| Fittoo Women's High Waisted Yoga Pants | #2 | Polyamide, spandex | High-waist, full-length |
| Seasum Women's High Waist Yoga Pants | #1 – Editor's Choice | Polyester, spandex | High-waist, full-length |