Underwear That Makes You Look Bigger – Top 7 Reviews You'll Find the Most Useful
Our Editors independently test and rate the best products. When you buy through links on our site, we may earn an affiliate commission,at no cost to you.
Many men want the front of their jeans and even swimming trunks to look filled out. It's actually a very common occurrence these days. That said, the World Wide Web is flooded with articles that help you boost the size of your package. And one very effective method for doing so takes the form of underwear that makes you look bigger.
There are other less effective techniques too. Such as stuffing socks and wearing underwear inserts that create a realistic large penis outline. But, hands down, it's bulge enhancing underwear that gets the job done. The most comfortably that too!
Underwear That Makes You Look Bigger – Comparison Table and Top 7 Choices
Here are some of the best package-enhancing solutions in the form of very comfortable and luxurious yet simple underwear. So you can get the extra boost you desire quite effortlessly.
#7 iKingsky Men's Colorful Big Pouch Thong Underwear –

Best thong underwear that makes you look bigger
Pros
High-quality fabric construction
Very stretchy waistband
3D ergonomic shaped pouch for lift and bulge
Cons
Super low-rise in the front
How to make your package look bigger in jeans, swim trunks, or any other casual and even formal outfits? The answer, no doubt, can be this 6-pack of iKingsky Colorful Big Pouch Thong Underwear. These also rank as the best men's enhancing pouch briefs. But with a thong construction of course.
The large pouch, as you can see, is created for providing both lift and support. So you get all the enhanced definition you've been looking for. Even below jeans as a matter of fact. The ergonomically shaped 3D pouch offers not only ample room. But also exceptional comfort.
The pair of big pouch thong underwear is specifically crafted for enhancing your assets. The front pouch is plenty supportive. For gently cupping and lifting your meat and potatoes. Thus, pushing then outward and upward. That means creating a noticeable push-up effect in your pants. So much so that your bulge is sure to attract some attention.
#6 Rounderbum Men's Package Enhancing Padded Trunk –

Best padded underwear that makes you look bigger
Pros
Very comfortable padded boxer trunks
Special front compartment for a push-up effect
Removable pre-shaped cup
Cons
The elastic is not the best feature of the underwear
Did you say bulge? The word itself is enough to call upon the men's underwear brand Rounderbum. Their package enhancing padded trunks are guaranteed to grab attention to your male parts. After all, the undies add extreme bulk. This means the pair is perfect for men with a small or average size package.
The best and unique part, no doubt, in the padded construction. These are padded trunks that pass as invisible and undetected under your clothing. And just so you know, the pad is the removable kind. In fact, you're supposed to wash the underwear without the pad.
Rounderbum is an underwear brand that caters to those men who care for their appearance. The designs that they manufacture look athletic. But, more importantly, they enhance you in places that demand that kind of attention.
It's the first underwear brand that has dared to boost the appearance of men's package. All the different styles have one purpose in common. And that is to deliver volume, definition, and support to your desired area. While also adapting to the shape of your body.
As for these boxer trunks, they enhance your man attributes dramatically. The dual-function design is the most praiseworthy. The first function consists of a special compartment to lift your goods. While the second includes the removable perforated cup. This adds extra bulk to your male zone, which is exactly what you're looking for.
#5 iKingsky Men's Pouch G-String Underwear –

Best G-string underwear that makes you look bigger
Pros
Accurately sized, comfortable G-string underwear
3D pouch for lift and bulge
Moisture and sweat-wicking sports-mesh woven fabric
Cons
Not a very suitable choice for a large package
This may as well be the best pouch underwear for men who want their junk to look bigger. So don't be disheartened or skeptical about the word G-string in the product title. Let me assure you that these undies are well-equipped to provide the most amazing comfort and support. All thanks to the remarkable 3D pouch.
What the 3D pouch does is lift your goods away from the thighs. This way you don't need to bother about comfort and support. Despite the G-string style.
Without the shadow of a doubt, these are high-performance undies. They're made of sports-mesh woven fabric. You know the kind that attracts moisture and sweat away from your body! On top of that, the underwear features custom air-vents. And that means extra breathability is welcome.
Moving on to the supportive contoured pouch, it keeps your genitals in place. And so does the Y-back structure. But it's the flawless fit of the pouch that you might appreciate the most.
Low-rise waistband, minimal coverage, comfortable pouch, and incredible lift and support. All these factors matter when it comes to buying underwear that's not only bulge-enhancing. But also high quality. Even though the waistband is narrow, there's no amount of discomfort you have to make do with.
#4 Gudan Mens Bulge Enhancing Low Rise Bikini Underwear –

Best seamless underwear that makes you look bigger
Pros
A pair of anatomically contoured and sized bikini briefs
Low-rise elastic, comfortable waistband
Seamless, tag-free construction
Cons
Best underwear for small package only
How about a seamless construction for a change? I mean, after all, it is underwear that makes you look bigger. So why not be discreet about it, right? If you agree, then it's time to get acquainted with Gudan Bulge Enhancing Low Rise Bikini Underwear.
The pair is made of a mix of nylon and spandex. Where one is stretchy (spandex), the other is durable, breathable, wear-resistant, lightweight, and supportive (i.e. nylon).
A part of the seamless construction is the tagless design. So you don't have to deal with the annoying and uncomfortable tag itch.
Needless to say, you're looking at a modern-cut, sports-style pair of briefs. That has a big front pouch and full back coverage. Unlike the jockstrap bikini briefs, I'm planning on reviewing after this.
In case you're wondering, yes it's comfortable to wear all day long. After all, the bulge enhancing low rise bikini underwear dries up quickly. And is plenty supportive, stretchy, breathable, and very sexy-looking as well.
#3 BRAVE PERSON Men's Jockstraps Underwear Athletic Supporters Bikini Briefs –

Best jockstrap underwear that makes you look bigger
Pros
Made of breathable stretch cotton
No visible lines, chafing and bunching
Contoured pouch and center seam for added support
Cons
The straps are too thin for large guys
These athletic jockstrap bikini briefs allow you to show your man charm in the best possible manner. First and foremost, the undies here are an ideal choice for all types of movements and activities. This includes gym, fitness, sports, beach, and casual outfits.
But it's the supportive athletic jockstrap design that seems like the most enticing characteristic. The thing about good jockstraps is that they maximize support. While eliminating common concerns like chafing. There's no fabric or coverage at the back. And that means no bunching complaints either.
With a jockstrap like this, you're highly unlikely to ever find faults in terms of breathability and fit. Talking about breathability brings cotton into the picture. This particular fabric keeps you cool and fresh all day long. After all, it's breathable stretch cotton that's also ultra-soft.
Then comes the noticeable bulge pouch. This is a single-layered crotch that offers all the room your genitals demand down there. At the same time, the bikini brief undies keep everything in their proper place.
So jockstraps have certainly come a long way from being suitable for just the purpose of bicycling. Now you can put them on to enhance and accommodate your package. Especially when performing strenuous physical activities. These bikini briefs are also a very comfortable option to wear after the vasectomy procedure.
#2 YuKaiChen Men's Briefs Low Rise Bikini Bulge Enhancing Underwear –

Best bikini brief underwear that makes you look bigger
Pros
Extremely comfortable and form-fitting bikini briefs
Low-rise, high-elastic, durable waistband
Tagless design
Cons
Sizing information is misleading
Feeling a little adventurous? If yes, then do consider buying this bulge enhancing low rise bikini brief underwear. That's made using stretchy spandex and wear-resistant, durable nylon.
Nylon is also very breathable, soft, supportive, and lightweight. Plus, it dries up pretty quickly. So you don't have to worry about your meat and potatoes sweating. No unpleasant or bad odor either.
The bikini briefs are tagless. This means no tag itch to deal with, which is great news. Also quite relieving to know is that the waistband is highly elastic. The low-rise band stretches to accommodate your waist. On top of that, it's also durable and lightweight.
One look at it and you know the underwear has a modern sports-style cut. These are like briefs with a front design that offers great space. Along with a back design that provides full butt coverage.
You should also know that special stitching technology is incorporated. So that the bikini undies are able to maintain their original shape and quality over time. No doubt, this pair is extremely comfortable and breathable to wear throughout the day. Despite the brief-like bikini design.
#1 LAPASA Men's Modal Bulge Enhancing Boxer Briefs –

Top Choice
#1.

LAPASA Men's Trunks 4-Pack Cotton Stretch Underwear with Fly Comfort Soft M03

–

Top Choice
Pros
Breathable micro modal boxer briefs
3D seamless design, thus no ride-up and less friction
Ergonomic U-cut design for added space and support
Cons
The material feels too thin
The last on the list is actually the #1 choice. And without hesitation, allow me to present to you the LAPASA Bulge Enhancing Briefs. These are made of a combination of modal and spandex. The former is a very lightweight, smooth, and breathable fabric. Light just like a feather. Silky smooth to touch. And breathable in the sense that it feels cool against the skin.
Another quality that makes these boxer briefs worthy as the top choice is the ergonomic U-pouch. When your priority is to buy underwear for a bigger package. Then it's important to buy a pair designed with a U-pouch. Because it offers more room for your private parts. Without causing any constraints or discomfort.
Then moving on to the seams and waistband of the undies. These two features, no doubt, are also comfortable and durable. Men, more often than not, complain about their underwear waistbands digging into the skin. Or the seams wearing out too soon. So these kinds of common issues are not a part of the experience with LAPASA.
Moreover, the waistband is stretchy enough to provide a snug yet comfortable fit. Speaking of fit, the overall fit of these boxer briefs is well-tailored. Plus, you get the wonderful opportunity to get rid of the tag as well. It's easy to tear off, which means no skin irritation caused by the undies.
How to Choose the Best Underwear for Making You Look Bigger?
I'm sure you know that putting on bulge-enhancing undies doesn't offer any "real" solution for increasing the size of a small package. But that doesn't mean you don't get to fake it while you can. And for that, nothing works better than underwear specifically designed for exaggerating your male parts.
There are plenty of underwear brands and styles out there. So which ones from the lot are supposed to get the job done both efficiently and comfortably? It's time to find out!
Style of Underwear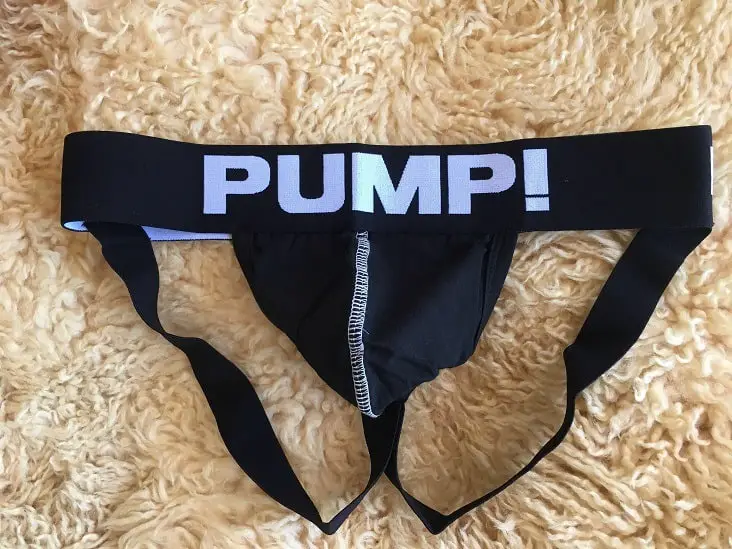 To be completely honest with you, not all underwear styles are up to the task. Meaning there are only specific styles that enhance your junk. Without making it look like you're trying too hard that too. So let's find out what they are below…
1. Padded Underwear
If you've gone through my reviews section, then you know that I've shortlisted a pair of padded boxer trunks. And what this type of underwear does is add bulk to your crotch area. More often than not, the padding is removable. So you can easily wash your undies without them.
A padded pair of underwear also holds your boys in place throughout the day. While also keeping everything symmetrical and smooth down below.
2. Push-Up Underwear
Much like women's push-up bras, push-up underwear consists of construction and seams that lift your genitals upward and outward. These, needless to say, provide all the support you demand from everyday underwear. You get exceptional support along with ample of room to accommodate a large package if that's what you have.
These kinds of underwear are the best for workout, training, and sports activities. In short, for intense physical movements. So your goods stay supported and don't move around too much.
3. Pouch Underwear
I have reviewed quite a few 3D contoured pouch-equipped underwear. Because what the pouch does is make sure your package sits away from the body. And it's this particular extra visibility that adds the bulk you desire.
For the most part, pouch underwear styles feature special sewing and clever Y-front seams. The former guarantees long-lasting durability. As for the latter, positioning your genitals in the most comfortable and flattering manner becomes possible.
4. Jockstrap Underwear
There's simply no denying or downplaying the ability of jockstraps to lift your boys. They keep your masculine area well-supported. While also making it look perkier from the front. And a pair of the best jockstrap underwear keeps everything contained in the back as well.
Underwear 101: Jockstrap(Youtube)↓
#1 Seams
The thing about bulge-enhancing underwear is that it's got a higher number of seams and stitches sticking out. In that case, more seams certainly add more bulk. But, at the same time, you have to make sure these seams don't cause chafing. That said, go for underwear with flatlock seams.
#2 Moisture Control
None of your efforts matter when your underwear is making you sweaty and stinky. Particularly if the underwear is padded or built with a pouch. So what you can do is choose fabrics that facilitate breathability. Such as nylon, polyester, and cotton. Cotton, no doubt, is the best breathable material.
You can also buy underwear that features air vents and window panels. But choosing underwear made of moisture and sweat-wicking fabrics is a must.
Conclusion
It only makes sense to look for the best underwear for your particular body type and personal preferences. How your undies fit also matters. There are more men than you can imagine that are now searching for the right kind of underwear to enhance their package. It's become quite common these days.
And when the selection process is centered around bulge enhancement. Features like padding, lifting, specially designed pouches, etc. come into the picture. One such amazing option is the LAPASA Men's Modal Bulge Enhancing Boxer Briefs.
These undies are made of the incredibly soft modal. The fabric here is lightweight, breathable, and silky smooth. But it's the ergonomic U-pouch design that stands out, quite literally. Moreover, the seams and waistband are very comfortable and durable. And then there's the easy-to-remove tag as well that brings about an irritation-free experience.
7 Best Underwear That Makes You Look Bigger – Comparison Table
| NAME | RATING | TYPE | MATERIAL |
| --- | --- | --- | --- |
| iKingsky Men's Colorful Big Pouch Thong Underwear | #7 | Low-rise thong underwear | Polyester, spandex |
| Rounderbum Men's Package Enhancing Padded Trunk | #6 | Trunks | Cotton, elastane |
| iKingsky Men's Pouch G-String Underwear | #5 | G-string underwear | Polyamide, spandex |
| Gudan Mens Bulge Enhancing Low Rise Bikini Underwear | #4 | Low-rise bikini brief | Nylon, spandex |
| BRAVE PERSON Men's Jockstraps Underwear Athletic Supporters Bikini Briefs | #3 | Jockstrap bikini brief | Cotton, spandex |
| YuKaiChen Men's Briefs Low Rise Bikini Bulge Enhancing Underwear | #2 | Low-rise bikini brief | Nylon, spandex |
| LAPASA Men's Modal Bulge Enhancing Boxer Briefs | #1 Top Choice | Boxer brief | Modal, spandex |