Discover Top 7 Best Jeans for Pear-Shaped Women That Fit the Best
Our Editors independently test and rate the best products. When you buy through links on our site, we may earn an affiliate commission,at no cost to you.
Looking for the best jeans for pear-shaped figures is not easy. It's like trying to find a needle in a haystack. You can do a lot better than waste your time looking for something that is much too specific.
Enter – this best guide on how to buy the best jeans for a pear-shaped body. And that's not only, it's the only stop you'll need before purchasing new pairs of jeans right away.
When you buy new jeans, you look at the following features. The rise, the stretch, and the cut. For a pear-shaped body, this is exactly what you'll be looking at. But with a few details changed.
Let's find out what they are.
Best Jeans for a Pear-shaped Body: Table Comparison and Product Reviews
Nothing explains what you need better than some amazing pairs of jeans. Consider this your jeans catalog that shows you what you need. It's all about looking for the right fit, style, and cut.
Get ready to fall in love with all these choices.
#1 Vibrant Juniors Classic High-Waist Denim Skinny Jeans –

Top Pick
High-waisted jeans for a pear-shaped figure look amazing. These jeans are not like your standard skinny jeans. They offer plenty of room around the waist. And the fabric which is Tencel, cotton, and spandex offers incredible stretch.
The fit from the waist all the way down to your ankles is flattering. It's easier to put on and off. This is important to take note of because it's a hassle putting on skinny jeans. Especially when you're wider around the hips than the waist.
The fabric of these best jeans for a pear-shaped body is not rough. It doesn't rub against the thighs. Nor is the stretch an inch too accommodating or an inch too tight.
The cotton and Tencel blend offers a smooth texture. Most skinny jeans for pear-shaped figures end up pressing into the skin of the thighs. This feels suffocating on many levels. Not the best choice for curvy women.
These jeans are soft and stretchy. You can buy them in multiple colors. And maintaining them is easy because you can machine wash them in cold water.
Pros
Very stretchy and comfortable.
No sagging or wrinkling of the fabric.
Thick and supportive stretch.
Cons
The length is a bit too long.
#2 Lee Women's Classic Fit Monroe Straight-Leg Jeans –

Best casual jeans
Straight leg jeans are also an excellent choice for women. The fit and style of such jeans offer instant slimming and shaping. The Lee Classic Fit Monroe's cotton and spandex blend is quite impressive.
These jeans are more than denim. They have the perfect stretch and tummy control. You can pair it with casual, fancy, and formal wear. Its hidden tummy control panel offers slimming all around.
For a pear-shaped figure, the fit around the waist and hips is good. It doesn't feel too tight at all. Even though most straight-leg jeans do. It enhances your curvy figure to make you look sleek.
While the fabric feels smooth and breathable. The straight legs around the knees do not bunch up. It doesn't unnecessarily feel too loose or wrinkled. If you're short, you won't end up looking even shorter with these jeans. That's a guarantee!
Pros
It has a firm and supportive fit.
The slimming tummy panel is impressive.
Good stretch and thin, lightweight fabric.
Cons
The size runs a bit small.
#3 Levi's 720 High Rise Super Skinny Jeans –

Best slimming jeans
The Levi's 720 Super Skinny Jeans are a cross between jeans and jeggings. Though they are as supportive as jeans. They feel soft and stretchable, just like jeggings. Made of cotton, polyester, and elastane. These are the best jeans for a pear-shaped figure.
It has a zipper closure with a high rise fit. Even though they are super skinny jeans, they shape and not squeeze your buttocks. Perfect for curvy women, the color and style of these jeans are perfect.
The fit around the buttocks and thighs is very considerate. Even after a few washes it doesn't irritate the skin or become too loose. The inner stretch fabric is as soft and breathable as the outer.
If you're looking for a pair of jeans that accentuate your curves, this is it. It's the closest pair of jeans to jeggings. But it's extra supportive and firm for long-term wear.
Pros
Soft and breathable fabric.
A tight grip around the ankles even after hemming.
It hugs your curves perfectly.
Cons
You will have to shorten the leg length.
#4 ARIAT Women's Mid Rise Bootcut Jeans –

Best stretch jeans
If you have a smaller waist and bigger thighs, these bootcut jeans are for you. Consider these jeans a light but supportive choice. Something you'd wear when you want to relax.
The cotton, polyester, and spandex blend are great. It's perfect for curvy women because it elongates the appearance of your legs. The dark wash is also ideal because it streamlines your curvy shape.
So from whichever way you look at it, this is one of the best jean styles for pear-shaped women. It has a comfortable straight-leg style. A stretchy but not-too-stretchy denim fit. And the darker wash of the fabric just makes everything better.
It covers and accentuates your hips and thighs. And it's also not one of those terrible bootcut jeans that show the lining of your underwear as you bend over. This fabric is firm, supportive, and smoothening.
And let's not forget the amazing contrast stitching. It flatters as much as it shapes your natural curves.
Pros
The waistband is supportive and comfortable.
Good lift and support for curvy women.
Not too loose around the knees and ankles.
Cons
The size runs a bit long.
#5 Levi's Women Curvy Bootcut Jeans –

Best bootcut jeans
Something to balance your curvy silhouette. Although most women prefer skinny denim over a curvy body. These jeans are most flattering in that it offers excellent slimming and shaping features.
It's hard to describe what wearing wide-legged jeans feels like. But I can tell you what it's not. It doesn't make you look stout and stubby. It's quite supportive of your posture and shape. And it's so attractive to look at.
Pear-shaped women have a smaller torso with fuller thighs. So what you need is something that skims your body shape without squeezing those curves. The straight lines on bootcut jeans elongate your body shape. It isn't restrictive in any way.
For the curve-conscious buyer, this type of style can do wonders for your body. And the elastane, cotton, and spandex blend of these bootcut jeans even more so. It starts slimming below the waist and hips. With an inseam that feels soft against the skin.
Pros
Not tight or suffocating in the thigh area.
Slight stretch for walking around.
The jeans material is breathable and firm.
Cons
Too high-rise for women with short torsos.
#6 Vibrant Women's Bell Bottom High Waist Denim Jeans –

Best high-waist jeans
These jeans are one of the few picks that make high-waist denim look good. For a pear-shaped figure, no less, it's fantastic. It gives you exactly the fit and style you need. The waist is comfortable and flexible. So is the fit around the thighs and lower hips.
If you're not a fan of skinny jeans, bell-bottoms are perfect for you. The stretchy material is flattering in that it doesn't give up. It won't over-stretch even after a couple of washes.
It does make your buttocks look plump and round. But I don't see how that is an issue. The high-waist style means it's supportive. For sitting and standing around a lot, it's perfectly balanced.
You won't feel like your natural curves are being shrunk. The leg length, for an average woman's height, is also manageable. Bell-bottoms are supposed to be slightly longer than standard lengths. Giving you the freedom to wear heels without worrying about your shape.
Pros
Accurate size and fit.
Ideal for women under 5 5'.
Slightly stretchy and comfortable.
#7

Levi's Women's 311 Shaping Skinny Jeans

–

Best straight-cut jeans
If the thought of jeans makes you cringe, I have a brilliant solution for you. Taking over the trend of skinny jeans, straight-cut jeans is the new trend. That's right. It's no longer classic skinny but it's class straight-cut jeans!
And no better choice than the Shaping Skinny Jeans for women. They're so stylish and attractive to look at? And did I mention they're super popular too?
The loose-fitting style is a trend-setter in many ways. It keeps you comfy and supported. The straight cut elongates your curves. Making you look taller and fitter. The inseams are soft and light to touch.
Since these are mid-rise jeans, they're quite versatile. If you do not think highly of high-waisted denim for your pear-shaped body. I completely understand. They aren't the comfiest jeans to wear all the time. That's why these are the perfect match for you.
Pros
Easy to wear and maintain.
Slightly stretchy and supportive.
Soft and comfy feel.
Cons
The inseam is a little high.
Best Jeans for Pear-Shaped Women – Buying Guide
How to Choose the Right Pair of Jeans?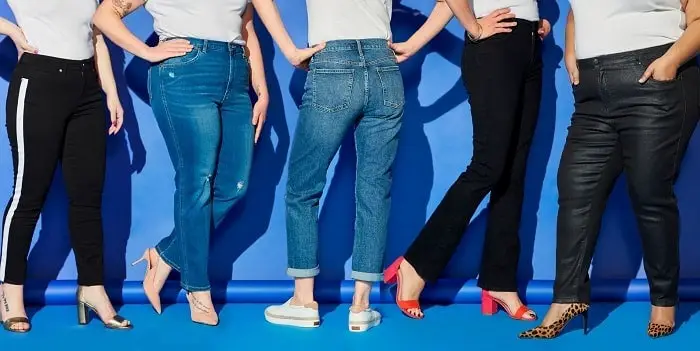 Now you have a great selection of jeans to pick from. It's important to pick something you're comfortable in. The fabric, style, and fit of the denim. These are factors that stand out when looking for the best jeans for pear-shaped.
But which is the best of them all? Experts tell us that for a pear-shaped figure, a high-waist fit is perfect.
You can stand in front of the mirror and find the ideal length. A pear-shaped figure is defined by a small waist. Followed by fuller thighs that curve inward toward the knees.
In your average skinny jeans, this style might end up looking a bit too superfluous. To avoid this, you need something to balance the act. High-waist jeans skim over the hips.
Since the waist doesn't start from below the belly button, it provides correct shaping. This, for many pear-shaped women, is flattering. Because it elongates the length of the legs. And it makes the shape of the lower body appear slimmer and sleek.
But are high-waist jeans the best of them all?
You can also choose from a straight cut, bootcut, and wide-leg jeans. Straight jeans are gaining momentum indefinitely. Remember, they accentuate your shape without squeezing your thighs and butt together.
To sum this up, let's look at the following factors…
Rise
The rise in jeans is the number one factor of consideration. It's how tall or short the distance is from the waist to the crotch.
You can also measure the rise of denim based on where it sits at your belly button. High waist jeans sit slightly above the belly button. Mid-rise jeans sit on or slightly below the belly button. And low-rise jeans sit 1-3 inches below.
For a pear-shaped figure, low-rise jeans are out of the question. It doesn't offer complete coverage. And it can also lead to your underwear showing. If you've gone through this before, you know it can be very embarrassing.
High to mid-rise jeans are perfect. It depends on what your comfort level is. If you want slimming and tummy control features, go for high-waist denim. They give you the perfect hourglass figure.
Skinny jeans are best for a high-rise fit. Meanwhile, mid-rise fits are ideal for straight, bootcut, and wide-leg jeans.
Stretch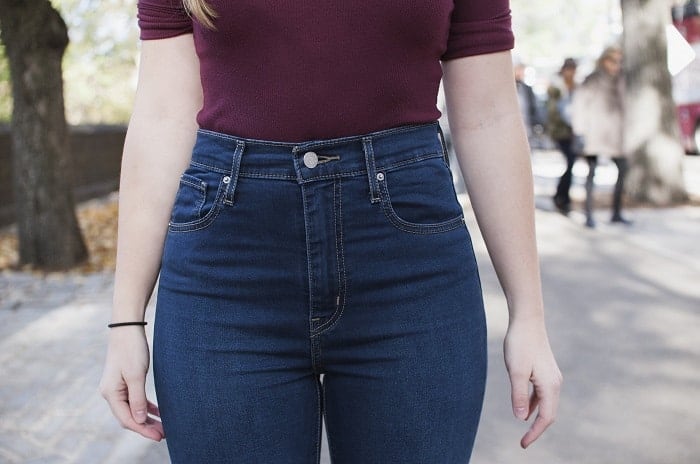 Different jeans give you different kinds of stretch. What you need for your pear-shaped figure is a spandex-like stretch. Elastane, cotton, spandex, and even Tencel. These are great materials for a stretchy fit.
The material is not too heavy. Instead of pressing into your skin, the stretch material offers shaping. So it smoothens the curves without taking anything away from them.
Tight, non-stretchy jeans offer support. But after a point, they start to feel uncomfortable and suffocating. Especially if you're full around the thighs and have a smaller waist.
So a low level of stretch is very important in denim for pear-shaped women.
Factors That Will Change the Way You Shop for Jeans
If you dream of the perfect denim fit, you won't get to it without these tips. Everybody has their own denim buying secret. I'm sure you do too. But what about finding your perfect fit? Your dream is incomplete without the correct fit.
But not anymore.
1. Hip and waist sizes
If you have a narrow waist and fuller thighs, these sizes are different. Most of the time, all our attention goes to measure waist size. But you must do more than that.
Take the measuring tape around your navel – may be slightly higher. Where your rib cage ends, that's the first measurement you need to take.
Then move on to the fullest part of your body. This is your hips. Look at where the fly of your most comfortable jeans sits on. That's the spot you need to wrap the measuring tape around.
This should give you your hip and waist size in inches. Compare it with the brand's size chart to get an accurate reading of your denim size.
How To Determine Your Body Shape Using Measurements(YouTube)↓
2. Jeans cut
Average jeans fall under any one of these categories. Skinny, Straight, and Wide-Legged. We all know how skinny jeans fit. But not all pear-shaped women prefer wearing skinny jeans. They're tight and uncomfortable.
Straight jeans, on the other hand, are flattering. The straight fit gives you enough wiggle room. It sits on the skin rather than squeezes into the thighs. And you can sit and stand in them without feeling constricted.
Wide-legged jeans are boot-cuts and/or boyfriend jeans. They give you more room under the denim fabric. These kinds of denim have a more relaxed but supportive design. They don't look loose but they're not tight either.
Extremely wide-legged jeans are more dramatic and lengthening. You can opt for a bootcut fit to flatter those curves. While complementing your pear-shaped silhouette.
3. Denim wash
Contrary to popular belief, the denim wash can affect the style of the jeans. Darker shades accentuate your body shape. It can literally make or break the way your jeans look.
You have 6 different denim washes to choose from. But the ones that are flattering for pear-shaped figures are as follows.
Medium denim wash jeans are classic.
They give off a casual and attractive look. You can pair such jeans with a light-wash white top and chic shirts. The color doesn't put your curves on display like an acid denim wash. Nor does it show signs of wear and tear easily like a light denim wash.
Dark denim wash jeans are ideal for pear-shaped women. Somehow, the dark colors give off a smoothening and slimming effect. They also look good as they get older. This is not the case with light or white denim wash jeans.
You can experiment with different styles with a dark pair of jeans. This also includes black jeans that are classic too.
4. Fabric
Every fabric has a feel and texture of sorts. Elastane, for example, is more comfortable and breathable. It allows better stretch and doesn't suffocate the skin in hot climates. This is why elastane blends are perfect for women with a pear-shaped figure.
Polyester goes well with cotton and elastane. Polyester-blend jeans feel soft against the skin. But they also offer shaping and slimming. You can wear elastane or polyester-blends all day. But they're best combined with cotton.
Cotton is an essential material for jeans. It allows the denim to feel soft against the skin. You can wear such jeans all day without any discomfort. And the fabric contours the shape of your hips and waist. But they retain their shape perfectly.
At the end of the day, you want your jeans to have some give. But not so much that it ruins the entire outfit. Jeans with elastane or polyester fabrics are perfect for support as well. They yield enough stretch while correcting body posture.
5. Cleaning
It's equally important to know how to maintain denim jeans. Only if you treat them properly, would they last for a long time? Not only that, but it can also affect the feel and grip of the jeans.
Experts say to wash denim jeans as little as possible. Most brands offer specific instructions to wash jeans. So it applies to most jeans when I say to wash denim with cold water.
This is good for jeans that have a little bit of stretch. When you avoid using harsh chemicals, the denim retains its stretch for a long period. This prevents sagging, wrinkling, and bunching. Especially around the crotch region and the inseams.
Conclusion
Celebrate whatever shape you are with these perfect denim jeans. It's our top pick that vows to flatter your perfect curves. That's exactly what women with pear-shaped figures want.
Something comfortable, yes, but also something that's appealing to look at. Finding the best jeans for pear-shaped women is not easy. And it's certainly not easy when you're walking around in a fashion store.
With the help of this article, you finally know what features to look for. High-rise, straight cut, and a little bit of stretch. Finding the perfect outfit balance with the best jeans is necessary. And with this article, we'll show everything you need to look at. And everything you need to avoid.
RELATED POSTS:
Best Jeans for a Pear-shaped Body: Table Comparison
| Name | Rating | Material | Type |
| --- | --- | --- | --- |
| Levi's Women Plus Size 414 Classic Straight Jeans | #7 | Cotton, polyester, elastane | Mid-rise, straight cut |
| Vibrant Women's Bell Bottom High Waist Denim Jeans | #6 | – | High-rise, bell-bottom |
| Levi's Women Curvy Bootcut Jeans | #5 | Cotton, polyester, elastane | Mid-rise, bootcut |
| ARIAT Women's Mid Rise Bootcut Jeans | #4 | Cotton, polyester, spandex | Mid-rise, bootcut |
| Levi's 720 High Rise Super Skinny Jeans | #3 | Cotton, polyester, elastane | High-rise, skinny |
| Lee Women's Classic Fit Monroe Straight-Leg Jeans | #2 | Cotton, spandex | High-rise, straight cut |
| Vibrant Juniors Classic High-Waist Denim Skinny Jeans | #1 – Top Choice | Tencel, cotton, spandex | High-rise, skinny |