What Is A Bandeau Bra and Why You Need It?
Our Editors independently test and rate the best products. When you buy through links on our site, we may earn an affiliate commission,at no cost to you.
If you're tired of wearing strappy bras, a bandeau bra is strapless. So what is a bandeau bra? It's in every woman's personal collection. It's basic, comfortable, and supportive.
Buying a bandeau bra is also comparatively easier. You don't have to worry about the straps sliding off your shoulders. The band is too tight and constricting. Or the hook-and-eye closure being a pain to adjust when you're in between sizes.
For a classic strapless bra style, a bandeau bra is great.
It's made of a single piece of fabric – mostly a stretchable fabric. It has an elastic strap on the top and bottom. This elastic is what keeps the bra from shifting. So it offers maximum support and firmness.
Why Buy A Bandeau Bra?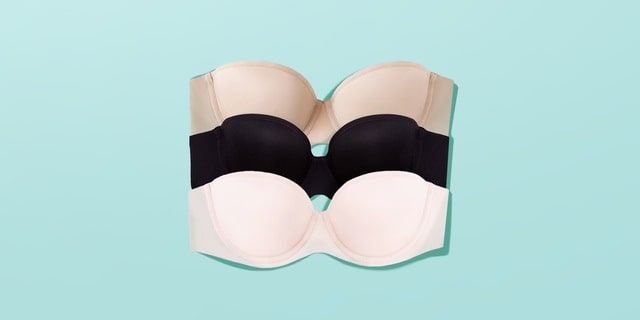 A bandeau bra has many benefits. Here's a run-down of the basics of a bandeau bra. And why you need to own a pair right now.
Soft Material
Bandeau bras aren't made of normal bra materials. They're generally contour bras made of nylon or elastane or cotton. They provide comfort and support. And feel minimal and lightweight for all-day wear.
The fact that it has a pull-on closure reduces more weight from the fabric. So it feels light and the fact that it has no straps. This makes a bandeau bra much better in comparison to push-up bras. Their softness is hard to match even for casual wear.
No Clasps
For starters, it doesn't have a clasp at the back. This means it's a single, wrap-around fabric that goes all the way to your back. And around.
Because it doesn't have any clasp, it stays dry. And it doesn't irritate the skin when you want to adjust the bra. Simply slide the bra sideways or up or down to adjust.
Padding
Bandeau bras also come with some padding to avoid nippage. This is when your nipples poke through the thin fabric of the stretchy bandeau bra. You can keep the padding on to avoid this. Or if you don't mind your nipples protruding through the fabric, remove it.
This level of adjustability is not something you'd appreciate in other bras. Such as push-up bras that do not have removable padding. So this proves the point of being the most comfortable bra for women.
No Straps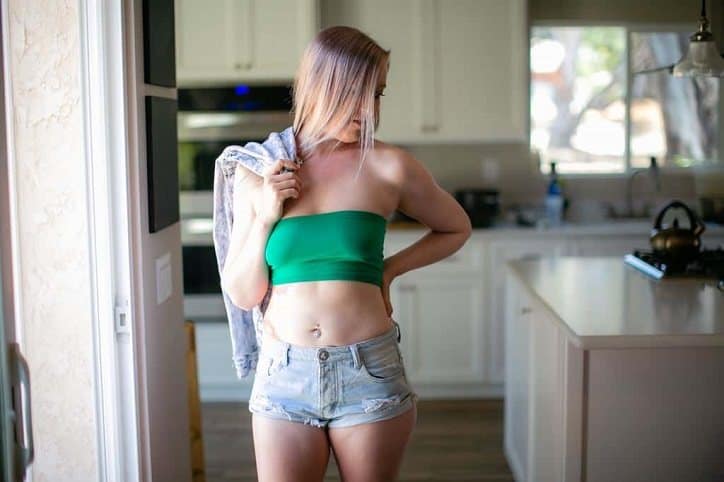 Just imagine wearing a bra with any other straps. You don't have to keep adjusting the strap as soon as it rolls up. Nor do you have to experience shoulder pain if the straps are too tight.
Women with well-endowed breasts usually benefit the most from this. A bandeau bra is perfect for lounging at home. So not wearing a proper bra with straps is a big load off of their minds. In fact, if you get the size just right, you won't have to wear a bra with straps at all. Even outdoors!
People who are picky about showing their bra straps can also wear a bandeau bra. If your straps don't stay in one place. And you're worried about constantly adjusting them when you're outside. A stylish and supportive bandeau bra is a quick-fix.
Some bandeau bras come with strap buckles on both sides. So you can buy transparent and adjustable straps separately. That's the thing. A bandeau bra gives you plenty of opportunities. They also take away plenty of bra problems that women face.
Elastic Support
This is not like the elastic band you know and hate. Bandeau bras use the most supportive and breathable elastic. They are more stretchable than they are rigid. So once you find your perfect size, they stay firmly over your bust and all the way around the back.
It might seem a little tighter than standard bras. But that's normal because bandeau bras do not contain straps. So to compensate for the support and lift that straps provide. The elastic has to feel a little tight to maintain stability.
This prevents the bra from sliding down or bunching up.
Who Should Buy A Bandeau Bra?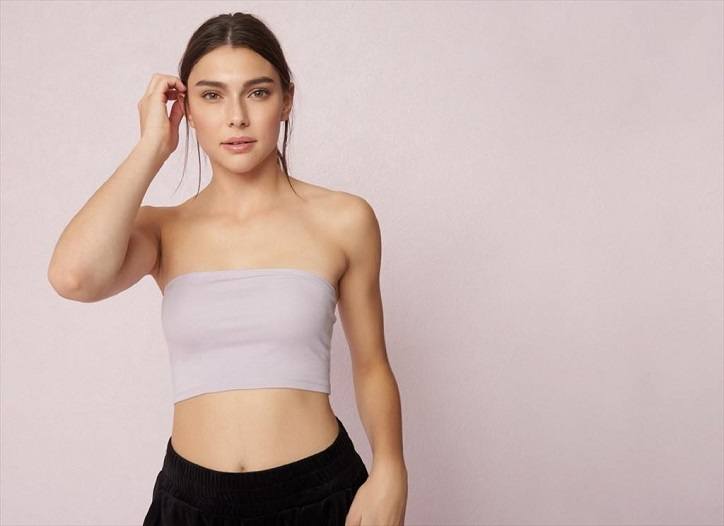 Women with medium cup sizes and small breasts usually wear a bandeau bra. If you don't want underwire support, that's when you need a bra like this. It works seamlessly with all your outfits. It doesn't pinch or pull or tug. And you feel more at ease with its support level.
The elastic at the top and bottom keep your breasts secure and in place. Even if you're walking around or sitting for a long time. The fabric doesn't shift which is perfect for women with small breasts.
For well-endowed women, however, this is a classy choice for home use. Outside, the elastic band may not be able to support all your movements. Unless you don't mind pulling the bandeau bra band up from time to time. It's better if you wear this bra at home.
Bandeau bras can be used for a lot of other things too. For dresses that show off the neck and shoulders. Wearing a strappy bra can seem a bit defeating. So to avoid wearing transparent straps which obviously don't look good in dresses. A bandeau bra saves the day!
Having said that, the parallel line that sits on your chest is a good eye-catcher. This means your neck, shoulders, and collar-bone are under focus. And the bra makes it look more appealing because it needs no straps.
SMALL CHEST TIPS & TRICKS↓
Before You Go!
You can wear a bandeau bra as casual, formal, and loungewear. You can sleep in it if it's comfortable. It has a versatile structure with or without padding. And it offers incredible breathability as it wicks away moisture and sweat.
Simply said, for all-day comfort, a bandeau bra is great. You can buy it in a variety of patterns and colors. It even comes in multiple cup sizes for different body shapes.
Some women also wear a bandeau bra under tops with a deep neck and armholes. If you buy a lacy or pretty bandeau bra, why wouldn't you show off the design? It looks stylish and attractive.
The bandeau bra trend has been on and off for years. I guess, with the latest fashion trends, it's on again. To make the most of this style, it's essential to learn how to wear a bandeau bra the right away.
Want to find more about bandeau bra? Read the article to get 10  best bandeau bra:
Bandeau Bra-Everything You Want to Know About (Top 10 reviews)
SEE MORE: